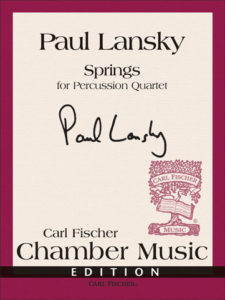 Springs for Percussion is a fascinating piece that demonstrates the ability of percussion to work up kinetic energy through pattern repetition and then "spring" into action. Each of four percussionists uses two drums and a set of three chosen percussive "instruments"—woods for one, metals for another, glass for the third, and plates or flowerpots for the fourth. The instruments should create "relatively harmonious cacophony." Repeated rhythmic passages grow in intensity before springing into new patterns, and this is repeated throughout.
Springs for Percussion, by Paul Lansky, Carl Fischer Chamber Music,
www.carlfischer.com.