Reflections on a Lifetime of Music
On Sunday, October 8, The Queen City Jass Society (QCJS) in Buffalo, NY, honored clarinetist, saxophonist, and member of Local 92 (Buffalo, NY) Paul Preston for his unparalleled achievements, unwavering dedication, and innumerable contributions to the Traditional Jazz scene in Western New York (WNY). As an interviewer, musician, band member, and, most importantly, friend of Paul, I could not agree more with that description.
Growing up as a trumpet player in WNY who loved Dixieland Music, I sought out as much live Traditional Jazz as possible. It wasn't long before I was introduced to the premiere Dixieland Band in Buffalo, The Bar-room Buzzards. This was in the mid 70s, and I remember sitting in awe at their performances. I didn't personally meet Paul Preston until the late 90s, when I was called to substitute in his band. I was awestruck as Paul floated seamlessly from measure to measure and song to song; every note perfectly placed in musical phrases that were nothing short of perfection. I held my own (barely) on that first gig and went home to practice, just in case I got another call. Well, in the music business as in life, situations change, and I did get another call.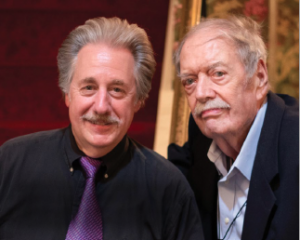 From 2004 to 2005, Paul and I subbed in each other's bands and played together almost weekly. During the summer of 2005, Paul offered me the trumpet seat in the Bar-room Buzzards, which I humbly accepted. I subsequently retired my band, The Bourbon Street Brass, and began a personal and professional relationship with him that lasts to this day.
In July 2019, as we sat in Paul's living room sipping our beers and reminiscing about music and life in general, Paul says, "The music business isn't what it used to be. Back when Jim [Koteras] and I broke away from Eli Konikoff's Yankee Six, there was plenty of work to go around. Don't get me wrong, we worked hard at getting gigs and we got a lot of them, but it's a different story today." Taking a sip of beer and sitting back in his chair, Paul continued: "Demographics are against us and the younger generation isn't listening to Dixieland. There's just not that much demand for Traditional Jazz anymore; I'm thankful for our club [QCJS] and that there's someplace for bands to play at least once a month."
It isn't a stretch to say that Paul is intimately connected to the Queen City Jass Society. Not only was he a founding Charter Member, he also served as the chairman of the first three QCJS Jazz Festivals. Now fully retired from performing, Paul still speaks with pride when referring to the Bar-room Buzzards, which he started with lifelong friend and partner Jim Koteras. "When Jim and I broke away from Eli, everybody thought we were crazy and they would never hear from us again. … We just had this idea of a quartet, and tried out a number of musicians in the early days of the band," he says.
The group began to take shape in 1965, and the first official quartet began in 1966 with Preston (clarinet/vocals), Koteras (trumpet/vocals), Danny McCue (banjo/guitar) and Craig Hodnett (tuba/bass). Bands are musical and artistic organizations that operate under the characteristics of businesses and have dynamics similar to families: not static and ever evolving. Such was the case with the Bar-room Buzzards, as personnel and the group's musical approach and style evolved as the band matured. The band has endured more than 50 years, and was inducted into the Buffalo Music Hall of Fame in 2002.
Over a lifetime of performing Traditional Jazz, which was his music of choice, Paul Preston set the bar extremely high. He literally brought Dixieland music to the forefront in Buffalo and inspired a generation of younger musicians to carry on that musical tradition. Paul's unwavering dedication to his art established him as the unparalleled "reed-man" in all of WNY for Traditional Jazz, and although retired, he is still revered among his peers today.
When looking at all that he has accomplished, Paul Preston also has done something very few musicians (if any) can claim: he kept the same band working for over 50 years. This, in itself, is nothing short of remarkable.
In a recent conversation, someone referred to Paul Preston as "a treasure." I couldn't agree more.