Music Is an Underrated Path to Social Justice
When trumpet player Herb Smith of Local 66 (Rochester, NY) read the news about a peaceful Black Lives Matter rally being organized in downtown Rochester last summer, he knew he needed to take part in some way. This wasn't a new feeling for him. Tall and dreadlocked, Smith may look imposing, but he carries a quiet, unshakable conviction. In this case, he was convinced in the power of music to heal.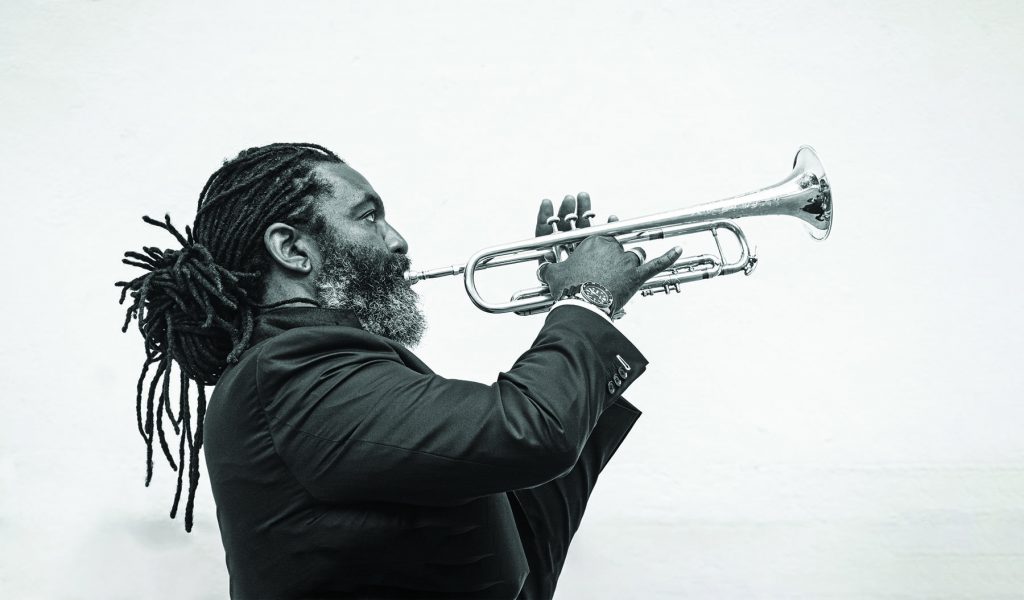 "Throughout history, music has been tied in with protest and was a motivator for change," says Smith, a prominent jazz musician, educator, and conductor who has played third trumpet in the Rochester Philharmonic Orchestra (RPO) since 1991, following graduation from the Eastman School of Music. "A lot of so-called classical music was originally intended as revolutionary music for the people, by composers like Sibelius and Shostakovich."
Smith says it has become too easy these days to lose the connection with this concept, especially given the common mischaracterization of classical music as stuffy and elitist. Part of Smith's aim is to dispel that idea. "As an RPO musician—and the only Black person in the orchestra—I wanted to show my support for the BLM movement. And it seemed to me that the RPO was the perfect way to do that."
Clearing the Way
There were, however, considerable hurdles to clear. The BLM event was a gathering to raise awareness for the #SayHerName campaign remembering Black women and girls who have been victims of police brutality. It was taking place barely a week after another peaceful rally had devolved into a spate of vandalism and looting, resulting in arrests and damage to more than 80 businesses. Downtown Rochester was in a state of heightened tension.
Smith nevertheless knew it was vital to bring the healing power of music to the same place where there had recently been violence—and to make the RPO an important part of this healing. "It's crucial for an orchestra to become more involved in the fabric of its city," he believes. Big arts organizations like orchestras benefit from connecting more to what's current and increasing their visibility. As important as it was for Rochester to see music as a healing thing, it was equally crucial for the city to see the RPO as an inseparable part of that," he says.
But of course, there was also a rapidly spreading pandemic limiting sizable gatherings, including public performances by large groups like symphony orchestras. In the face of these challenges, Smith hit upon the perfect solution: he would conduct an outdoor performance of Aaron Copland's "Fanfare for the Common Man," played in downtown Rochester's Martin Luther King Jr. Memorial Park by 14 physically distanced members of the RPO's brass and percussion section.
"There couldn't be a more perfect piece," he says. "Think about where that fanfare originated: Copland was inspired to write it in 1942 after hearing a speech by then Vice President Henry A. Wallace, proclaiming the dawning of the 'Century of the Common Man' and talking about the freedoms and duties by which we must live."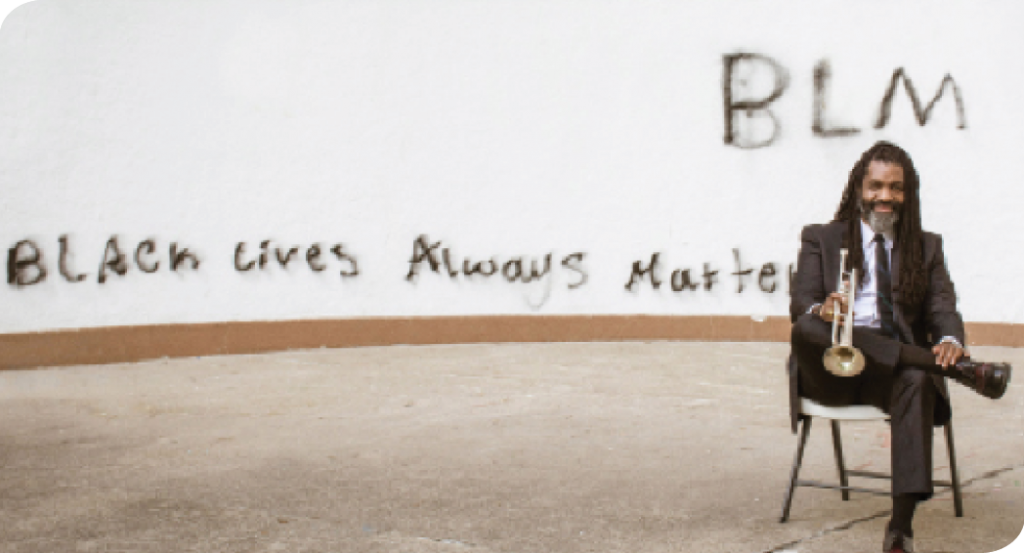 Music and Education Go Together
Such ideas fall neatly in line with Smith's overarching philosophy of connecting people with music through both performance and education. Smith started playing the trumpet in his native Cincinnati at the age of nine. "Tuba was too big, and flute was too small," he recalls. "The trumpet was Goldilocks: just right." Middle school presented him with a choice: a math-oriented school, or a school for creative arts. He chose the latter. Then in high school, he led a school musical, Peter Pan—and that inspired his second passion: conducting, closely tied in with his role as a music educator.
Smith has been a past teaching artist for the Wolf Trap Foundation, Rochester City School District, Young Audiences for Learning, and Aesthetic Science Institute. His teaching forays regularly take him to Rochester's city schools. "These organizations trained me in how to present music from all over the world in a way that's accessible to children and young adult nonmusicians," he explains. "I'll get in front of an entire K-6 school singing songs, sometimes playing the guitar very badly. With just six chords, you can play 300 tunes!" he laughs. Then he'll play a recording of the beginning of Beethoven's Fifth Symphony. "Everyone knows that. But I ask them to count every time they hear that opening theme in the first minute. And sometimes it's not very obvious. So now we're into critical thinking and analyzing. It's amazing to see their eyes light up."
Last March, right before the pandemic shut everything down, Smith harnessed all these experiences, including his conducting skills, to put together an education program designed specifically for the RPO. "The organization took a chance on me. I was happy with how it turned out, and even the orchestra seemed to enjoy it."
Smith feels that for many kids, classical music is like a lost language. "To make it come alive again, you have to get them inside of it to learn how it works." Smith believes these concerts should connect the components of music with universal emotions. For orchestras, this has important implications. "Young people don't just come to a concert anymore because there's a Mahler symphony on the program," he says. "They need to be let in on the secret of why Mahler is so great."
A side effect to demystifying Mahler is also demystifying the conductor. Says Smith: "Seeing how conductors have often presented themselves and the music in educational concerts left me feeling that it could be done better. My goal is to show that there is no wall between the conductor, orchestra, and audience. We're all the same. The music is a completely shared experience between all three. Remove one piece, and the tripod falls. "
When Not Waving the Stick
In typical years, trumpet and conducting go in tandem. When not playing in the RPO, Smith is a frequent collaborator with other jazz musicians in Western New York, and plays in the theater pit for touring musicals. Over the past very long year of the COVID-19 pandemic, when none of those things have been happening, he says his biggest musical outlet has been composing and arranging. He also spent quality time singing with his teenage daughter, Joy, napping, and drinking a decent glass of wine.
Among his recent forays is an entire album of original tunes for his jazz trio, the Freedom Trio. The combo is one of the most prominent groups on the local jazz scene, with frequent (before COVID-19) club appearances and annual stints at the Rochester International Jazz Festival. Their newest album is composed entirely of Smith's original charts. He says live gigs are starting back slowly in Rochester, albeit with small audiences due to continued restrictions on gatherings. "And the way our trio is set up, we're actually already safely distanced from each other," he reassures.
Another post-pandemic initiative is a new chamber concert series through the Rochester Philharmonic Orchestra called Truth Is of No Color, which has as its focus Black, Indigenous, and people of color (BIPOC) composers. "In my 30-year relationship with this orchestra, there has never been an intentional, extended focus on nonwhite composers," says Smith. "People have often asked me about Black composers. Till now, my typical response has been, how would I know? Music schools never taught us about them. For centuries, BIPOC classical composers have been hidden from view, swept under the rug, and in some cases, even intentionally erased from history."
Smith says it's gratifying to work with the RPO's staff on the series, and to see how this project is not just something being done to check a diversity box. "Everyone in the RPO believes it's something that needs to be done, and long overdue."
Taking on a formative role in the new series gives Smith optimism for the future of diversity in the orchestral field. "It gives these composers a platform for their work to be experienced and enjoyed by all audiences." Smith adds that acknowledging the diversity that has always existed in classical music, since the 1700s, could play a role in the future of the industry. "When racially diverse kids see that people like themselves are creating great music, it could be just the encouragement they need to explore playing an orchestral instrument." It's not that far of a stretch, he adds, that projects like these could even potentially help reverse the trend of declining audiences for orchestras around the country.
Union at the Heart of It All
Smith says juggling all of his creative outlets—and getting fairly compensated for them—would not be possible without the AFM. "I joined in 1989," he recalls. "I was at Eastman, and my first union gig was for the circus. A guy actually came around to check for union cards," he laughs. "Old-school!" Joking aside, Smith acknowledges that historically, musicians were often badly taken advantage of by unscrupulous bar and club owners. The union has largely put a stop to that. "We can thank the collective strength of the union for protecting us and providing safe working environments."
These days, Smith's union involvement goes deeper: he currently serves on the Local 66 board of directors, which boasts notable minority representation through Smith and several other board members. He believes the union has an unshakable place in shaping the future of music in the US. Right now, with COVID-19 still a threat, Smith sees an important role for the AFM in helping ensure safety protocols, as well as determining rights for streamed music going forward.
"It's going to be a long road on the other side of this pandemic," he says. "Musicians everywhere are just starting to get back to work and figure out how the industry should move forward. And without the union, none of this will be possible."