With His Foundation, Trumpeter Starts a Movement for Cancer Research
A world-class trumpeter and soloist, former Canadian Brass member, and principal trumpet for the Dallas Symphony Orchestra, Ryan Anthony is used to the rigor of performance. But for the last few years, his perspective on and off the stage has been severely tested.
In 2012, at 43 years old, Anthony of Local 72-147 (Dallas-Fort Worth) was diagnosed with multiple myeloma, a form of cancer that typically appears in patients 65 and older. Following a stem cell transplant, while in recovery, he received a deluge of support from the music community.
Doc Severinsen of Local 802 (New York City) and Local 47 (Los Angeles) called to ask how he could help. Anthony replied, "When I'm healthy again, I'd like to share the stage with you one more time." During his long recovery, Anthony heard from trumpet players across the country offering support. He would joke, "When I'm well, we'll all play a concert and call it 'Cancer Blows.'"
The concert not only happened three years later, it brought together a veritable who's who of the brass-playing world. Anthony and his wife Niki thought that if a single concert could draw this much support—raising more than $1 million for cancer research—they could do more. They officially established The Ryan Anthony Foundation, specifically for cancer research, with proceeds going to the Baylor Health Care Research Foundation, the Multiple Myeloma Research Foundation, and other similar organizations.
CancerBlows concerts have taken off and have become the foundation's premier event, featuring notables like Severinsen, who has been one of the organization's most vocal supporters. Anthony says, "What's amazing is the list of artists who surrounded me, who wanted to donate their time to make a difference."
Key players who regularly participate are Local 47 members Arturo Sandoval, Wayne Bergeron, Wycliffe Gordon, Rashawn Ross (of the Dave Matthews Band), Local 10-208 (Chicago, IL) member Lee Loughnane, and former Canadian Brass players Joe Burgstaller, Jens Lindemann, and Ronald Romm. Others include Allen Vizzutti, Vince DiMartino of Local 554-635 (Lexington, KY), Michael Sachs, David Bilger, Tom Rolfs of Local 9-535 (Boston, MA), and Chris Martin and Randy Brecker of Local 802.
Known as a charismatic performer with a range of virtuosity, Anthony became principal trumpet of the Dallas Symphony Orchestra in 2006. He had already embarked on an illustrious career as a 16-year-old prodigy, winning several national awards, including Seventeen Magazine/General Motors Concerto Competition's grand prize. He studied at the Cleveland Institute of Music (CIM), followed by a trumpet professorship at Oberlin Conservatory.
For three years, he was a member of the esteemed Canadian Brass. From there, he began a wide-ranging career, encompassing coast-to-coast performances with the Los Angeles Philharmonic, Cincinnati Symphony Orchestra, St. Louis Symphony Orchestra, San Diego Symphony, Colorado Symphony, and the brass sections of the New York Philharmonic, Cleveland Orchestra, and the Israel Philharmonic.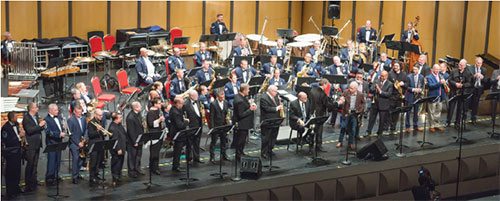 Anthony is heartened by the sheer number of musicians who have participated in his foundation's concert. "Ironically, that's what seems to be making the biggest difference in patients," he says. "They're seeing hundreds, if not thousands, of other musicians affected; they're not alone."
He has heard from cancer patients who say they are pressing on because of him, citing a piece that's become the foundation's anthem, "Song of Hope," written for Anthony by his friend, British composer Peter Meechan. "[Patients] would begin and end their days with it," he says. "It just changed their mental outlook, and therefore physical outlook. It started changing their numbers. And, remarkably, they started doing better."
Another young patient, a musician, who had been hospitalized twice following suicide attempts, heard about the foundation and picked up the violin again. During a particularly grueling week for Anthony—after a change in medication—he was discouraged and thought it might be time to quit. But after a concert, he heard from the children of a patient who was in the audience that night. Their dad was resigned to living out his last years with no treatment. After hearing Anthony play, he had a change of heart.
In addition to funding medical research, the foundation serves the fine arts. Master classes are incorporated into each concert where students, some of whom have never been to the symphony, are introduced to the arts. Anthony says, "Other groups around the country are now doing concerts, raising funds and donating to CancerBlows." This past year, he says "We've been getting requests and donations from groups and events in Europe and Australia. Some have called it a CancerBlows movement."
Last month, a Dallas-based trumpet player and other musicians and volunteers biked across Nebraska for CancerBlows, kicking off the event with a pops concert in Lincoln, with another at the finish line. For five years, Lone Tree Brewing Company in Denver has hosted a fundraiser, crafting a special brew for the occasion.
For his work with patients—helping them manage their illness through music—Anthony received the Spirit of Hope award in 2016. In 2017, he received the Courage and Commitment award from the Multiple Myeloma Research Foundation (MMRF). In July, he was awarded the prestigious International Trumpet Guild's Honorary Award.
An extended hospital stay prevented him from attending the guild convention, so his children accepted the award on his behalf. "Doc made a big speech and we FaceTimed so I could be there as the whole audience yelled out and congratulated me," Anthony says. "There was this feeling of support and love."
The AFM Dallas local has been essential in working toward important long-term disability options. "They've looked into the case, connecting us with people. They've been right by our side and behind us, and ready to go to bat when we need to," Anthony says. "They even brought in outsiders more familiar with long-term disability issues. We've been able to lean heavily on the union, in these past few months, especially."
During his recent 40-day hospitalization, the nurses heard a lot about Anthony and his work. They started sharing CancerBlows concerts with patients and were treated to private performances as Anthony tried to keep his chops. He now serves as principal trumpet emeritus and is visiting professor of trumpet practice and chair of the Winds and Brass Division at Southern Methodist University. He will also be a visiting professor of trumpet at the University of Texas this coming school year.
"If I can help others have a more positive attitude, get them to the next place and using music to make that change—if there is a good scenario— we've created one," he says. "What's so incredible is the whole idea of using music as a vehicle. I'm witnessing, even beyond the musicians, but truly with the general public—we're seeing the power of [music] and the number of other people getting behind us."
For more information on the Ryan Anthony Foundation, visit cancerblows.com.