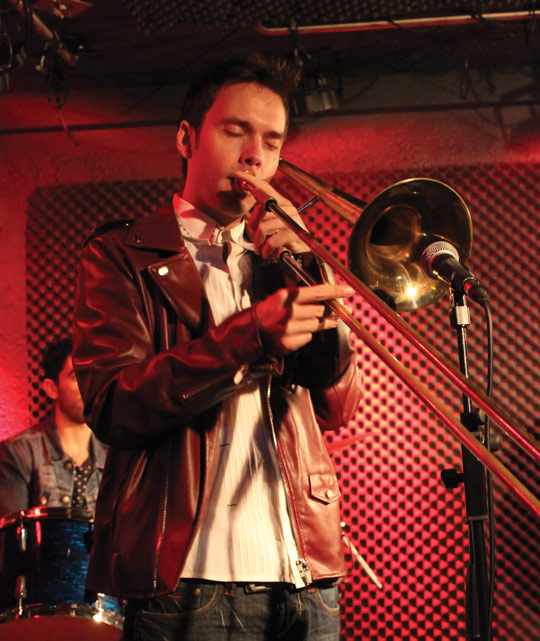 One of the first gigs Paul Nowell landed just out of Berklee College in 2007 was a world tour with the Glenn Miller Orchestra. The repertory was straight out of the swing era and he remembers that some of the sheet music was in Miller's own handwriting. He says, "I thought, 'Wow, this should be in a museum. Why am I on the bandstand reading this on a gig?'"
Nowell discovered the trombone in the fourth grade when his family moved to Cleveland, Ohio. "The band director told my parents my arms weren't going to reach it. I didn't care. When I found out the trombone could do the plunger sounds from Peanuts—the adult character voices—I thought, oh, that's cool."
By 17, he was making forays into the jazz scene, leading ensembles around downtown Cleveland. It was at one of those gigs that he met Ron Ellington Shy, the nephew of Duke Ellington—an unexpected opportunity that fortified his decision to make music a career. Two days later, Nowell was at Shy's house working on music. He says, "I saw a lot of gold records! As a kid that was quite something to experience. He told me about playing with one of  my trombone idols, J. J. Johnson." J. J. used to tell him that when you improvise, be aware of creating little melodies in your solo, rhythm first, then melody. If people can't sing along you will lose them.
In the summer of 2008, right before he played the pit in the Broadway hit Memphis—which at the time was in a pre-Broadway run at the La Jolla Playhouse—he joined the union. He says he knew it was the right thing to do and it's served him well. It's about establishing lifelong relationships, Nowell says. "A lot of the people I went to school with are union members and we get the opportunity to work together now in the real world. It's cool to see those relationships continue to develop."
Now living in Los Angeles, 34-year-old Nowell of Local 47 (Los Angeles, CA), bills himself as "Paul the Trombonist" and is a much sought-out session player for big bands. He leads a three-piece horn section, directs his own jazz combo, and does solo gigs as a DJ trombonist. For the latter, he explains, "It's me, keyboards, looping devices, and my trombone. I'll cover pop tunes, some of the old standards. An older audience is exposed to new stuff and a younger audience gets to hear the classics for the first time. It's like cross-pollinating so everyone can learn something new."
Nowell has played with 10-time Grammy winning trumpeter and Local 47 member Arturo Sandoval (with whom he created a series of online videos) and considers his Berklee professor, the virtuosic Phil Wilson, a member of Local 9-535 (Boston, MA), his mentor. He says, "Phil saw what I was doing after I graduated and he came to LA to work with me to do a video series. It was an important moment; it opened a lot of doors because he's so respected."
Nowell promotes his instrument with rhapsodic fervor. "I'm like the Johnny Appleseed of the trombone," he laughs, "I want people to know about this instrument, its history, and what it's capable of." Now his career is four-fold: educator, producer, freelancer, and Internet personality.
"If I'm playing in a great ensemble and everyone is in the zone—reading and blending, it's fun. There's another feeling when you're playing in a small jazz group and you're letting improvisation take over and it's going great places and you're free," he says. "Then when I go and play in nightclubs and I've got all these people dancing, who might have never heard the trombone. They're surprised by the music, that the trombone can have that affect. It's very satisfying."
Whether it's presenting an Internet program, teaching a master class, or playing a music festival, Nowell immerses himself in knowledge of his instrument. For his video series on the history of jazz trombone, he transcribed 12-bar blues from 56 of the most influential trombonists up to the bebop era, breaking down each musician's performance so the audience could hear the different styles.
"What I've noticed about the people I look up to is that they're still students. They have that drive, that thirst to learn; they constantly want to get better. In the case of Arturo Sandoval, he's like a kid when it comes to his excitement about music. It's infectious. He gets excited about playing, learning new techniques, and studying. He's still inspired, has that energy. It's an important trait if you want to do this in your life."
On his YouTube program, Bone Masters, Nowell plays host to famous trombonists he grew up listening to. You get a lesson in articulation from Local 47 member Dick Nash, different slide techniques with Alan Kaplan of Locals 7 and 47, and a languid duet with Bill Watrous. "I have an entire wall of every trombone player I ever heard," Nowell says. "I'd study the earliest trombone players, the contemporary trombonists, and transcribe all of them, hundreds of players, from swing to bebop. I think it's important to know where we came from in order to gain a new perspective and find your own voice."
Nowell likes a full-bodied trombone sound, influenced by the tones of J. J. Johnson and Clifford Brown. He says, "I don't like to overplay. I like to use space that people can latch onto so they can sing along to the melodies."
Good lines are a priority for him. He says, "Chet Baker used to say, 'If you have a good sound, everything you play will always sound good.' So, for me, sound has been key in terms of what I want to convey on my instrument. And it supersedes any technical facility or trying to impress people. Phil Wilson, my mentor, always told me, 'Paul, good lines impress. A good sound and good lines will resonate with the audience—none of that trickery. I remember I was in a lesson with him and I had learned a technique—doota lot dooo—and Phil said, 'Knock that off.'"
He says, "It's your trombone and the audience—just the trombone to get their attention. If you can do that with a single-line instrument, then when you get together with an ensemble, you're going to be way stronger as a musician."
Journey to the World is Nowell's first record, a mix of electro soul, hip-hop, jazz, and melodic pop. He imagined it as an exploration of different galaxies. He says, "I wanted to keep the natural acoustic quality of the instrument without manipulation." Having grown up in the electronic world, with hip-hop, dance music, and techno, he chose to fuse the sounds.
Earlier this summer, Nowell participated in the International Trombone Festival in Redlands, California, where he conducted clinics on improvisation, home recording studio setup, making videos, how music is organized, and solo playing.