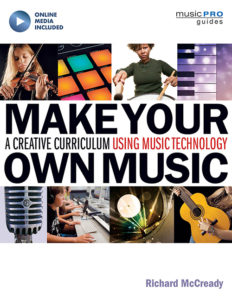 Make Your Own Music is a complete classroom curriculum for learning and teaching music technology, incorporating composition ideas, notation, and digital audio workstation (DAW) proficiencies. Though the fundamental principles can apply to any DAW, each chapter highlights three demonstrable skills to create projects using Notation and/or Studio One. The curriculum includes supporting online media.
Make Your Own Music: A Creative Curriculum Using Music Technology,
by Richard McCready, Hal Leonard Corporation, www.halleonard.com.