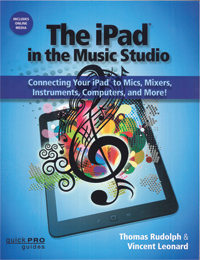 iPads can bump up spontaneity and creativity in music production. The iPad in the Music Studio takes readers on a tour of the latest iPad-related music hardware and software. It includes information on technological innovations like hardware to link mics and instruments for live multi-track recording, controlling desktop software with an iPad, using iPads and iPhones with mixers, iPad and Guitar EFX software and hardware, DJ equipment and apps, and using the iPad to publish and distribute music through social media.
The iPad in the Music Studio, by Thomas Rudolph and Vincent Leonard,
Hal Leonard Corporation, www.halleonard.com.