Iconic Musician Ronnie Milsap Is Ready to Hit the Road
Legendary musician Ronnie Milsap of Local 257 (Nashville, TN) discovered his love for performing early on. By age 11, he was already a favorite at his family's church. "I grew up in the Primitive Baptist Church and I started singing in church pretty early," he recalls. "That was my first taste of theater. I'd sit at the piano and sing, and they would start shouting and rolling in the aisles."
Born in 1943, Milsap was raised by his paternal grandparents in the Smokey Mountains of North Carolina. As a child he attended the North Carolina State School for the Blind, where his teachers encouraged him to develop his talent. He began playing the violin at age 7 and the piano at age 8; soon after, he learned to play guitar.
He found inspiration on the radio, and though the school's curriculum emphasized classical music, he came to love a variety of genres. "I was really fortunate," he says. "A lot of kids don't have access to music and arts education, but that was a great school with a good music program and a good vocal teacher."
Encouragement came from other places, too, like the time a man came to his home with an unexpected gift. "He said, 'Ronnie, I've seen you playing guitar at church, and I think you need a new one.' He brought me a Gibson guitar, brand new. I put some Black Diamond strings on that thing and started singing and playing. I couldn't believe how good that guitar was," says Milsap.
Still, when Milsap enrolled at Young Harris College in 1963, he had no intention of becoming a professional musician. On the advice of well-meaning family members and teachers, he'd come to believe that it wasn't a practical pursuit. Instead, he studied law, and was particularly fond of a political science course taught by Zell Miller, whom he describes as "charismatic and bright."
The two remained friends even as Miller went on to become governor of Georgia. Milsap says that, ultimately, he realized that music was "where I belonged." He joined a band and began playing in local venues, turning down a full scholarship to law school. He's never looked back.
A Signature Sound
Milsap is most often categorized as a country artist, but his signature sound seamlessly blends traditional country and bluegrass music with soul, R&B, and jazz. In the early days of his career, he thought he'd focus on R&B. In fact, in 1965 his first single, "Never Had It So Good," reached number 19 on the R&B chart.
"I'd been fired up with R&B music for a long while," he says. Some were surprised to find a white musician performing soul and R&B during that time. He recalls a few DJs who stopped playing his music after his record label sent out publicity photos of him, though Milsap says he always found acceptance and community in that world.
Milsap played often at the renowned Peacock Club in Atlanta, where artists like James Brown and Aretha Franklin got their starts. "One night I got to meet Jackie Wilson there. I got to shake his hand and tell him what a big fan I was." Milsap played with Stevie Wonder of Local 5 (Detroit, MI) and Ray Charles, forming a strong friendship with the latter. "I had a real good relationship with Ray," he says. "He was a big influence on me. We'd write Braille letters to each other; we both felt very strongly about preserving Braille literacy."
Milsap saw his share of struggles as he worked to build a name for himself but says it's important to stay focused. "To have success in music you have to want it; you have to work for it." He says that, as he moved from Atlanta to Memphis and eventually to Nashville, his local union offices were a big help. "I think the musicians' union has always been a good thing for me. And for anyone starting out. A lot of young musicians will give up everything to try to make it, sleep in their cars and everything."
It was a chance encounter with Charley Pride that set Milsap on his eventual path to stardom. Pride saw something special in Milsap and suggested that he turn his attention to country music. In the early 1970s, Milsap signed on with Pride's manager, Jack Johnson, and launched the newest chapter of his career. It was a gamble that paid off.
He went on to win six Grammy awards and more than a dozen other country music awards and honors. In the 1980s, Milsap enjoyed crossover success on the pop charts with hits like "Smokey Mountain Rain" and "I Wouldn't Have Missed It for the World." In 2014, he was inducted into the Country Music Hall of Fame. Milsap scored his first US gold record in 1977 with Almost Like a Song. In April 2021 he released A Better Word for Love, his 30th studio album.
Sharing New Songs
The new album is a carefully curated collection of songs chosen with the help of Milsap's longtime co-producer, Rob Galbraith. Many of the songs had been waiting for just the right project to be recorded. "I get songs all the time, and some songs I've had for 20 years," he explains. He likes to spend time workshopping a song at home, putting his own spin on it before taking it into the studio; his wife, Joyce, is a trusted sounding board.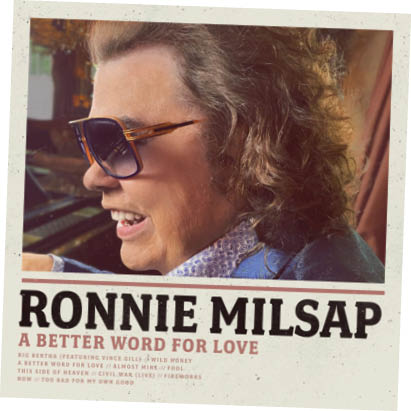 Choosing songs has always been a painstaking process for Milsap, who says he could go through hundreds without finding one that fits. "If the song coincides with my life, that means a lot to me. These songs, they're like children. I love them all. And when it comes to making records, I am very much into a standard of excellence, and I will not accept anything less," he says.
One song he hadn't been saving was "Big Bertha," a fun homage to a beloved golf club. The tune was the final one written by singer-songwriter Carl Perkins before his death in 1998. Perkins' widow sent the song to Milsap as the album project was coming together, believing he would be the one to do it justice. He loved the song and was excited to record it.
There was just one problem—he doesn't golf. "But," he says with a chuckle, "Vince Gill does." Though the pandemic forced Milsap and Gill of Local 257 to record their parts separately and combine them later, Milsap is proud of the result. "We got a great duet out of that," he says.
Whether it's the bluesy, upbeat first single "Wild Honey," the tender, heartfelt title track, or the classic country sound of "Almost Mine," Milsap shines on this album. All 10 tracks feature the rich, velvety voice fans know so well, and showcase his unique blend of musical styles. Also included on the album is a 1993 live recording of the song "Civil War," which originally appeared on the album True Believer.
A Better Word for Love was recorded at the historic Ronnie's Place studio in Nashville. First built in 1968, the studio was owned by Roy Orbison before Milsap bought and customized it in 1978, naming it Groundstar Laboratories. He sold the studio in 1995. While it changed hands and names several times over the years, it was still known lovingly as "Ronnie's Place" by those who recorded there. In 2015, the name was made official by Black River Entertainment, Milsap's label and the current owner of the studio. Recording there is especially meaningful for Milsap. It's also where he recorded 2018's Duets album, which saw him collaborating with artists like Willie Nelson of Local 433 (Austin, TX), Kacey Musgraves, Dolly Parton of Local 257, and Billy Gibbons. "Black River, I have to brag on them a little bit," he laughs.
Back on the Road
At 78, Milsap shows no sign of slowing down. In the coming months, he plans to tour, and has dates scheduled across the US. He's concerned about the risk of COVID but is staying optimistic. "I hope they don't put another shutdown on us," he says. "I want to be back out on the road. I like working."
He looks forward to making more music with his label Black River Entertainment and says they're the right company to move his career forward. Most of all, Milsap wants to get back in front of an audience. Performing recently to a packed house in Tulsa, Oklahoma, left him feeling reinvigorated and ready to dive back in.
He says, "The audience always makes the difference. You can be out there one night, and they can get so excited that you find you can sing a lot better than you thought you could! It's a give and take. And the fans have always been real good to me."
Something old, something new, something borrowed, and something…bluegrass! Ronnie Milsap's newest studio album, A Better Word for Love, showcases the musician's uncanny ability to blend genres and create something uniquely his own. The 10 tracks include long-hidden gems, revisited classics, and newly discovered tunes destined to become fan favorites. Among them are Carl Perkins' final composition, "Big Bertha," and a live performance of "Civil War."