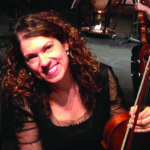 by Rochelle Skolnick, AFM Symphonic Services Division Director
Welcome to the symphonic focus issue of the International Musician for 2019! This issue shines a spotlight on the musicians of the Boise Philharmonic—our newest AFM orchestra—and the successful organizing drive that will give them a meaningful voice and a new level of professionalism in their workplace. The musicians of the Newfoundland Symphony, motivated by similar concerns, have also joined together with the AFM and, as Richard Sandals (associate director, SSD Canada) reports, will be working under their first-ever true collective agreement during the 2019-2020 season. What happened in Boise and Newfoundland is inspirational. It is also emblematic of the AFM's renewed commitment to organizing and demonstrates our capacity to support musicians who choose to stand together in pursuit of greater dignity in their workplaces.
One of the great challenges we face as unionists in the symphonic sector is developing and maintaining solidarity within our orchestras. Solidarity—or unity of purpose based on shared needs and interests—doesn't just materialize, and it doesn't spontaneously regenerate itself. Rather, it must be mindfully cultivated through one-on-one interactions and nurtured with liberal doses of empathy. There is no shortcut to solidarity. We can't make common cause with our colleagues when we don't know their concerns and they don't know ours. In the absence of genuine knowledge about the people with whom we share the stage, we may be reduced to relying on unhelpful stereotypes or assumptions that not only fail to support solidarity, but actively undermine it.
Each orchestra has a unique sound and culture of musicianship that is the product of decades of work together. I am vividly reminded of that every time I hear an orchestra perform: The Philadelphia Orchestra does not sound like the New York Philharmonic, which does not sound like the Chicago Symphony, which does not sound like the LA Philharmonic … and on and on …
When a musician is hired into an orchestra, we expect s/he will honor that musical culture by fitting in and playing in a way that carries on those venerable musical traditions. But as orchestras become more diverse, it is important to consider whether embedded within our institutional cultures are obstacles to full participation in the extra-musical life of the collective by musicians whose backgrounds may be quite different from those of their colleagues. And it is even more important to consider the multitude of qualities these diverse musicians bring to our institutions and how their engagement can strengthen and invigorate the collective.
I am sometimes asked why the union is involved in the work of diversity, equity, and inclusion. After all, shouldn't our focus be on bargaining and enforcing our CBAs with employers and not on the composition of our bargaining units or how well musicians get along with each other? That view misunderstands collective action and the mechanisms by which we attain success in bargaining and contract enforcement. As others write so well in this issue, success in bargaining depends entirely on solidarity and organization, which depends, in turn, on communication, understanding, and shared purpose among all members of a bargaining unit. If we aren't engaging some, the strength of the entire collective suffers.
A well-organized orchestra is one in which every musician has a voice and knows s/he is a valued member of the collective. Many orchestras fall short of this arguably utopian vision. I would venture to guess that in every one of our orchestras there are individuals or groups of musicians who do not participate in committee work, do not attend meetings, and, in states where the law allows it, are not even members of the AFM. If we are to build solidarity, we must ask ourselves—and them—why these musicians have chosen not to get involved.
Where this lack of participation occurs along the fault lines of race, gender, national origin, or some other clearly identifiable characteristic of the non-participating musician, the question takes on a special urgency. It is facile to dismiss lack of participation as an expression of a given individual's "culture," and doing so places the onus entirely on the "other" musician to assimilate. True solidarity requires us to dig deeper and locate the common ground that undoubtedly exists among musicians, regardless of cultural differences.
As musicians, we know how to listen to each other with keen attention in rehearsal and performance. These are skills we have honed through ear training, ensemble playing, and years of practice. When we bring a similar focus to our conversations with colleagues, we set the stage to advance both inclusion and solidarity.