by Keith D. Nelson, Local 369 Secretary-Treasurer and Member of the AFM Diversity Committee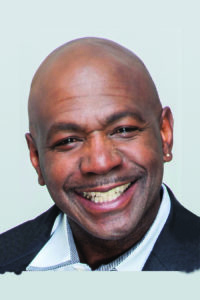 In 1980, I proudly joined AFM Local 369 (Las Vegas, NV). At that time, every hotel and casino that had a showroom contracted union musicians. The majority of casino and cabaret lounges, private bars, clubs, and restaurants that featured music employed union musicians. You really couldn't be a professional musician in Las Vegas without being a member of the AFM.
As a sophomore at University of Nevada, Las Vegas, the opportunity to join the union presented itself when I was hired as a relief bass player for the Folies Bergère show at the Tropicana Hotel and Casino. Back in the 1980s, shows ran seven days a week with three shows on Sundays! College music training had equipped me with sight reading abilities, and a "take-care-of-business" approach (i.e., show up on-time and do the job you are asked to do). Education, coupled with youthful energy and a concept for multiple music styles, multiplied my one relief night at the Tropicana into three to four nights with the Lou Elias Relief Orchestra for additional shows.
As a 20–year-old with primary interests in building monster skills and making money, I didn't fully understand the necessity for the musicians union or the vital benefits it would soon provide me—prenegotiated television contracts, prenegotiated recording contracts, union representation, employer pension contributions and associated vesting requirements, and employer paid health insurance. I never considered that one day my career would be directly affected by AFM contracts, labor rights, and reuse/royalty payments. Soon I would learn the importance of these benefits and protections.
In a blink of an eye, I was 30 years old with concerns for the aforementioned. To my surprise and elation, the AFM had structures and support systems that had been working on my behalf—royalty and reuse payments and a pension! Left to my own devices, this would not have been the outcome.
Thanks to the AFM, I enjoy much security and peace of mind in a profession that has faithfully served me and my family well. Equally important, I have a financial future and a secure music career to look forward to.
Choosing music as a career and having my dreams supported by various AFM contracts has been key to making a living as a musician. Today, thanks to my appointment to the AFM Diversity Committee by AFM President Ray Hair, I have the opportunity to promote the positive aspects of our union and hopefully represent its openness to accept all musicians, inviting them to enjoy the benefits of AFM membership.
The Diversity Committee's goal, passion, and commitment are to expand an already inclusive environment for all aspiring musicians throughout the AFM. My hope is that minorities will, at the minimum, populate the AFM in proportion to their American population percentage. For example, Hispanics make up 17% of the population, so our goal is to have at least 17% Hispanic AFM membership; Blacks make up 13% of the American population, so our goal is to see Blacks make up 13% of the AFM membership.
Ethnic background is not the only focus of the Diversity Committee. We are also striving for wider participation of musicians from all music genres. We are interested in creating an inclusive, united environment for musicians. In addition to classical music and other popular genres, we welcome those who specialize in Polynesian, Arabic, African, Asian, alternative, Jamaican, gospel, contemporary Christian, hip hop, and more. We want musicians from all backgrounds, beats, hooks, and rhythms to know they are welcome and encourage them to make their local chapter of the AFM their home.
The existence of a Diversity Committee is evidence that the AFM is committed to reaching out to musicians of diverse backgrounds. Implementing our desires and goals at the local level is a challenge we all face. The committee asks challenging questions such as: how do we create meaningful relationships with musicians that don't generally think of the AFM as an association that will benefit them? Asking the question is only the first step. Of course, the patent reply is "you have to organize," which is true!
One alternative is to think and operate differently in organizing. For example, here in Las Vegas, our executive board is grappling with the challenge of engaging millennials—a beautiful and unique group. Millennials aren't beating our door down to be a part of our local due to no fault of their own. Admittedly, we don't exactly speak the same language. So we are actively pursuing them. We identified a 24-year-young musician with great leadership potential and consistently invite her to our board meetings. As an observer, when she chooses to comment, we recognize her, give her the floor, and take notes!
We are inviting nonmembers to our Local 369 functions as observers, and if music is being performed, we are creating an opportunity for them to perform as well! If all are wanted, then all must be welcome to observe our operations and conversations.
Another example is gospel and contemporary Christian musicians. Almost every community has them. They are easy enough to engage, but our local isn't heavily populated with them. We need them to teach us how to attract their participation. We need to create relationships with any groups of performing musicians that have a presence in our communities, but lack representation in our locals.
As 2018 gets underway, please challenge yourself to invite new musicians to your union functions. Share the International Musician magazine with a nonmember and follow up with a conversation about whatever they highlight. By accepting the above challenges you are thinking and operating differently in how we organize!
Thank you for taking the time to read this article and for working with your local to encourage union membership.