By the 1990s Local 389 (Orlando, FL) was going through really hard times, but the troubles started years earlier. "For a few decades the relationships between Local 389 and our employers were fairly abrasive. We had lost an orchestra, and due to brutal arbitration, things had gone south with the largest entertainment company in the world, Disney," explains Local 389 President Mike Avila.
"In 1999 we decided to try a different approach," he says. "We began meeting with employers for the express purpose of building trusting relationships."
The strategy has worked. Local 389 has been able to survive, and most recently thrive, in the difficult "right to work" environment in Florida through relationship building and demonstrating to musicians what solidarity can do for them. "The end result has been better agreements (higher wages and better treatment of our players) and affording our musicians greater opportunity," concludes Avila.
Brenda Higgins was inspired to serve on her local's board after witnessing this change and the integrity and focus of Local 389 leadership toward improving the lives of local musicians. "It is always willing to stand against improper treatment of musicians and also to work out compromise without alienating management teams across the table," she explains. "While there are those who feel the local should be more heavy-handed in its approach, we
have been successful in changing the
minds of many through patience, perseverance, and kindness."
There has been an increase in live performance and recording opportunities both with the Orlando Philharmonic Orchestra (OPO) and Disney. This spring and summer 129 members of the orchestral community were hired for May through August. A 43-piece orchestra is performing The Music of Pixar, Live: A Symphony of Characters at Disney's Hollywood Studios, seven nights a week, for 94 consecutive nights, under an AFM CBA.
"The great thing about this summer gig is that most of our players would go on unemployment in the summer; instead, they are getting $285 per night, plus pension, and they get to be Disney employees and enjoy many benefits of that as well," says Avila.
A cellist, Higgins has worked in Orlando since 1975 when she won an audition with the now defunct Florida Symphony Orchestra (FSO). "A core of former FSO musicians came together as Music Orlando, later renamed Orlando Philharmonic, a per service orchestra," she says. An active Central Florida freelancer for more than 40 years, she has been a member of the Disney musical team since the late 1990s and plays in the Candlelight Orchestra at EPCOT every season. This summer she's also performing in The Music of Pixar, Live!
"The scales and working conditions have steadily improved under the current 389 administration," says Higgins. "The Orlando Philharmonic, which was a non-union successor to the unionized FSO, has been organized and we are working with
management to forge a consensus for a CBA going forward."
"We are in negotiations with the OPO, as our CBA expires August 31," says Avila. "Due to the aforementioned relationship-building these are the most productive talks we have ever had with an Orlando-based orchestra in my 34 years in Florida. Both sides are working hard to come to a place of mutual satisfaction."
Meanwhile, Disney has also hired two other full-time bands with benefits, two part-time bands working three days per week, and several solo and duo musicians to entertain in the resorts. The 51-piece Candlelight Orchestra begins its run in mid-November with 37 nights of performances. "Prior to our philosophical change in 1999, that orchestra was contracted (1099) with no pension or benefits. Because of our changed relationship with Disney they are all now working in-house as employees," says Avila. "Disney is providing a total of around 140 services for Orlando's orchestra musicians in 2017."
"This covered work has served to bring some local musicians on board with the union, thus strengthening the union in numbers and influence in the community," says Local 389 Secretary-Treasurer Sam Zambito, who is also president of the Southern Conference of Locals. "Our working relationship with Walt Disney World has been amicable and productive."
Disney also worked closely with the union to produce a Star Wars concert recording and streaming event, featuring the Orlando Philharmonic, conducted by John Williams of Locals 47 (Los Angeles, CA) and 9-535 (Boston, MA). "We've had several long-running engagements during the past 24 months where Walt Disney World staffed their shows under the conditions of our CBA, rather than turning to third-party contractors," he adds.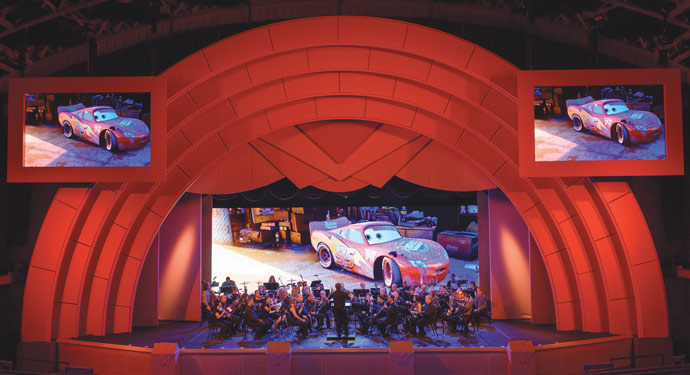 To increase their negotiating power with Disney even more, in January Local 389 joined a coalition of representatives from every major labor organization that has a CBA with Disney World and Disneyland, including Local 7 (Orange County, CA) leadership, President Bob Sanders and Secretary Tammy Noreyko. "East meets West!" says Zambito. "It was fairly informal, focused on sharing our knowledge base and strategies. We are now working together for mutual success."
"The union has gained great respect. We have created a situation where it is so clear that all the musicians benefit by working under CBAs. Some of the most vocal union opponents have realized that things are really improving and have come on board, says Zambito. "The state of Florida is traditionally extremely anti-union and the central part of the state doubly so. We have about 95% participation rate overall. In the long term it's going to help us achieve greater solidarity."
"The current anti-union sentiment in our country is disturbing, to say the least. And it is frustrating that so many in the labor force fail to see that only unity can provide balance in the workplace," says Higgins. "In a right to work state with a governor and legislature who wake up every morning with a commitment to ensuring that unions never regain strength, the battle is uphill and ongoing. The AFM, both nationally and locally, must remain mindful that balance is found through consensus and mutual respect, not ugly rhetoric."