As if 53 years manning the principal tuba chair of the Atlanta Symphony Orchestra (ASO) weren't enough, along with being artistic director of both the ASO's brass quintet and the Atlanta Brass Society, Michael Moore of Local 148-462 (Atlanta, GA) has dedicated most of those years to serving his colleagues in a dizzying number and variety of roles.
Moore has served on every single ASO committee and has had just about every position on the Orchestra Committee except secretary. With the International Conference of Symphony and Opera Musicians (ICSOM), he has served as ASO delegate, has acted on the Nominating and Minority committees, and was administrator of the Conductor Evaluation Program. Moore was elected member at large to the ICSOM Governing Board in 1990 and served in that capacity until 2002 when he became ICSOM's treasurer, the job he has kept for 19 years until stepping down this past August.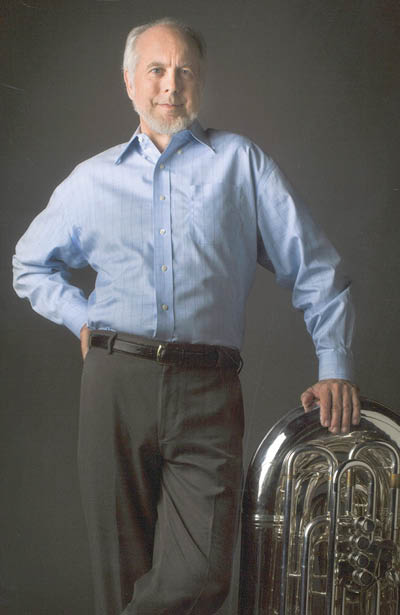 "I kind of have this overachiever thing going on," he says dryly. "And I also married one." Moore's wife, pianist Paula Peace, and his daughter, a band director, are also members of Local 148-462.
Teen Union Member
An Oklahoma native, Moore grew up in the Atlanta suburb of Avondale in 1953, where his father was the high school band director. "As a '60s kid, I enjoyed rock and played guitar, keyboards, and bass in a garage band," he says. In the school band, Moore was given a Navy-surplus Holton tuba to play. "To this day, I still play that basic design," he says.
He scored his first steady gig at 15, playing bass and guitar for the cocktail hour set at a hotel in downtown Atlanta. "One of the first things the contractor did was make me join the union," recalls Moore. "I had to get special permission, since I was below the minimum age. But my father was already a staunch AFM member." Indeed, when Moore was still in elementary school, his father joined the ASO as the orchestra's tuba player. "And tail-gunner bass when there were no tuba parts," he adds.
Moore himself landed in that same tuba chair in 1968 at the age of 18, right as the ASO was moving to full-time status—"I went from being the youngest principal tuba in the country, to now the longest-serving"—and also, unsurprisingly, auditioned on bass. "Robert Shaw liked what he heard of my tuba playing and gave me a shot," Moore recalls, adding that he understood that he had a steep learning curve ahead of him. He didn't take on Orchestra Committee involvement until much later. "I became interested in orchestra politics gradually as I matured," he says. "It wasn't until I was 30 that I first got elected. I felt that after 12 years in the ASO, I was finally qualified to do it."
On that first committee in 1980, he helped push for a 52-week season. "As the information we received about other orchestras came from ICSOM, I had also become interested in getting involved with that organization," he says. "I soaked up ICSOM like a sponge." He attended every conference as delegate and in 1986, hosted the ICSOM conference in Atlanta. "That was a learning experience," he laughs.
As ICSOM treasurer, Moore says his most satisfying role has been keeping all the numbers positive with the organization's finances. "Positive, and growing," he clarifies. "The year I joined the ICSOM Governing Board, their annual report talked about how little money ICSOM had, and how the organization would likely need to borrow from its emergency relief fund just to operate. Today, we have decent reserves."
Leaving ICSOM in Great Shape
Moore has seen (and helped shape) many changes in the orchestral field since those early days, and knows firsthand how ICSOM has had to struggle to keep up with both internal and external pressures—including the COVID-19 pandemic. "Despite the upheavals of the past year, our finances are stable and the ICSOM Emergency Relief Fund has grown to be potentially useful to orchestras who need it. If we can weather this pandemic, we can weather anything."
Moore admits his level of fiscal conservativism can be a balancing act between caring for colleagues and saving money. "I look at it like it's my own money, and never spend a penny unnecessarily. Sometimes it makes me look like the bad guy." It's for that reason, he jokes, that then-ICSOM President Brian Rood gave him the moniker 'IHAT,' for 'ICSOM hard-assed treasurer.'
The same year he ran for ICSOM delegate, Moore also ran for the Local 148-462 board. He still serves as the local's vice president and remains on the board. "It's great to have a voice and seat at the table to get your ideas across," he says.
Asked why he has always felt compelled to work on his colleagues' behalf, Moore is surprised by the question. "It's the only way to do things," he asserts. "If you really care about the industry, then you have no choice but to get involved and utilize your gifts, whatever those are, to help bring about the change that your orchestra and the industry needs. I happen to like dealing with numbers." His answer also contains another truism: If you're not satisfied with the way others are doing things, then you have to do it yourself. "With all humility," he adds, "I came up with some ideas that others hadn't thought of. That's a great reason for diversity on a committee—both racial diversity, and diversity of thought. Often, orchestral issues can appear to be mostly about the strings. I'm usually in the minority of non-string players and can sometimes contribute positive ideas from a low brass perspective."
Local Accolades
Accolades have rolled in from Moore's Atlanta Symphony colleagues and Local 148-462 officers alike. Says Brian Desarro, Local 148-462's operations manager: "Michael is not just an exceptional tuba player, he is also an exceptional leader within our local and applies an invaluable lifetime of knowledge to every committee, every student, and every interaction that can better the working lives of professional musicians. We are certainly better for him being here."
Moore's ASO colleague, horn player and Local 148-462 President Bruce Kenney, concurs. "Michael seems to sleep about half as much as the rest of us," says Kenney. "His e-mails to the Orchestra Committee are most likely to hit our inbox sometime around 3 a.m." Kenney says one of Moore's greatest assets is his knowledge of the ASO's CBA, which he also formatted and typeset. "Not just what the contract says, but what happened 30 years ago that caused some peculiar language to be written. He can inject some head-turning comments in negotiations, but he also knows when it's time to shake hands. Then he becomes our go-to guy so that the contract looks good and is readable." Kenney adds that Moore is a great help in preparing the annual budget for Local 148-462 and "monitoring it with an eagle eye throughout each fiscal year."
While Moore may have stepped back from his role at ICSOM, he intends to keep giving assistance where he can. "I feel that 40 years devoted to the field means it's time to pass the torch to those who haven't been in the trenches as long. I am still on the ASO's Orchestra Committee, and as an AFM Convention Delegate, I will continue to work at the national level to help our industry prevail over the obstacles facing it."
As far as playing tuba, Moore intends to stay in orchestras—and be involved in orchestra business. "As long as it's still fun and rewarding," he laughs.