Chicago Theater Musician Creates Art in Every Color of the Rainbow
Musicians often don't wind up where they started when embarking on a chosen career path. And sometimes the place they wind up is even more fulfilling than the one they imagined. As a high school flutist, Chicago native Dominic Trumfio of Local 10-208 (Chicago, IL) might not have imagined himself as music director of a drag show—but now he can't imagine it any other way.
It was a journey to get to that point, starting back in seventh grade as a saxophone player who found himself fascinated with the flute. "I was reluctant to change, though," Trumfio recalls. "Boys in the school band just didn't play flute." But when Trumfio started high school, he saw some of the older guys indeed playing it. And that cemented it. "My older brothers were in jazz band, and some of their friends played flute, often as a double. I decided there and then that it was what I wanted to do."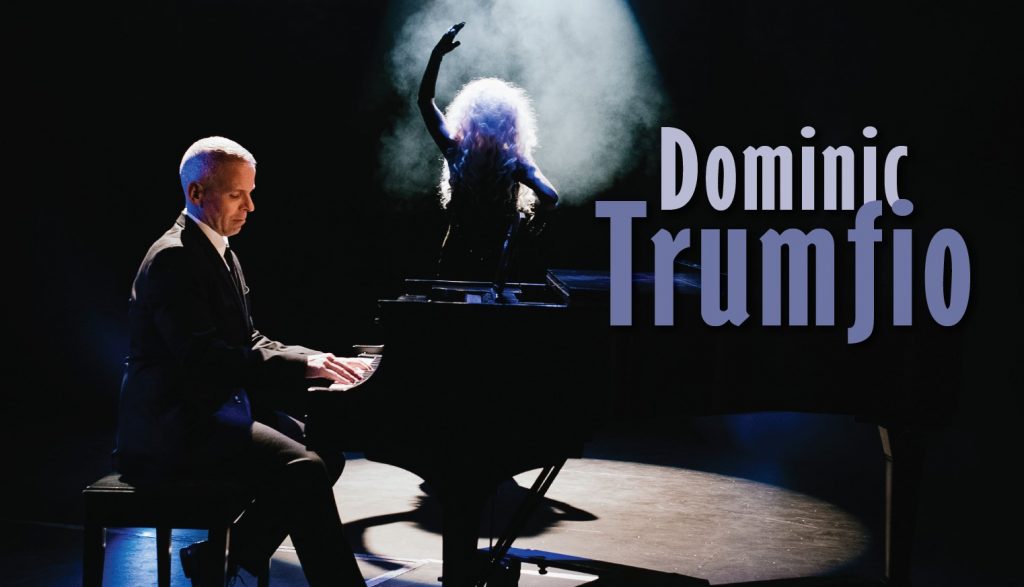 Trumfio says he was drawn to the qualities and colors the flute adds to an orchestral texture. "It's like the icing on the cake, especially in musical theater, where it has the job of playing solo and blending with the singers." He was a quick study, advancing to the principal chair in high school. Northwestern University was where he began to explore his theater fascination. "Even early on, theater pit work was something I sought out, through connections at Northwestern," he says. In 2000, he got a call to go on the road, touring for three years with Les Miserables. "It was one of the last remaining shows that toured with a full orchestra, all around the world. Back in Chicago, that gave me the credentials to play shows here on a higher level."
A multifaceted career has made Trumfio a commodity in Chicago's musical theater scene on flute, saxophone, clarinet, recorders, pennywhistles, and a wide variety of other wind instruments. "My advantage is being a flutist who also plays clarinet and sax," he says. "Typically it's the other way around—a reed player doubling on flute. And that's a hard switch."
These days, theater orchestra pits are where Trumfio does the bulk of his work. His many dozens of credited shows include Idina Menzel in concert, Ragtime, La Cage Aux Folles with George Hamilton, the 25th Anniversary Production of Les Misérables, and the opening of the Shrek The Musical national tour. He has also taken part in world premieres, including Now and Forever: The Music of Andrew Lloyd Webber, and The Bowery Boys. "It's a wonderful way to make a living," he says. Asked the usual pit orchestra question about how he copes with the repetition, he confesses that he actually embraces it. "Playing a show multiple times becomes like a ritual, so it actually ties in with the repetition of liturgical music." He adds that it also feels connected to Yoga, of which he is both a devotee and instructor.
Out of the Pit and into the Choir
When the COVID-19 pandemic shut everything down, including theaters, Trumfio found himself leaning further into his church work—largely choral conducting, another strong interest stemming from junior high school. "I first got involved with church music as a Confirmation service project," he recalls. "I played flute and piano and took over accompaniment duties for my church's choir. Ultimately I wound up putting myself partly through college as the assistant director at a Chicago church." Trumfio also did church music course work at Northwestern, studying organ, choral conducting, and liturgy. "So, the choral conducting really grew alongside my flute performance degree. But I've always approached conducting from an instrumentalist's point of view, meaning I try to keep good beat patterns and give clear cues."
After graduation from Northwestern University, he got a full-time church music director job, along with theater pit work. Trumfio says his faith has always been his inspiration and support, even when he was dealing with his sexual orientation. "It kept me on my path. I was aware of the prevailing church dogma, but that never deterred me." He acknowledges the reality that some churches (and indeed some denominations) don't accept LGBTQ+ people. "On the other hand, Old St. Patrick's, where I am currently associate music director, has an LGBTQ+ ministry," he says. In fact, the church recently rolled out a vision statement on inclusion, and constantly advocates for the modernization of the Catholic Church as a whole. "Dragging a 2,000-year-old institution into the 21st century isn't an easy job," he laughs. "But Old St. Pat's is acknowledged to be on the leading edge. It's a joy to work here, being the change that the church needs, and leading by example. We show people that this is what the modern Catholic Church can look like."
Onto the Stage
Trumfio first got involved with "Kiki Queens," a charity drag show in Chicago, through his husband Brandon, who works in the tech field but also likes to perform. "Brandon is a makeup artist, and he directs photo shoots. He was always interested in the art of drag," Trumfio says. Brandon met many like-minded people during his time in a local gay men's chorus. Unlike other drag performances, no one lip syncs. It's all live. Another major difference, says Trumfio, is the Kiki Queens' mission of giving back to the community. "Everyone involved with these productions is a volunteer, and every dime goes to local LGBTQ+ nonprofits." To date, after three years, Kiki Queens have donated more than $75,000.
As the show's music director, Trumfio prepares the singers—who typically sport pun-based drag names like Nita Bevvy and Izzie Contagious—during an eight-week prep period. "I'll help the performers find arrangements in keys that work best for them, and then my role is vocal coach." Since all the performers have come from local choirs, they naturally enjoy the art of singing together. "I'm also their pianist, so I help from the keyboard," he adds. "Occasionally, I'll even get to use my woodwind skills."
Becoming music director of a drag show is not particularly something he saw himself doing as a high school flutist at Interlochen music camp. "Drag queens used to scare me," he laughs. "In a typical drag show, they go after who they see as easy marks." Their targets are subjected to good-natured—and hilariously cutting—teasing and banter. "But in reality, they have such big hearts, and they're filled with generosity." Trumfio says he feels lucky to have a career in music, and it gives him the opportunity to give back. "And the performers in Kiki Queens share this same drive to contribute to their community."
The Kiki Queens are also conscious of not drawing work away from "career" drag queens. "We're a totally philanthropic endeavor. And so many people in Chicago, sometimes from surprising quarters, have been drawn to Kiki Queens and are now firm supporters. Some of my church congregation members even attend shows. My older white Reaganomics father is actually one of the biggest fans, and he loves supporting our mission," says Trumfio.
From Drag Shows to Union Shows
Trumfio believes his biggest lesson from the pandemic has been the importance of having multiple income streams and diversified work. "The theater world was decimated for a year and a half. That was a wakeup call," he says. "People need to stay open to other opportunities. But I'm lucky because this is how my career has always gone. My typical Sunday will be two masses in the morning, then a matinee and evening show in the orchestra pit. Musical multitasking keeps our skills sharp."
Among the many dozens of shows Trumfio has played in the orchestra pits of Chicago's award-winning Broadway and regional theaters, his last show—before Kiki Queens, and before COVID-19—was Phantom of the Opera. Like so many touring productions, Phantom employed a reduced orchestra. "Unfortunately, we're seeing more single-instrument chairs becoming part of a doubling book, or sequenced into and even replaced by the keyboards," he observes. "Shrinking pit sizes in theaters are a nationwide trend and a growing problem. It's at the forefront of our minds here in Chicago."
To that end, the issue has been taken up by the Chicago area chapter of the Theatre Musicians Association (TMA), a player conference of the AFM. The TMA works closely with the AFM on issues specific to theater musicians, whether local, on Broadway, or on tour. Trumfio is a director of the Chicago area chapter. "We recently got a resolution passed and are working in conjunction with Local 10-208 on contract language defining parameters about what producers can and can't do when shows come into town," he says. "It's not an official bylaw yet, but it's a victory, helping producers understand and acknowledge that these are real jobs, and musicians' livelihoods are being cut."
Trumfio works in close conjunction with violinist Heather Boehm, member of Local 10-208, president of the Chicago TMA chapter and vice president of the National TMA. "Heather has been deeply involved on the national level with the AFM," he adds. The goal, both locally and nationally, is to preserve playing jobs—and careers. As a TMA board member, Trumfio ensures there is theater representation in the LGBTQ+ community.
Trumfio is eager to see what happens when theaters come back post-COVID. "My hope is that all contracts will come back full force. But no matter what, the TMA is and will remain the voice of advocacy."
To keep up with Dominic Trumfio's activities, visit www.dominictrumfio.com.
To contribute to Kiki Queens' charitable mission, visit www.kikiqueens.org.