You're an active, successful session musician who grew up and learned by listening to your favorite players, then yourself, and your session buddies, over AM/FM radio every day when you drove your car. But in this new world of subscription radio, you've cut back listening to music on terrestrial radio because the last time you checked your bank statement, you still have not received a dime from the thousands of broadcast radio airplays you know are happening all across the country and overseas. This is despite the fact that your single, or your entire album, sat at the top of the Billboard 100 charts or played on European stations for years.
Technology has changed music delivery systems and the COVID pandemic has decimated your ability to make a living in the live music arena. That's right. When the live well dried up, there were absolutely no royalties and no income stream coming in from AM/FM radio plays, even though people still hear you on terrestrial radio.
Why? Because broadcast radio still sells the fantasy that the exposure you get on their stations for your creative property doesn't merit paying you for it. This is despite the fact that these stations make billions of dollars in annual advertising revenue that keep this conglomerate and their shareholders deep in the black, year after year. They still tell the lie that their exposure of your creative product will buy you a loaf of bread when you need it. I personally can't remember when playing for free, or just for the experience, earned me a living wage.
You've had it. That's why you tuned out terrestrial dial and went subscription. That's where your money is coming from with today's airplay. The AFM is in lockstep with the biggest names in the music industry to right this generations long abuse of your copyrighted product. The Federation continues its decades long effort to get broadcasters to pay you what you deserve. This year, the campaign is on a fast track to finally make a difference.
On Thursday, June 24, the musicFIRST Coalition, in conjunction with the global law firm Squire Patton Boggs, kicked off our campaign to introduce the industry's newest legislative bill, the American Music Fairness Act, at an outdoor press conference on Capitol Hill. The American Music Fairness Act, co-sponsored by Representatives Ted Deutch (D-FL) and Darrel Issa (R-CA), is bipartisan legislation supported by members of Congress, some community broadcasters, and their allies.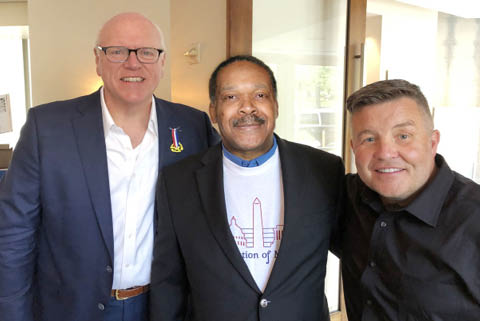 Also present, in support of the bill were: musicFIRST Chairman Joseph Crowley, a former congressional representative (D-NY); vocal superstar Dionne Warwick; Ken Casey of Local 9-535 (Boston, MA) who is the bass player for Dropkick Murphys; and R&B legend Sam Moore of the R&B duo Sam & Dave. (Moore and Warwick also stood with us to affect the passage of the Music Modernization Act.)
---
The American Music Fairness Act will:
Ensure performers are compensated when their songs are played on terrestrial radio.
Treat competing music platforms the same and create a fair market value for music performance royalties by including terrestrial broadcasts in the existing Section 114(d)(1) of title 17 of United States Code.
Protect small, local radio broadcasters through an exemption for stations with less than $1.5 million in annual revenue and whose parent companies make less than $10 million in overall annual revenue. For less than $2 per day ($500 annually), small and local stations can play unlimited music.
Exempt qualified public, college, and other noncommercial stations (who would only pay $100 a year), and super small stations.
Support American artists abroad when foreign stations play their music, recognizing American artists' performance right.
Protect songwriters and publishers, ensuring no harmful impact on the public performance rights and royalties payable to songwriters, musical work copyright owners, and publishers.
---
Special thanks to AFM President Ray Hair, AFM Local 161-710 (Washington, DC) Secretary-Treasurer Marta Bradley, Local 161-710 President and IEB member Ed Malaga, and the AFM recording and performing musicians who represented DC recording artists at this historic event.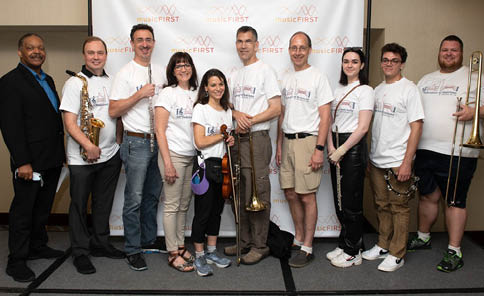 Pitch in and help your brothers and sisters—follow the AFM on Facebook and Twitter to join the campaign to pass this long-overdue bill and help with our other legislative initiatives—American Tax Parity Act (to restore artists' tax deductions lost in the 2019 Trump Tax Cuts and Jobs Act) and the PRO Act (to update and reform American labor law).