As previously reported, new streaming and licensing revenue from the sound recording industry via the Federation's 2017 Sound Recording Labor Agreement (SRLA), has infused new money into the AFM-EP Fund and has revitalized both the Sound Recording Special Payments Fund (SPF) and the Music Performance Trust Fund (MPTF). MPTF, throughout its more than 70-year history, has worked closely with officers and staff of AFM locals to co-sponsor thousands of live, admission-free musical performances each year throughout the United States and Canada.
MPTF was nearly out of money in 2016 and was forced to plan for the unwinding of its operations and the eventual cessation of business, pending the outcome of our negotiations with the labels. The problem was the changing trends in music consumption. From its inception in 1944 in settlement of a strike with the record labels, MPTF revenue was derived from a small royalty on sales of physical product, such as vinyl records, cassette tapes, and compact discs. Today, with 90% of label revenue attributable to streaming, MPTF and SPF would be out of business without streaming royalties to replace and reverse the decline in revenue from physical product.
Here is the good news: By the March 31, 2020 close of its current fiscal year, MPTF will have provided over $1 million in co-sponsorship funding during that 12-month period, compared to less than $500,000 in funding during the 2016 period. MPTF Trustee Dan Beck has advised that the April 2020 funding allocations will continue to rise due to the growth of streaming revenue.
The favorable developments concerning future MPTF funding underscore the need for locals and their members to work together to develop popular, successful performance programs that will benefit your community and generate new employment. Dynamic and diverse programs will build appreciative audiences, and promote recognition for MPTF, the Federation, our locals and our members year after year. A great local MPTF program works wonders for membership recruitment and retention.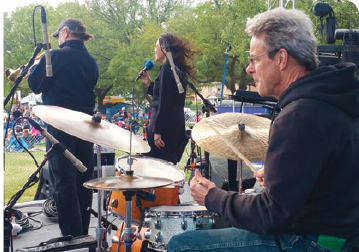 A well-rounded local MPTF program is built by fostering a variety of constructive, enduring relationships with producers of admission-free public events and with schedulers of entertainment for institutional purposes, such as hospitals and assisted living centers. Local community-based institutions, arts and civic organizations, neighborhood associations and entities that manage entertainment events and recreational programs for city parks, indoor and outdoor shopping malls, and suburban town squares, are always on the lookout for dependable partners that can provide first-rate talent for events that will promote goodwill for their venues.
How can you identify potential MPTF co-sponsors in your area? Your local city, county, and state arts councils are a good place to start. Arts councils, many funded in part by the National Endowment for the Arts, provide foundational support for community-based arts organizations, including some that may offer admission-free programs of professional musical performances.
A big buzzword in the arts council world is "collaboration." The prospect of access to MPTF funding could encourage arts council officials to promote partnerships with locals and community affiliates for the presentation of public musical performances.
Visit with your area shopping malls, neighborhood associations, shop owner "main street" associations, and city parks and recreation departments. Invariably, there is someone employed by those organizations to create free entertainment programs for the enjoyment of patrons and citizens of their communities. Find out who selects the musical offerings for those programs and contact them to pitch the obvious benefit of MPTF co-funding and local union talent. Any program coordinator juggling an entertainment budget will listen intently when it dawns on them that not only can you deliver first-rate talent, you'll also help them pay for it.
Another area of interest is the promotion of MPTF-funded programs of musical performances by professional musicians in public schools. A programming opportunity may arise if an established ensemble of professional musicians seeks to partner with a public school system to present concerts for elementary, middle school, and high school students in the public schools. MPTF can help where public school budgets have limited or no money for such programs and, particularly, where music department directors and school superintendents understand the educational benefit of enabling students to see and hear musical performances presented by outstanding professional musicians. In-school concerts by suburban symphony orchestras, jazz ensembles and big bands, and other musical styles are another creative way to introduce the community to the advantages of MPTF co-sponsorship.
Community leaders are always seeking recognition. They receive it by sponsoring and promoting public events where families can come together and enjoy good music in a community setting—the park, the town square, the mall, the neighborhood, the school auditorium. Not only do we perform the music, but, through MPTF, we can help our communities afford it.
Go out into your communities and look for opportunities to apply the MPTF advantage. Build a balanced performance program by establishing productive institutional, community-based, and business-related partnerships to bring fine musical performances to an appreciative public. Build a program that builds audiences, and every musician in town—and your community—will beat a path to your door.
Legendary jazz drummer and University of North Texas Professor of Music Ed Soph leads an MPTF project performance in Denton, Texas, at the Denton Arts and Jazz Festival. He was accompanied by UNT jazz faculty colleagues Mike Steinel, trumpet, and Rosana Eckert, vocals. All are members of Local 72-147 (Dallas-Fort Worth, Texas).