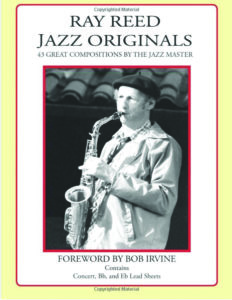 Ray Reed was a first call, woodwind multi-instrumentalist who performed on hundreds of jazz recordings over a 40-plus year career, including with Stan Kenton, Johnny Mandel, Bill Holman, and Frank Zappa orchestras. He also worked with Med Flory's Grammy-winning Super Sax. Over his career Reed composed more than 100 jazz tunes. This book includes 43 of his better known compositions, as well as a comprehensive biography of Reed. It is available with or without a CD with printable pdf lead sheets in concert, Bb, and Eb keys.
Ray Reed Jazz Originals: 45 Great Compositions by the Jazz Master,
by Bob Irvine, Infinity Publishing, www.buybooksontheweb.com.