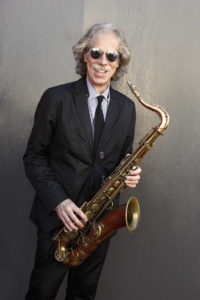 Music and people are clear priorities to Lou Marini, who has been an in-demand sideman and session player his whole career. The multi-instrumentalist is adept on soprano, alto, tenor, and baritone sax, as well as piccolo, flute, and clarinet. He's also a composer, arranger, producer, and educator.
His distinctive solos can be heard on dozens of albums from artists like Eric Clapton, Stevie Wonder of Local 5 (Detroit, MI), Aerosmith, Jimmy Buffet of Local 257 (Nashville, TN), John Tropea of Local 802 (New York City), and Steely Dan. This year Marini looks forward to a long list of appointments including touring this summer with Local 802 member James Taylor; performing at the Kennedy Center with Lynda Carter; as well as traveling to Japan and Europe with the Blues Brothers Band.
A member of Local 802 since 1971, Marini says he first joined the union in Ohio as a teenager. "I was around guys who believed in the union and what it could do and that we had to stand together," he says. "I'm a passionate defender of the union. Politicians seem to delight in claiming that unions are the source of all evil. It baffles me that the normal worker doesn't realize that, if you leave it to the man to determine what you are going to get, you are going to get less and less."
"I have a good pension through the union—a cushion of financial stability. New York musicians who spent their whole careers on Broadway are set, and that's because, at some point, guys banded together," he concludes. 
UNT Days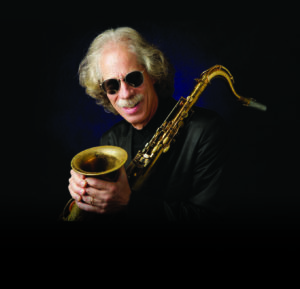 The son of composer and band director Lou Marini, Sr., Marini says he never considered pursuing anything but music. He's been working steadily ever since his days at the University of North Texas in Denton, where he played in the school's famed One O'Clock Lab Band. By the end of his freshman year, Marini also had a steady gig with jazz trumpeter Don Jacoby.
"I was playing in the number one jazz band in school, and at the same time, I was working six nights a week. Then I started recording. Dallas had a real vibrant recording scene and I became a part of that when I was 19 years old," he says.
Though UNT is known for its jazz program, Marini says that his time in Texas introduced him to the wide range of genres he would play for the rest of his career. He recalls one early experience when he was playing with Les Elgart's band. The show had them performing with the country duo Jethro and Homer, and the main act was bluegrass—Lester Flatt and Earl Scruggs.
"I was a little budding jazz snob. After the rehearsal we started jamming with Jethro on mandolin, and he played better than any of us did! That was sort of a mind-blower, and then that night, when we heard Flatt and Scruggs—their very first tune was at a blazingly fast tempo. I was like, 'Holy shit these cats are bad, and I sort of lost my jazz snobbery a little bit."
"In university I also got turned onto classical music much more," he says. "All that led to a more open mind as far as playing goes."
Between recording and freelancing over the next few years Marini played with anyone he could—Diana Ross and The Supremes, The Manhattans, Stevie Wonder, Gladys Knight. "They would come to North Texas and pick up horn sections from the area," says Marini who also managed to go on the road with Woody Herman's band during that time. "I was reading new, challenging music all
the time."
A True New Yorker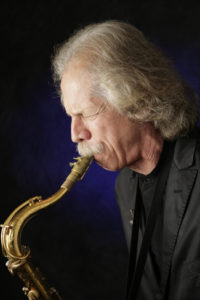 But that was just the beginning for Marini. To officially launch his career he set his sights much further north. "New York City was where I thought I should be," he says. Marini had played with Doc Severinsen when Severinsen toured in Texas, so when a friend mentioned Marini was moving to New York, the bandleader hired him immediately.
"I remember when I drove across the George Washington Bridge, I said to myself, 'I'm home.' I've always felt that way; I'm a committed New Yorker," Marini says.
He quickly became an in-demand New York sideman and session musician. "I had already played a super wide variety of music when I came to New York, so I sort of fell into the recording scene here," he says. "I always liked the challenge and camaraderie of going into the studio and sitting down and sight reading."
Marini also credits his strong mid-Western values for his success in New York. "I was on time and prepared. Those things stood me in good stead when it came to New York," he says. "It was based on tons of hard work. I'm still practicing three or four hours a day. I certainly never had a master plan, but doors open and you have to be prepared."
Three months after arriving in the Big Apple, Marini joined Blood, Sweat, and Tears, in 1972. During the 1970s he also worked with The Band, Levon Helm & the RCO All-Stars, and Frank Zappa. But one of his most memorable jobs came about when he auditioned for a late-night television comedy show that was launching—Saturday Night Live.
"When I auditioned I just had a certainty that I was going to get the gig and what a wonderful gig it was!" says Marini. "That time was so fantastic. I remember Alan Rubin, right before we'd play the opening theme he'd say, 'Where's the hippest place on earth to be right now?' It was fun; it was so loose."
Marini says that one of the greatest things to come out of the eight-year SNL gig was his friendship with bassist Bob Cranshaw of Local 802. "Bob, to me, is a jazz hero," he says. Other long-lasting outcomes of the show were the Blues Brothers Band and Marini's nickname, Blue Lou.
"Dan Aykroyd told us we had to have a blues moniker and that he would supply it if we didn't. I chose Blue Lou because it's the title of an old jazz tune that my Dad had a recording of," says Marini.
"If someone had told me in 1978, when we started, that in 2016 we would be going to Japan as the Blues Brothers Band, I would have told them they were out of their minds," laughs Marini, who also appeared in the Blues Brothers movies.
"The Blues Brothers is energy and camaraderie—most of us have been on the road together for at least 20 years. [Steve] Cropper and I kiddingly say that we've had dinner with each other more than we have with our wives," Marini says.
"We've had a lot of adventures," he continues. "One thing that's great about the Blues Brothers Band is that, because of the nature of it, we play places like three-county summer arts festivals in the South of France—unbelievable beautiful villages where they bring you local wine and cheese. You can't buy those types of experiences."
Marini the Leader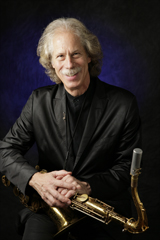 It wasn't until the 1990s that Marini released his first project as bandleader, Soul Serenade. Lou's Blues followed in 2001 and then Starmaker. As a bandleader he is committed to looking out for his band. "I think that I pretty much see things through the sideman's eyes. I have this funny idea that everybody should be treated fairly and with respect, and make good money," he says.
The most recently released project to feature Marini is The Blue Lou & Misha Project—Highly Classified. Marini first met Misha Segal when he was on tour in Israel. The pair kept in touch and Segal later relocated to the US. "We were hanging out one night at his pad and he played me some stuff he had been working on, and he says, 'what do you think?' And I said, 'It's nice, but it needs a saxophone solo,'" recalls Marini. The project took several years of going back and forth between L.A. and New York until its release in 2010.
Currently, Marini is working on a CD of originals inspired by his frequent trips to his wife's native Spain where he plays and sings in the blues quartet Redhouse. "We started playing together in Madrid about seven years ago and have done a couple hundred gigs around Spain," says Marini. "I sing about a half-dozen tunes. This is a real jazz album with vocals."
But, he confesses that he's way too busy to put a timetable on the project, saying, "I'm going to find windows to record it, and in between we want to record a new Blues Brothers album, probably at the end of April."
Marini's biography reads like a who's who of the music industry. He says, simply: "I'm happy to have done things I did and I treasure the friendships I've made along the way, and all the great musicians I've gotten to play with. When you get to be 70, there's a lot of water under the bridge, and a lot of the guys that were swimming in it are gone too! At the same time, I look forward to the next thing."
"I'm still trying to figure out how to play," he laughs. "You can't exhaust it; you hear these young saxophone players—what the hell are they doing, what is that, and how can they play so fast? I gotta practice! The fact is, I just like playing, so I practice."
"When I look back on it, I've had a long and continuing apprenticeship," he notes. "I keep ending up in these great gigs, but I'm just in awe of my fellow musicians. I like people, and that's one thing about being a musician—they are a bunch of nuts! So you get to meet these characters that just delight you and make you laugh."