CBC Music has announced its annual "30 under 30" list, celebrating the accomplishments of Canada's emerging classical musicians. "They're winning competitions and awards, graduating from top music schools, [and] making exciting debuts," according to CBC Music. A number of musicians on the list are members of the AFM, including:
---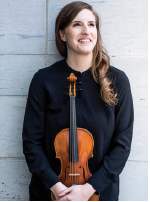 Elizabeth Skinner, 29, violinist and member of Local 406 (Montreal, PQ). Skinner recently completed her master's in violin performance at McGill University's Schulich School of Music, and is continuing her studies there as a Doctorate of Music in Performance Studies candidate. She is a founding member of Trio Émerillon and a member of Montreal's cutting-edge classical string band, collectif9. In 2019, she played with the Orchestre symphonique de Montréal for its European tour and tour of the Americas. She also regularly plays with the Manitoba Chamber Orchestra.
Photo: Annie Éthier
---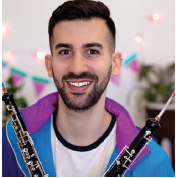 Ron Cohen Mann, 29, oboist and English hornist, and member of Local 226 (Kitchener, ON). A graduate of Yale, Mannes College, and the University of British Columbia, Cohen Mann is a frequent recitalist, new music proponent, orchestral musician, and teacher based in Toronto. He is passionate about advancing the oboe as a solo voice in recitals and chamber music, and has lately been creating tutorials on Instagram and YouTube. He has won numerous awards and competitions, and has performed with ensembles in Canada and abroad. Cohen Mann is a sought-after teacher and has held positions as an Oboe Instructor at Yale College and as a Teaching Artist at the Yale Music in Schools Initiative.
Photo: Oboeron Photography
---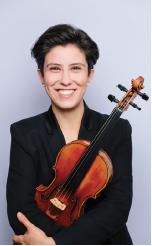 Marie Bégin, 28, violinist and member of Local 406 (Montreal, PQ). Bégin has performed in recitals as a soloist and in ensembles around the world. At age 26, she was appointed first violin of the Saguenay Quartet (Alcan) as well as concertmaster of the Saguenay-Lac-St-Jean Symphony Orchestra. She also forms a permanent duo with pianist Samuel Blanchette-Gagnon, also of Local 406. The two are working on a recording of 20th century works for violin and piano. She graduated from the Conservatoire de musique de Québec, pursued studies in academies throughout Europe, and has won several prizes in international competitions.
Photo: Stéphane Bourgeois
---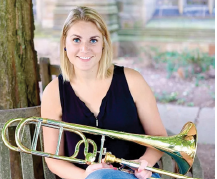 Hillary Simms, 25, trombonist and member of Local 149 (Toronto, ON). Simms is a founding member of Canadian Trombone Quartet, Canada's first all-female professional trombone quartet. In January, she was named Stratford Symphony Orchestra's 2020 emerging artist. Simms has recently played with the Canadian Opera Company, The Thunder Bay Symphony Orchestra, and the Windsor Symphony Orchestra. She holds a bachelor's in music performance from McGill University, a master's in music performance from Yale University, and is currently finishing an Artist Diploma at the Glenn Gould School. In September, she's moving to Chicago to begin her doctorate at Northwestern University.
Photo: Zachary Haas
---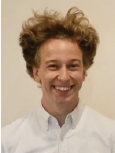 John Sellick, 25, is a violist and member of Local 149 (Toronto, ON). Sellick received his undergraduate degree from the University of Manitoba and was completing his final year at the Glenn Gould School when the COVID-19 pandemic hit. He is the winner of the University of Manitoba competition, and has also played with the National Youth Orchestra of Canada and the Winnipeg Symphony Orchestra. Sellick is also heavily involved with the El Sistema music education program, as an educator, administrator, conductor, and arranger.
Photo: John Sellick
---

Bryn Lutek, 25, is a percussionist and member of Local 406 (Montreal, PQ). Lutek recently completed his master's degree at the University of Toronto, studying with Aiyun Huang and Charles Settle, both of Local 149, and collaborating with three other students on research into John Cage's experimental electronic work Cartridge Music. Their project was accepted to the TENOR 2020 International Conference on Technologies for Music Notation and Representation in Hamburg, Germany. Lutek has recently moved to Quebec City to begin his new job as principal percussionist of l'Orchestre symphonique de Québec.
Photo: Bryn Lutek
---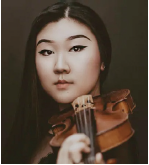 Chloe Kim, 23, violinist and member of Local 247 (Victoria, BC). If the COVID-19 pandemic hadn't happened, Chloe Kim would have spent May and early June touring as a concertmaster in Germany, the Netherlands, and the U.K. Instead, she organized Music for the Pause, a weekly online summer concert series in Victoria. Kim graduated from the University of Victoria and currently is in her final year of a two-year master's degree in historical performance at Julliard, which specializes in music composed before the 18th century.
Photo: Kelsey Goodwin
---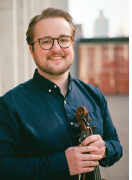 Jacob van der Sloot, 22, is a violist and member of Local 145 (Vancouver, BC). Van der Sloot made his solo Carnegie Hall debut in 2019 playing Brahms' Viola Sonata No. 2 as part of Julie Jordan's International Rising Stars series when he was a student at Julliard. Jacob's passion for chamber music also carries into music outreach, playing chamber music all over New York City in hospitals, prisons, retirement homes, schools, and psychiatric facilities as part of Juilliard's "Gluck" Fellowship program. In January, he became the youngest member of the Vancouver Symphony Orchestra.
Photo: Jeiming Tang
---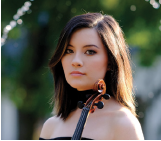 Gabrielle Després, 19, violinist and member of Local 390 (Edmonton, AB). Després recently concluded her second year at Juilliard. In February, she played Mahler 5 with the Juilliard Orchestra at Carnegie Hall and in January she took part in Juilliard's Chamberfest. She recently took first prize in the Irving M. Klein International String Competition, which was held online this year due to the COVID-19 pandemic.
Photo: Jacques Després
---