Pour la version française cliquez ici.
On September 27-29, representatives from the Canadian Federation of Musicians (CFM) took part in the Folk Music Ontario Conference (FMO). CFM involvement has varied over the years, but this year they were proud to present the Folk Music Ontario Awards Showcase, which featured many of its award-winning members, including The O'Pears (Meg Contini, Jill Harris, and Lydia Persaud, members of Hamilton Local 293) and Tragedy Ann (Liv Cazzola of nongeographic Local 1000 and Lenka Lichtenberg of Toronto Local 149).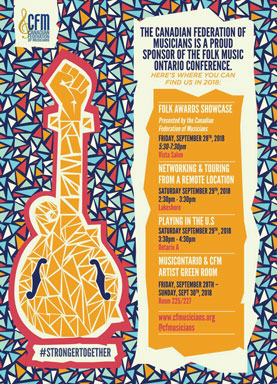 "When I am asked what my definition of a 'showcase' is, the Folk Music Ontario Conference is often the example I give," says CFM Licensing and Outreach Coordinator Rosalyn Dennett. "The organizers do a great job of creating an opportunity for artists to perform for international and Canadian buyers, network with the industry and fellow artists, and receive top-of-the-line professional development training, all without exploiting their performances in a public setting for ticket and bar sales."

CFM Director of Administration Susan Whitfield and Consultant Robert Baird from Baird Artist Management gave a "Touring in the US" presentation to a full room of delegates. They outlined visa options and touring tips for Canadian musicians performing in the US.

Dennett moderated a panel titled "Networking and Touring from a Remote Location," which focused on how artists based in remote or rural locations can access the same opportunities as those based in large cities.

For the second year in a row, the CFM partnered with MusicOntario, the provincial music industry association for Ontario, to host the CFM Artists Hospitality Room. Together they supplied refreshments, healthy snacks, and AFM "swag bags" for the showcasing artists in a green room where performers could safely store their instruments and warm up.