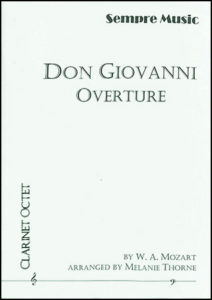 This arrangement of Mozart's Don Giovanni Overture for Clarinet Octet includes parts for clarinet in Eb, clarinet in Bb (alternate to clarinet in Eb), four clarinets in Bb, clarinet in Bb (alternative alto clarinet in Eb), two alto clarinets in Eb, and two bass clarinets in Bb. All parts are written to challenge and interest students in grades six through eight.
Don Giovanni Overture: Clarinet Octet, arranged by Melanie Thorne,
Sempre Music, www.sempremusic.co.uk.