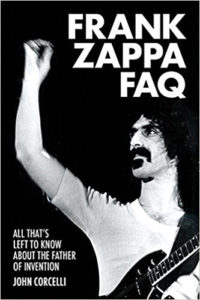 Frank Zappa FAQ examines the long and illustrious career of Frank Zappa, following his style shifts over the years, his prolific catalog, from Mothers of Invention's Freak Out! to Beat the Boots, as well as his film and video productions. Author John Corcelli explores Zappa's creative process, from recording to leading a band. The book covers his lyrical themes, guitar playing, and the long list of talented musicians who shared the stage and studio with Zappa over the years. It also looks at Zappa's legacy through his son Dweezil Zappa's music. Included is a recommended reading list and complete discography.
Frank Zappa FAQ: All That's Left to Know About the Father of Invention,
by John Corcelli, Hal Leonard Corporation, www.halleonard.com.