Joel Quarrington, a life member of Local 149 (Toronto, ON) and Local 180 (Ottawa, ON), has served for over 30 years as the principal double bassist of many ensembles including the Canadian Opera Company, the Toronto Symphony, Canada's National Arts Centre Orchestra, and the London Symphony Orchestra. He also teaches at the University of Ottawa and the Royal Academy of Music in London.
Quarrington performs on an Italian bass made in 1608 by the Italian master Giovanni Paolo Maggini, and is an enthusiastic advocate of the historical practice of tuning the bass in fifths rather than the customary fourths. He believes fifths tuning leads to clearer and more accurate performance in all ranges of the bass, as well as greater tonal richness.
International Musician recently spoke with Quarrington about his career, his music, and what he has been doing during quarantine.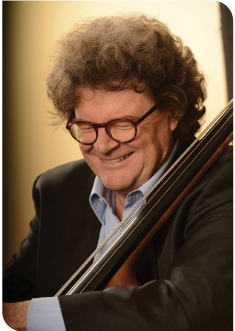 IM: When did you start playing music?
JQ: "I wanted to play an instrument because my two older brothers played a lot at home. I grew up watching them play and wanted to join them. My oldest brother, Tony, taught me. We had a brotherly trio and we kept that up for many years. We played bluegrass country and had banjos, guitar, and double bass."
IM: What type of music education did you have growing up?
JQ: "I attended the University of Toronto and studied music there. I also studied in Rome, Italy, and Vienna, Austria privately. I enrolled in school in Austria, too.
I traveled all over Europe for lessons; I wanted to learn as much as I could.
I joined our brotherly trio when I was seven years old. We had two guitars and Tony on the banjo. Sometimes Tony would bring the double bass home from high school and we would include it in our trio. In grade 7, I chose to study the double bass. That way if I learned the double bass, my brother Tony would play the banjo in our trio. I just really love the banjo and its sound."
IM: What interested you about classical music?
JQ: "When I began studying bass, I got good right away. My teacher at school suggested that I begin studying privately. My teacher was the principal bassist at the time for the Toronto Symphony. I knew that eventually I, too, wanted to be in the symphony. The first time I played in a symphony, I was 12 years old. At that point, I was certain that that's what I wanted to do."
IM: When and why did you decide to become a union musician?
JQ: "I first joined the AFM when I was 18 years old. In order to become a real musician, I had to be in the union. When I joined the Chamber Players of Toronto, it was mandatory to be part of the union. I remember signing my papers then. I'm now 65. When I joined, my retirement date was 2020, and I thought that date would never come. Now, it's here and I have no interest in retiring!"
IM: How has joining together with other musicians in union allowed you to improve your life, both professionally and personally?
JQ: "I have never thought about not being in the union. Being in the union has improved my life and it's provided me with a huge network. In retrospect, the benefits and pension fund is the nicest part about being in the union. Every union job always pays an amount to your pension. It's very beneficial. I've also gotten connections for gigs through the union. The work the union has done on my work visas has been helpful and indispensable, as well."
IM: Have you participated in your local in any way?
JQ: "During the 1999 Toronto Symphony Orchestra strike, I attended lots of meetings. The AFM provided the legal fees and a representative for our contracts. This was very beneficial as a union member. In 1991, our salaries were cut by 25% and we didn't have raises for eight years. We went from being a 50-week orchestra to a 42-week orchestra. Our summer season was wiped out. However, after 9/11 the contract that was settled on couldn't be paid. Now, the Toronto Symphony is doing great.
The union has been very helpful, as they have been for every orchestra I've played with. The AFM has helped with collective bargaining agreements, electronic media, contracts, and all aspects of orchestral life. Members of the orchestra also joined the union board. I think this helped as well. They were able to fix things and have more control over what was going on."
IM: What do you tell non-union musicians about the union and the value of being a member?
JQ: "I teach a lot of high school graduates before they head off to university. I let them know about joining the union and how beneficial it is being a member. I get them set up and everything at a young age before they go out into the world of being a musician. I also teach graduate students who have arrived from other countries who are on work visas. I have a nice relationship with the woman at the local union. I'm able to set up my students with gigs and it gets them out and performing."
IM: What are you doing to pay the bills through quarantine?
JQ: "I haven't been performing at all, but I have been teaching a lot. I've been enjoying my time in quarantine. I've been able to accomplish a lot. I've been writing pieces and teaching a lot. I also have some compositions I have wanted to get published. I've been working on some projects for years and now I've been able to get so much done."
TOOLS OF THE TRADE
Joel Quarrington uses:
• Basses: Santo Maggini 1660, Brescia/Italy (solo/recording); Mario Lamarre 2018, Montreal/Canada (orchestra); Masa Inokuchi 2000 Toronto/Canada (touring)
• Bow: Bernard Walke – special "Longbow" design
• Strings: Thomastik-Infeld Vienna – Dominant (top three strings), Spirocore Light (low C)
• Rosin (depending on weather): Kolstein Ultra All-Weather, Wiedoeft, and Leatherwood Bespoke
• Sound post: Anima-Nova carbon fibre adjustable
• Cases: Accord Flight Case – "Stanley Clarke" model; "Tuff-Lite" Flight case;
Mooradian Soft Cases, deluxe model; Accord Carbon Fiber Double Bow case; Holstein Bow cases