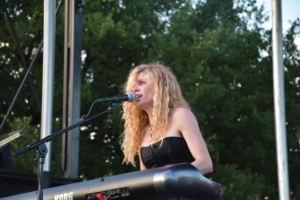 Annagrey of Local 72-147
(Dallas-Ft Worth, TX)
Singing jingles—the ubiquitous refrain on the radio that usually gets stuck in your head—is serious business. Local 72-147 (Dallas-Ft. Worth, TX) member Annagrey Wiechman, who now goes by the mononym Annagrey, landed her first jingle for Lays Potato Chips at just 14 years old. At 18, she was singing at a wedding when she was discovered by producer Otis Conners.
Now 45, Annagrey has done radio identification and advertising packages for home builders, cheese, dog and cat food, doctors, and a lot of car commercials. There are no sure-fire formulas for success in the industry, but her distinctive voice has secured gig after gig. Nearly 30 years after her first commercial, she's surprised by her own success.
Right around the time the Broadway musical Annie came out, with Andrea McArdle of Local 802 (New York City), Annagrey decided she wanted to become a singer. She was in seventh grade when the young star inspired her. Annagrey eventually attended the Booker T. Washington High School for the Performing and Visual Arts.
In the jingle world, art and advertising coexist to meet a particular need. In this case, Annagrey's career singing jingles allows her to compose her own songs and do solo work. "One feeds the other. After a long session of singing call letters, that's usually when I like to write my own music. It's therapy, detox from jingles," she continues. "You spend four hours using your voice—and emoting. It's all about the sound and the emotion, but you're not saying words that are emotional."
Jingling requires talent and tremendous vocal agility. Being able to calibrate one's voice, knowing which words to emphasize, not only takes practice but plenty of experience. Within the commercial, the cadence, the perceived emotion must all be readily accessible. In other words, it takes acting ability.
In the '50s, '60s, and '70s the jingles sound was more of an ensemble sound, a chorus—think "Buy the World a Coke"—which eventually morphed into a solo sound, with unique voices instantly recognizable. Annagrey says, "I feel like I've become one of those voices, and I'm proud of it. To do live work is fun, and jingles has been a great living. I honestly love to sing jingles."
Annagrey was doing jingles at Rosewood Studios when producers for LeAnn Rimes heard her singing and they asked her to do backup. Since then, she's also done backup singing for pop artist and Local 257 (Nashville, TN) member Meghan Trainor. She was on The Oprah Winfrey Show as part of the Pop Star Challenge, competing on three episodes, and finishing as a finalist. 
A regular lounge singer, who also plays with bands and artists around the region, Annagrey says, "I love the fact that I can take an old, old song and almost remake it. It's like singing a brand new song. It's been cool to experiment with songs that I've been singing since I was seven years old. It feels fresh because there's a different style. I can add a little bit of jazz or blues, even classical music."
Annagrey's influences are as diverse as her vocal range: Billy Holiday, Nina Simone, Stevie Wonder of Local 5 (Detroit, MI), Robert Plant, Celine Dion, Carly Simon, and Joni Mitchell of Local 47 (Los Angeles, CA). Vocally, she evokes Etta James and Norah Jones. With three CDs to her credit, she has covered and written songs that showcase an array of styles, from country to funk.
"As long as it's from the heart," Annagrey says, "Sometimes it's jazzy, sometimes it's bluesy, or straight out rock 'n' roll!"