Canadian singer-songwriter and multi-instrumentalist Serena Ryder is known for her vocal range and full voice. A natural talent, the six-time Juno winner has opened shows for Aerosmith and One Republic, and traveled with Melissa Etheridge on her 2011 tour across Canada.
Through hard work, networking, and creativity, she's built a steady following in Canada with her catchy, genre-blending songs. Ryder relocated to Petersborough, Ontario, from the small town of Millbrook at age 18 to launch her career. Roughly nine years later she had her first hit "Weak in the Knees" (2007) and then won her first Juno Award: Best New Artist of the Year (2008).
Though people stateside might not yet know her name, they may have already heard her music. The catchy tune "Stompa" from her fifth album (Harmony, 2012) was featured on both Grey's Anatomy and Hawaii Five-O. In 2013 Ryder performed the platinum recording on the Tonight Show.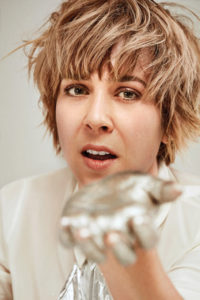 Now a six-time Juno winner, she has sold more than one million singles from her releases. All the while, she has been a member of Local 149 (Toronto, ON). "Now, as an adult I'm seeing the importance of being a part of a larger community and learning from that community," says the singer songwriter who will release her sixth album, Utopia, in early 2017 and launch an international tour.
As a child, Ryder's mother would write out the lyrics to songs she wanted to learn. At age seven, her mother found Ryder a private music teacher who ended up becoming more of a collaborator. "I already knew a bunch of songs—Linda Ronstadt, Buddy Holly, Roger Miller. He would play them on piano and I would sing. I did my first gig when I was eight years old at the Legion hall in Millbrook."
"I just knew I always wanted a life in music," says Ryder, who began writing her own songs at age 11, after her step-father gave her a guitar.
"My biggest influence was definitely Roger Miller," she recalls. "He was a quirky, amazing songwriter who kind of blurred the lines, but always made it fun and kind of silly. He didn't take himself too seriously, which I loved," she says.
She was further influenced by her parents' record collection. "When I was about 13, I went into my basement and just started unearthing all this vinyl," she says. There she discovered diverse artists—from Leonard Cohen to The Beatles. Their sounds now resonate in the music she creates.
Ryder says that the Canadian weather inspires her. "It's the changing seasons that really make Canadian music and gives artists diverse emotional perspectives. The weather affects how you feel. When it's freezing cold—minus 30 degrees Celsius—you don't want to even walk to the corner store. Music becomes more insular—about your close friends and family. In the summertime it gets as hot as Los Angeles and you're [music is] inspired by spring fever."
At just 33, Serena Ryder says she has seen huge changes in the way technology helps her create music. She says that, with the past two albums, she's had more creative freedom. Beginning with her fifth album, Harmony, she completely changed her writing process.
"It shocked me that I could go into a studio, write a song, and have the track finished in four hours. I used to write for a year or two, get all my songs compiled, find a producer, hire a band, and then we would get into the studio to learn the songs. Then, that would take a couple weeks," she explains.
She also finds her new process more instantly gratifying. "I feel more free to write whatever I want because it doesn't feel so painstaking and it doesn't cost as much in terms of money and time," she says.
"I made my last record mostly in my garage studio," she explains. "My producer stayed in my basement. In the morning he went to the studio and got all the tracks ready and the sound running. I'd go out with my guitar and start riffing and write for a couple hours; then he'd produce it. By the end of a day, we had one song done, sometimes two. The main recording of the whole album took a couple weeks."
Among the innovations it allows, is the ability to experiment with different instruments. She recorded some of her own harmonica and drum tracks. She also plays these instruments at her concerts. "Sometimes for an encore I'll play drums and guitar and sing, all at the same time," she says.
Ryder says the process of creating her sixth album, was even more unrestrained. "For Utopia I recorded stuff all over the world," she says.
With all her success, Ryder is the first to admit she's had struggles with depression and self-doubt along the way. She advises struggling musicians to look within themselves for answers. "The more you think about what you should be doing or how you should be doing it, the more complicated it gets." She says that one of the best pieces of advice Ryder received came from veteran AFM Local 47 (Los Angeles, CA) musician Melissa Etheridge who told her simply, "Do what you love."
The two met through Ryder's manager, Sandy Pandya, and developed a friendship. When Etheridge was looking for a Canadian musician to pair up with for her Canadian tour, she turned to Ryder.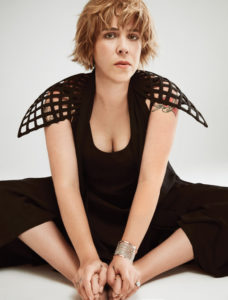 "Melissa Etheridge was an amazing person to be on tour with; she's one of the coolest people I've met and she kind of took me under her wing," says Ryder who was just 29 at the time. "She heard one of my songs, 'Broken Heart Sun,' which I'd written with one of her producers and she loved it." Etheridge recorded the song as a duet with Ryder and released it in Canada before the tour began." The pair also performed the song for the 2011 Juno Awards.
Of late, Ryder has been particularly prolific. She's written about 80 tunes in the past three years. "I really love them all," she adds, explaining how she followed her own advice. "I think it's because I haven't been taking myself so seriously, and I know that not everything I do matters as much as I think it does."
She says that being true to yourself is important in songwriting. "Write from the place where you feel, even if you think it's a bunch of shit!" she advises. "A year later you will look back at the songs you wrote and think they are amazing. I may not always be present with myself in some sort of happy state that we all want to be in, but I am honest."
Coming to terms with her inner struggles is at the heart of the new album's title, Utopia. The idea came from a First Nations story about two wolves. "There is a white wolf inside of you that is love and peace, happiness and joy, and it's starving; there's also a dark wolf inside you that is anger, jealousy, resentment, pain, and it's starving too. They are battling each other. The wolf that wins is the one you feed."
"Utopia, for me, is about marrying the light and the dark, and making a gray area—a balanced area. It's about finding your own balance in life. Utopia is a place of absolute light and perfection," she says.
This balancing act brings Ryder's typical diversity to the album. "There are a lot of dark songs about dark feelings and dark places, like the song 'Killing Time'—one of my favorites. It's about wasting time and getting caught up in your head. Then there's 'Got Your Number,' which is a single I wrote while jamming on the drums in my apartment. I was thinking about New Orleans, which I love, and people dancing in the street."
"Then, there's a song called 'The First Time'; it's about treating your relationships like you are meeting the people in your life for the first time. We all have history and we think we know our mom, sister, brother, but in actuality, we are always changing and every second is a new opportunity to see things differently."
Serena Ryder is pre-releasing a few singles from Utopia over the next few months, with an album launch planned for early 2017. "We are doing a lot of intimate shows to test out some of the new stuff live to see what the industry thinks," she explains.