Hal Leonard's answer to the fake book, The Real Vocal Book is legally and professionally copied and meticulously checked for accuracy in melody, harmony, and rhythms. A variety of recordings and alternate editions were consulted to create the most user-friendly presentations of 300 songs. Form within each song is clearly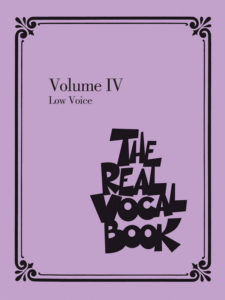 delineated and placed in obvious visual arrangement. Volume IV Low Voice (or High Voice) includes a variety of genres, from standards and jazz to pop and Broadway tunes.
The Real Vocal Book: Volume IV Low Voice, Hal Leonard Corporation, www.halleonard.com.