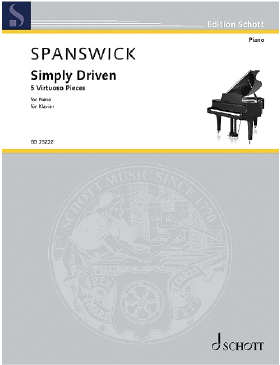 Simply Driven by Melanie Spanswick is a collection of five pieces for advanced to virtuoso level pianists. Each piece has a completely different character, while still reflecting minimalist influences. The pieces included are "Frenzy," "Aisa: Sand, Silk & Love," "Engima," "Chasm," and "Time," and are designed to challenge even the most accomplished of performers.
Simply Driven (5 Virtuoso Pieces), by Melanie Spanswick,
Schott Music, https://en.schott-music.com.