The Jazz Play-Along series is an ultimate learning tool for Bb, Eb, C, and bass clef instruments, providing musician-friendly lead sheets, melody cues, and split track choices on an included play-along CD for improvisation study. There's even a full stereo accompaniment track for performance. Included on 10 Classic Tunes are: "Black Narcissus," "Bolivia," "Cantelope Island," "Caravan," "Contemplation,"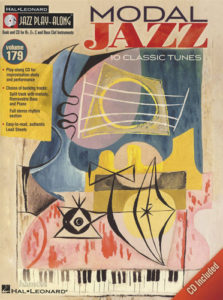 "Freedom Jazz Dance," "Impressions," "Shutterbug," "So What," and "Yes or No." There are 187 other Jazz Play-Along sets available, covering blues, swing, classic jazz, tango, and much more.
Modal Jazz: 10 Classic Tunes, Hal Leonard Corporation, www.halleonard.com.