Canadian blues guitarist JW-Jones joined the AFM nearly 18 years ago, primarily for the visa assistance when touring the US that membership offered him. He has been a member in good standing ever since, but, honestly, he says, he has taken his union for granted. The COVID-19 pandemic and the shutdown of the music industry, however, have showed him the error of his complacency and given him a new appreciation for the power of collectivism.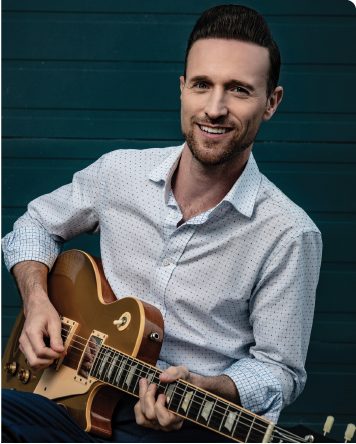 As an artist who plays mostly in groups and who lives to jam and record with every legend he can find, Jones found himself having worrisome thoughts during COVID lockdowns, feeling like real-time collaboration might never happen again. But the Musicians' Performance Trust Fund—a key partner with the AFM—came through, not just with a paid gig but with a chance to really make music.
"They paid union scale for these [internet live-streamed] performances, and it was a chance to actually play with my bandmates, to practice our material, to perform and know that people were able to see," he says. "It sounds so simple, but it was huge after months of just playing by myself. And all that doubt, just poof! It was like 'That's it! That's the feeling I remember! I am still inspired to play!'"
Amid the tension of the pandemic, the chance for a live show was both financially and emotionally helpful, but it also brought Jones, as a bandleader, huge peace of mind knowing that the relief fund administered through his local, Local 180 (Ottawa, ON), put literal money into the bank accounts of his bandmates. "Local 180 has been incredible. This is all tangible evidence that they can help you when you need it," he says.
The tension of the lockdown stood in sharp contrast to the year that should have been. Jones rolled into 2020 strong, winning the coveted Gibson Guitarist Award at the International Blues Challenge in Memphis in early February, and making his way home to Ottawa, to prepare for a year of performing.
And then COVID brought the world to a halt. Jones found himself in lockdown with his family and endless free time on his hands, so he decided to dig into some recordings that he had set aside. Though he typically performs with a trio, just drums and bass behind his guitar, he had recently played shows with a big band, including a large horn section. He loved the sound and enjoyed the possibilities of performing with a large group, so they recorded a handful of tracks to use as a demo to secure more gigs.
"It was just going to be an EP originally, but I was there at home, in lockdown; I couldn't play with my band, so I figured, 'Why not?' And decided to start playing around with it," he says.
Lockdown offered the time and the freedom to get experimental, and Jones leaned into that. Going the experimental route is sometimes a taboo in deep-rooted genres like blues, where gatekeepers and tastemakers can sometimes act as the purity police.
Jones grew up with music-loving parents in a house full of records of all kinds, from the Beatles and the Rolling Stones to Canadian folk. He took to the drum kit in his early teens, but when he saw B.B. King in concert at age 15, it all changed. He picked up a guitar and taught himself to play, spending countless hours learning to play legendary licks, note-for-note.
"When I started playing, I was totally one of those people," he says. "It was all about recreating that perfect sound. All I cared about was my heroes, my favorite guitar players; I wanted them to see what I was doing as being impressive, keeping the old stuff alive. But slowly, I evolved more and more. It's taken a long time to get to the point where I no longer care about what anyone thinks. I'm just making music that I love. I'm so fortunate to be at the point in my career where I know my fanbase will be with me no matter what. But you can't just change things for change's sake, it has to be coming from somewhere; you have to really feel like something is worth changing."
The new album is fittingly called Sonic Departures, and it delivers on that title. That's not to say that it's not wholeheartedly a blues album; it is. But between the big-band sound and a heavy slate of original songs, the listener is certainly invited to do a bit of exploring on their own. Adding to the originality: a few touches of whimsy also provoked by lockdown and the limiting of personnel that came with it.
"My wife actually sang backup on [the record]. She doesn't think of herself as a professional musician, but she has a great voice and she can sing harmony on absolutely anything. So I got her to sing on it and that was a lot of fun."
Jones and his wife also have a toddler-aged daughter who got in on the action. Like so many children of musicians, her toys include not just blocks and board books, but also the array of noisemakers that fill all the spare space in the house.
"She noticed the microphone one day," Jones laughs. "She liked that! You speak into this thing and pow! Your voice is loud! So she was playing around on it, and my producer decided to hit 'record' and we actually sampled her voice and used the sample on the record; [we] turned it into this weird, loopy intro. That little 'wah wah wah' voice at the beginning of 'Snatchin' it Back,' that's her!"
Jones has not yet signed up his toddler for her first union card, although the future holds plenty of possibility, he says.
TOOLS OF THE TRADE
JW-Jones endorses:
■ Gibson Gold Top Les Paul Standard
■ Fender Stratocaster Professional Series
■ D'Addario Strings
■ Kemper Profiler Amplifier (M Britt Profiles)
■ Flint Strymon Tremolo
■ Boss Fender '63 Reverb FRV-1
■ Star Access Guitar Picks