On the last day of January, pianist Angela Hewitt of Local 180 (Ottawa, ON) lost her best friend—her precious Fazioli concert grand piano that she has been using for the past 17 years for recording and performing.
Hewitt told the story of what happened—what she called an unfortunate accident—on her Facebook page 10 days after the incident and said she would not comment further.
She stated that as she finished her most recent recording session, the movers came into her studio in Germany and told her they had dropped her piano. The damage was catastrophic: the iron frame was broken, as was the lid and parts of the case, and much else in the structure and action, she wrote. The maker, Paolo Fazioli, and his staff inspected the damage and determined it was not salvageable. "It makes no sense, financially or artistically, to rebuild this piano from scratch. It's kaput," Hewitt wrote. "The movers of course were mortified. In 35 years of doing their job, this had never happened before. At least nobody was hurt."
One of the world's leading pianists, Hewitt appears in recitals and as a soloist with major orchestras throughout Europe, the Americas, Australia, and Asia. She gives well over 100 concerts per year, and also devotes herself to nurturing new talent through masterclasses she gives around the world and online. The London Evening Standard once referred to Hewitt as "one of the busiest pianists on earth," while her interpretations of the music of J.S. Bach have established her as one of the composer's foremost interpreters of our time.
Fazioli Pianos, founded by engineer and pianist Paolo Fazioli, has been producing pianos since 1981 and is considered by an increasing number of professional pianists to build the finest performance pianos in the world. The Fazioli factory, located in Sacile, Italy, individually handcrafts only 140 Fazioli grand pianos each year.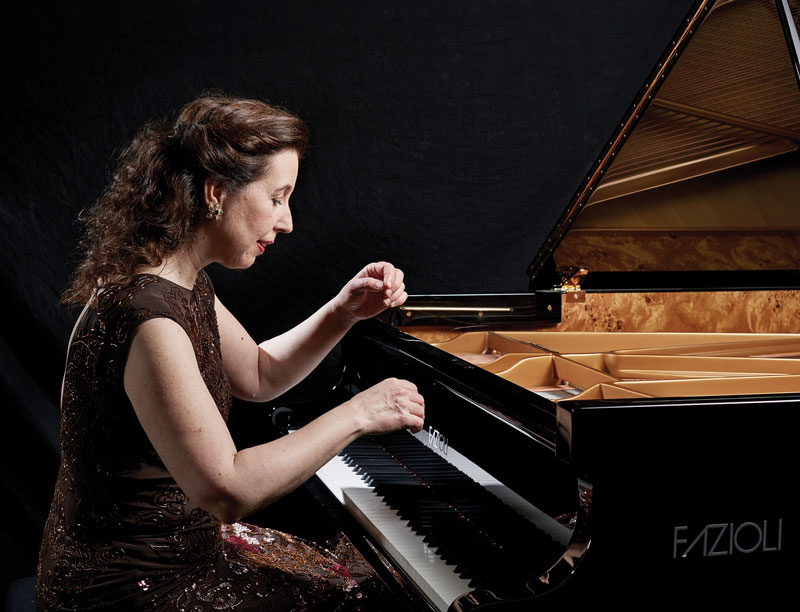 Hewitt's F278 Fazioli was the only one in the world to have a four-pedal mechanism, and it only recently had new hammers and strings put on it. "I adored this piano. It was my best friend, best companion," Hewitt wrote. "I loved how it felt when I was recording—giving me the possibility to do anything I wanted. … Now it is no longer. … I hope my piano will be happy in piano heaven."
Hewitt stated that she now must attend to the insurance aspect of the incident, and then she can choose a new piano from Fazioli.
As a professional musician whose instrument is her livelihood, Hewitt tells International Musician that it is, of course, "extremely important" to have insurance on your instrument. "Surely that goes without saying. I don't insure my hands (I'm just careful!), but I insure all the pianos I have."
She says it's also important to read your insurance policy carefully. "My particular insurance in Italy demanded that I tell them every time the piano was being moved out of my house because it wasn't covered unless I had alerted them to that fact. So that was an important thing to do," she says. "My policy in Canada covers my Fazioli there no matter where it is. Of course, it's also important to make sure you use a transport company that will have full insurance for the transport side of things."
AFM members are reminded that our union partners with Mercer LLC to provide the AFM Equipment Insurance Protection Program. The plan pays to replace your covered equipment when it's lost, damaged, or stolen; and if replaced with new equipment, coverage is available up to 10% above the scheduled amount. The plan also covers the cost of renting equipment to help you avoid losing income when you're waiting for new equipment.
Visit www.afminsurance.com for more information.