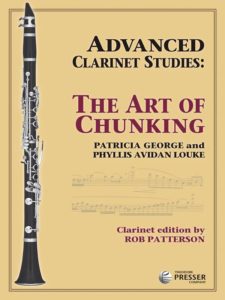 This method book was developed to allow clarinetists to master the powerful learning strategy known as "chunking." Through technical studies, etudes, preludes, cadenzas, and orchestra excerpts, the student learns basic and advanced chunking techniques to facilitate reading and tone development. The spiral-bound book presents a daily warm-up and 48 lessons in major and minor keys, plus 19 orchestral excerpts with practice suggestions for chunking exploration.
Advanced Clarinet Studies: The Art of Chunking, Clarinet Edition
by Rob Patterson, Theodore Presser Company, www. presser.com.