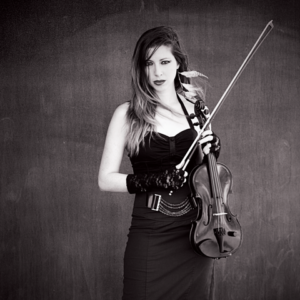 Violinist Leah Zeger of Local 47 (Los Angeles, CA) was 15 years old when she was sidelined by injury, essentially losing the use of her arm. It was a crucial time, preparing for conservatory auditions. Doctors were mystified as to the root of her pain, but Zeger's mother didn't give up and took her all over the world to find an answer. When she was finally diagnosed with thoracic outlet syndrome (TOS), they discovered she had a congenital abnormality that was causing nerve compression in her upper limbs.   
Zeger opted out of the risky surgery recommended for acute cases, but it would take another four years for her to fully recover. Her parents, Ruth and David Zeger, both orchestra musicians and members of Local 65-699 (Houston, TX), had nurtured her career. Her mother, especially, was disheartened. But it was during this hiatus—a break from the rigor of practicing classical music several hours a day—that she discovered other musical forms and recaptured teenage years usually lost to serious musicians. Zeger says, "She had given this identity to me, and I lost it. But I was having a great time living life. I was impressionable. I was able to explore music outside the classical world. Jazz friends were teaching me stuff. I was listening to rock music."
At 19, when Zeger was a sophomore in college, she again picked up the violin and her mother worked with her to prepare for an audition with Austin Symphony Orchestra. She secured a seat in the first violin section, beating out Juilliard grads. She credits her mother's expert teaching, saying, "She's fantastic. She motivated me."
During her time at a performing arts high school, Zeger studied with mezzo soprano Katherine Ciesinski and she continued studies in opera performance and violin at the University of Texas at Austin. After graduating, Zeger went on to become associate concertmaster of the San Bernardino Symphony and first violinist in Redlands Symphony.
Outside her classical pursuits, though, Zeger's musical tastes are more akin to a rock star than a classically trained musician. Jazz and blues factor into her performances, but hip-hop and rock are staples on her playlist, which includes Nine Inch Nails. What's more, the 33-year-old has a passion for the music of guitarist Django Reinhardt to which she was first introduced as a young girl. She's a featured soloist with the gypsy jazz band New Hot Club of America. 
Her extreme versatility means Zeger is in high demand. She's played alongside Willie Nelson of Local 433 (Austin, TX), Charlie Daniels of Local 257 (Nashville, TN), and Eddie Vedder of Local 76-493 (Seattle, WA). As a member of the Hollywood Bowl Orchestra, she played with Steely Dan—for Zeger, a dream come true.
Zeger is a musical chameleon. In a video she produced and directed she gives a thoroughly artistic performance of the "The Man I Love," alternating from ingénue to cabaret singer. In another, a leather-clad Zeger dazzles on an electric violin. Bands take advantage of her violin virtuosity and her ability to simultaneously sing in long legato tones. Zeger downplays her talent. "It's easy for me because I've always loved harmony singing. I had an ear for harmony already," she says. "If you do anything slow you can do it fast or up to speed."
In between symphony projects; jazz festivals, including Montreal, Buenos Aires, SXSW, and the Olympia in Paris; touring Europe; and working on recordings, Zeger is also a sought after film and TV session player who has worked with Annie Lennox, Stevie Wonder of Local 5 (Detroit, MI), and ELO's Jeff Lynne of Local 47.
Zeger's debut album, Leah and the Moonlighters (2010), is a collection of original works. In 2013, on Pour Moi, she gives spirited renderings of jazz selections, including compositions by Django Reinhardt. She lends her haunting vocals to jazz standards, and classical and folk melodies. More obscure arrangements are further recreated with Zeger's characteristic panache. Her third album, a combination of jazz/rock fusion, with string arranger Stevie Black, is expected to come out next year.
With such an eclectic and multi-faceted résumé, it's hard to know exactly what her dream job might look like. But with Zeger's artistry and flair for performance, and given her knack for mastering all things music—at the moment, she's learning the bass guitar—Broadway is not unachievable. For now, she says, "I'd love to be a headliner at jazz festivals."