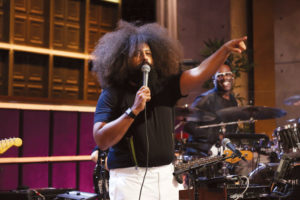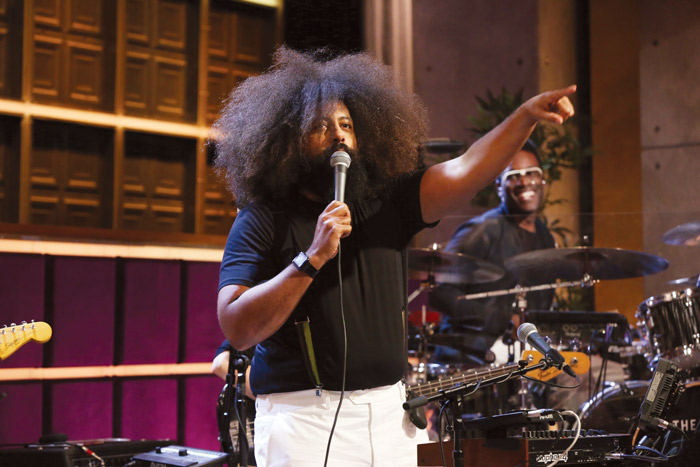 Reggie Watts of Local 47 (Los Angeles, CA) is making a definite mark on late-night television. For years, in his solo shows, he has entertained by disorienting his audience, referring to himself as a "disinformationist." His funky looking sweaters, colorful socks, and bigger-than-life afro made him instantly recognizable to fans. In 2015, he become the leader of the house band for The Late Late Show with James Corden. 
Watts wasn't looking for a "day job" when James Corden asked him if he'd like to be bandleader. Watts says he approached his decision to take the gig as a sort of experiment into an unknown realm. "I thought about it pretty hard for about a month," he says. "It's strange to have a thing repeat, and I entered into it interested in that idea, that paradigm."
Watts seems to have found his place on the show. "They give me the space that I need and the leeway," he says. "They trust me in what I do." He says he also enjoys the freedom of being able to exploit his unique improvisational skills for much of the show.
Watts hand-selected his Late Late Show bandmates: Tim Young (lead guitar), Steve Scalfati (keyboards), Hagar Ben Ari (bass), and Guillermo E. Brown (drums), all members of Local 47. "The band is really great; we have a fun time always," says Watts.
"We create great videos that I get to watch live during the show. I'm kind of half audience member and half bandleader. I appreciate the show from two perspectives," he explains.
As bandleader, Watts has an egalitarian take on publishing. "I made the decision to give equal publishing to everybody in the band for new material we come up with," he explains. "Splitting things evenly just makes sense. It's a great incentive and gives a cooperative feel, so there is no hierarchy when it comes to the money made from publishing."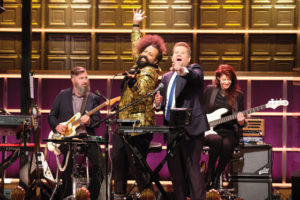 Watts likes knowing that he and his bandmates are covered under union agreements should any problems arise. "It helps them to know they are in a union, that's great!" he says. "It's really about guidance and advice, especially when things aren't moving smoothly. If there's a technical issue—a problem with publishing, overtime, or things of that nature, it helps them. It's a resource and kind of an ambient feeling to know I have this to fall back on. It's also about camaraderie and knowing you have a resource for questions you might have."
As a comedian and musician on The Late Late Show, Watts not only leads the band, but also participates in other areas of the show, acting as an announcer, as well as occasionally asking questions of guests sitting on the couch. "We get incredible combinations of people on the couch, and it's really a lot of fun," he says.
When it comes to his questions to guests, they are just as spontaneous as his music. Watts asked singer and guitarist Noel Gallagher, former frontman for Oasis: "As a person who lives on a very interesting island with a huge history, do you have hope that humanity will make good choices for itself for the future?" And asked actress Jessica Szohr: "Would you allow me to name a really hard-core metal band after your last name?"
Watts began honing his solo act way back in high school in Great Falls, Montana. "I always thought that music and comedy went together sort of naturally. When I was in drama in high school, we would perform in statewide drama competitions and I would do exactly what I'm doing now, minus the reverb pedals," he says.
Among his many early musical influences he names Ray Charles, Stevie Wonder of Local 5 (Detroit, MI), James Brown, and Elvis. On the comedy side, he was a fan of Monty Python and looked up to many of the popular comedians of the 1980s: Gilda Radner, Richard Pryor, Eddie Murphy, and George Carlin, plus Carol Burnett and Danny Kaye.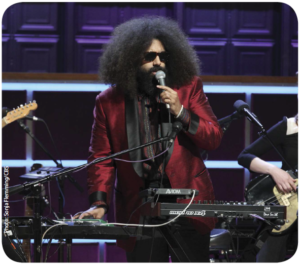 After high school, Watts moved to Seattle to study music at Cornish College of the Arts and became involved in as many as 20 bands, in a wide variety of genres. This early dabbling in new areas had a huge impact on his chops and continues to shape his act. "Whether it was a pop group, a dance band, a heavy metal group, a rock and roll band, a jazz fusion band, performance arts stuff, or creating music for modern dance choreographers, all of that has contributed to my history and my performance today."
In his one-man show, Watts switches between numerous accents, while singing and speaking, breaking into convincing faux languages. His music moves from hip-hop to blues to funk and heavy metal.
In the late 1990s, Watts was singer with the band Maktub, which also explored a variety of genres. Though the group never formally split up they stopped playing together when bandmates ended up in different cities. "We continued to make a couple albums together," he says. And it's not beyond the realm of possibility that they could one day create another.
Watts' most recent project is the Netflix special Spatial, which he describes as a "hybrid stand-up, science fiction, variety show." Debuting in December, it highlights Watts' musical and comedic talents through sketches, singing, stand-up routines, and dance. The show, like all of Watts' acts, is completely improvised.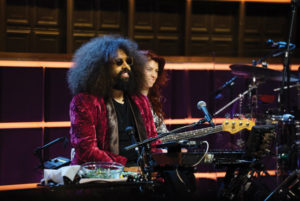 "I kind of just go for it; I'm listening to everything—my intuition, the audience, and even the soundprint the microphone might be making. I react to the moment," says Watts. To accompany himself, he uses a small table full of tools—a Line 6 DL4 delay pedal, a reverb pedal, an Eletro-Harmonix 45000 four-track looper/recorder, plus a Teenage Engineering OP1 micro-synthesizer.
Watts first incorporated loopers into his show back in the late 1990s. At first, he used the Line 6 DL4 with his band Maktub, as kind of an idea sketchpad. "I could sing ideas that I wanted the band to play and loop it," he says. "Then, I started to use if for harmony; I would sing my lead vocals and then harmonize with the sample." That evolved into using the looping function to accompany himself in his solo act.
Very much into exploring gadgets and modern technology, Watts calls himself a "fan" of virtual reality (VR). To that end, he created the 360-degree VR video, Waves, which includes special effects, music, and philosophy. He describes the experience he showcased at the 2016 Sundance Film Festival as "visualizing his imagination." He says that another VR 360 movie is in the works.
Watts' advice to other musicians? "Keep believing in music and keep making art, at all costs."