Crossover Guitarist and Singer Celebrates His Many Influences
As the first and foremost Latin to English crossover artist of all time, Local 47 (Los Angeles, CA) member José Feliciano is recognized for lending his unique style and natural talent to Latin music, pop, and beyond.
Blind from birth and blessed with the natural ability to play almost any instrument he picked up, Feliciano knew at a young age that music would be his life. "It was almost like God put the book on how to learn to play instruments in my hands," he says.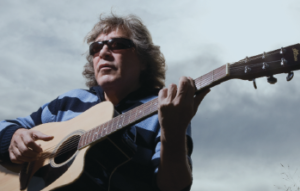 Feliciano was first attracted to music at age three when he accompanied his uncle's cuatro playing by tapping on a biscuit tin. Around age four, he picked up the harmonica. Following the family's immigration from Puerto Rico to New York City, when he was five, Feliciano started playing concertina.
He began teaching himself to play the instrument he is most known for at around nine years old. "I couldn't afford a guitar teacher; I didn't have money to learn the academic and proper way," he says. Instead, Feliciano would listen to guitarists he admired, figuring out the chords by sound. "I learned that way until around age 14. I would go to Sam Goody's in New York and buy Andre Segovia records, take them home, and play them on my phonograph. I would practice and practice, learning about a piece a month."
His only formal instruction came later, when a guitar teacher at Lighthouse for the Blind helped him correct some unconventional chord shapes he had developed.
Feliciano's influences gradually grew to include flamenco guitarists Sabicas and Vicente Gomez; rock and roll guitarists like Chuck Berry; as well as blues musicians like Muddy Waters, Little Walter, Howlin' Wolf, and John Lee Hooker.
Originally a member of Local 802 (New York City), Feliciano joined the union as a teenager. He was so confident that he could make a living as a musician, that he dropped out of high school at age 17 to help support his large family, which included 10 brothers. "The way I rationalized it was: what the hell were academics going to do for me, if I wanted a career in music?" he says.
"I thought I would just learn to play the guitar and be a damn good player, and that would be it. I had my doubts about becoming famous, for sure, but I never in my life doubted that I could become a really good musician," says Feliciano.
His career began humbly, playing coffee houses of Greenwich Village and "passing the hat." But his talent was soon discovered and he was signed by RCA. Following a 1966 performance at the Mar del Plata Festival in Argentina that was extremely well received, the RCA executives suggested he stay and record a Spanish album.
"The executives at RCA didn't know what to do with me. They were looking for 'disposable artists'—good looking young dudes who couldn't sing," he says. Feliciano, who had looks and talent, suggested he rework and record some Spanish songs—boleros—he used to sing with his parents.
"They put me in a studio with a bass player, percussionist, and maraca player, and I did my boleros. Nobody recorded with just guitar and percussion—it was a breath of fresh air!" he says. "All of a sudden I became a teen idol in Argentina, Peru, and Venezuela. I even got as far as Panama." Two more albums followed.
In 1967, Feliciano moved to California to launch his US career. He credits Rick Jarrard— "one of the best producers ever"—for his success in the US. "If it wasn't for his genius, I don't know if José Feliciano would have a career in English," he says.
"He put me together with some great musicians—people like Ray Brown on upright bass and Milt Holland on percussion," says Feliciano. His first big hit in the US, "Light My Fire," came in 1968 after Jarrard suggested he record a version of the Doors' song. "I said, 'Rick, I don't think I should. It was a hit by the Doors just a year ago.'" Feliciano decided to record it anyway out of respect for Jarrard.
It was the right decision. The song sold more than one million copies. It reached number three on US charts, and was also a hit in Canada (number one), Australia, Europe, and South America. "Light My Fire" resulted in Feliciano's first two Grammy Awards in 1969: Best New Artist of the Year and Best Pop Song of the Year.
Feliciano further affirmed his standing as an international star at Italy's San Remo Music Festival in 1971, when he won second place and earned a standing ovation for the song "Qué Será." The tune became a quick hit in Central and South America as well.
Over the years, Feliciano has released 31 albums for the English market and another couple dozen in Spanish. His numerous popular originals and covers have earned him 45 Gold and Platinum records, plus another seven Grammy Awards, including four Best Latin Pop Performance awards: in 1984 for "Me Enamore," in 1986 for "Lelolai," in 1989 for "Cielito Lindo," and in 1990 for "Porque Te Tengo Que Olvidar." In 2008, his album Señor Bachata was awarded the Latin Grammy for Best Tropical Latin Album. He received a Latin Recording Academy Lifetime Achievement Award in 2011.
Feliciano has a star on Hollywood's Walk of Fame since 1987. This November, the International Puerto Rican Heritage Film Festival presented him with a Lifetime Achievement Award, and he was also awarded the First Star of Fame in San Juan, Puerto Rico.
Feliciano's "Feliz Navidad" (1970) is probably his most well-known and beloved composition. A holiday classic, it's listed as one of ASCAP's Greatest Holiday Songs of the Century. He is proud that this song has become a shared holiday tradition worldwide. "I think 'Feliz Navidad' resonates with people because it's a happy song and it's simple," he says. "I'm glad it makes people happy every Christmas."
Feliciano has had the honor to perform for some of the world's most notable personalities—Mikhail Baryshnikov, Presidents Reagan and Francois Mitterand, as well as Pope John Paul II and Pope Benedict XVI. He's performed with many symphony orchestras including the Los Angeles Philharmonic, Boston Pops, Vienna Symphony Orchestra, and London Pops.
Throughout his career, Feliciano has recorded albums in a wide range of styles from mariachi to pop to Mozart. That diversity continued with The King (2012)—his salute to an artist he had admired from childhood. "When I was 11 years old I became an Elvis fan with Heartbreak Hotel. It was a work of love to do Elvis's music," says Feliciano of the self-produced album.
Another recent project had him recording a Mozart CD, Mozart Contrato Arias, with famed Austrian male soprano Arno Raunig. "I always loved Mozart's music. Mozart and I shared a similarity: he could listen to a tune and play it right away," says Feliciano.
Feliciano's current project Latin Street MMXV, is a continuation of his 1992 Latin Street 92 project, and includes "an assortment of flavors"—Latin, English, as well as Italian. "It is an anthology of my musical roots," he says, "featuring much of what defines me as an artist. It contains some of my original material and new interpretations of some of my favorite music. There are over 30 titles at this point." They are currently working on final mixing, sequencing, and mastering.
Feliciano's talent has made him an in-demand artist for more than 50 years. "My career has lasted longer than I ever thought," he concedes. "I'm still performing, doing concerts, and traveling the world. It's great!" He rounded out the year promoting an HBO Special, Latin Explosion—A New America, plus performing concerts in the US and Puerto Rico.
"If you do what you love and you do it with joy and you do it with a humble attitude, everything falls into line," he says.