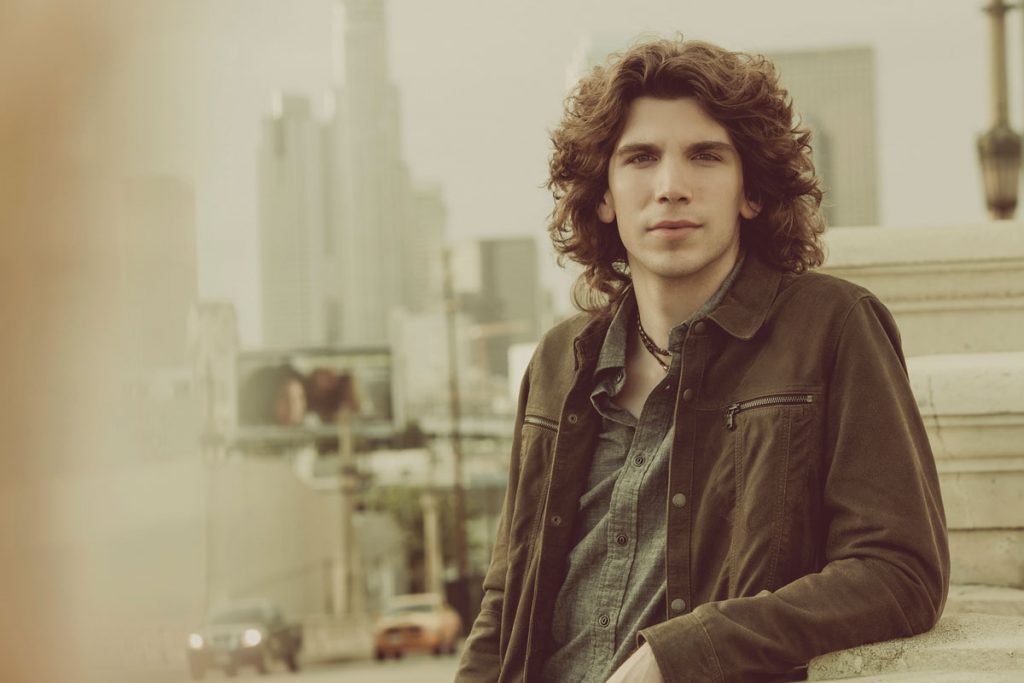 Guitarist/singer/songwriter Jesse Kinch of Local 47 (Los Angeles, CA) may only be 25 years old, but he is already a seasoned musician. He started playing guitar at age six and began singing at 11. Throughout his teens, while still in school, he was also sharpening his skills and playing the clubs in New York City and on Long Island. "I discovered I had a real powerful, passionate voice that was influenced by all the great artists that came before me, all the classic rock that I grew up listening to," he says. He was striving to break out of his hometown and find a bigger stage.
His chance arrived in 2014, at age 20, when he scored a spot as a contestant on the television show Rising Star—and won. He spent that entire summer performing live on stage every week—to a television audience of 5 million people—singing songs by artists who influenced him, such as Screamin' Jay Hawkins, Credence Clearwater Revival, and The Who. His slow-tempo cover of Michael Jackson's hit song "Billie Jean" in the semi-finals became the talk of social media. "The show just opened up so many doors for me, so many opportunities," he says. He was finally able to expand beyond New York and perform in the rich music scenes of Nashville and Los Angeles.
Appearing on Rising Star had another major impact on Kinch's life and career—it was there that he learned about and decided to join the AFM. "I had gotten the advice from many of the musicians I was meeting that were actually playing in the background on the show, behind the singers. They were all union members, and Ray Chew, the musical director, was a union member [of Local 802 (New York City)], and I began to understand what it actually meant to be part of the union," Kinch says. "The union gives support to all musicians, whether they are struggling or whether they are more successful. It just gives everyone a voice and everybody a chance to be fairly paid and fairly treated by the music industry. And I began to understand their struggles—people who are a part of the union and trying to work paycheck by paycheck, with every show or every performance. … I've seen the struggles of so many older, talented musicians who have dedicated their life to music and many things the union provides is a godsend for them; it gives them some sense of security in their life."
Not long after the show ended, Kinch saw one of the benefits of being a union member when he performed on the show Dancing with the Stars. He was asked to perform a two-song medley and, because he was union, he received a rehearsal fee and a performance fee. "That was what showed me how it works," he says.
Within two years of winning Rising Star, Kinch scored a contract with Curb Records and recorded his first album, I'm Not Like Everybody Else. The album, on which Kinch was given complete artistic control, has nine original songs and four covers—including his version of "Billie Jean." "It was a great experience doing what I love and creating what I thought was a perfect album," he says. "I am just overall very, very proud of the work that was done in the studio to create an album that I love."
Kinch may be a millennial, but his influences are more old school—and his artistry reflects that. He grew up with The Beatles and the Rolling Stones, was fascinated by artists like Jim Morrison, Jimi Hendrix, and John Lennon, and fell in love with Curt Cobain and the '90s grunge scene. "You had real singers back then, real musicians, real poetry; it was real, honest music. I feel that in this day and age … the quality of music has decayed," he says. For Kinch, who is on a mission to revive rock's glory days, it's time to recover that honesty and poetry, that connection to the past. "I feel like I have it in me to bring something to the table that hasn't been heard in many years," he says.
As a songwriter, Kinch says he is finding new ideas and new inspirations as he gets older, travels more, faces ups and downs, and experiences life. He realizes that his outlook as a teenager was different than it is now as an adult.
"You just become more experienced musically— and I'm not just talking about writing the lyrics; I'm talking about music in terms of chord progressions and melodies. I think I've become more advanced, more mature in the way I approach writing," he says. "I think I've become more open minded with my tastes. I listen to so many different things that span from the '60s all the ways through the '90s, from rock to beautiful ballads to classical crossover. There's so much that I'm listening to now that I can infuse into my sounds. I guess it's a different mentality both in terms of how I write music and how I approach it."
This open-mindedness and devotion to meaningful artistry is how Kinch plans to continue his career as he moves forward. He already has his first overseas performances scheduled for the BlackThorn Music Festival in the UK in mid-July and potential bookings in South Africa, Japan, and Australia. He is scheduled to be part of the Woodstock Festival commemoration in Bethel, New York, this summer, and already has a second record deal signed. "I'm one of those people who thinks more about the past and the future than about the present, and sometimes I don't get to enjoy the present. So I'm really just going to enjoy what I have right now, while in the back of my head keeping in mind what I have to do for the future," he says.
That's really all any artist can do, he adds. To be successful, you have to be dedicated, avoid negativity and distractions, make the right connections, work hard, and be professional. "Whatever you do, you have to stay true to yourself … and stay focused on your craft," he says. As he writes in his song "Preaching like the Pope":
"No you'll never own me I told you
I'm only gonna be true to myself
But you told me I don't belong
Told me five million people
got it all wrong"
Kinch also believes that young musicians should join the union. "The industry is multilayered; it's complicated and it's not for the timid or the weak. You have to make sure when you're a musician that you're not getting screwed over and you're not being taken advantage of because there are a lot of people out there who don't care about your struggles," he says. "So it's important to join the union because it's going to give you a voice; it's going to give you power; it's going to give you security; it's going to make sure that you're treated more fairly by the industry. It's going to protect you from the vultures."
To learn more about Jesse Kinch, visit his website at jessekinch.com.