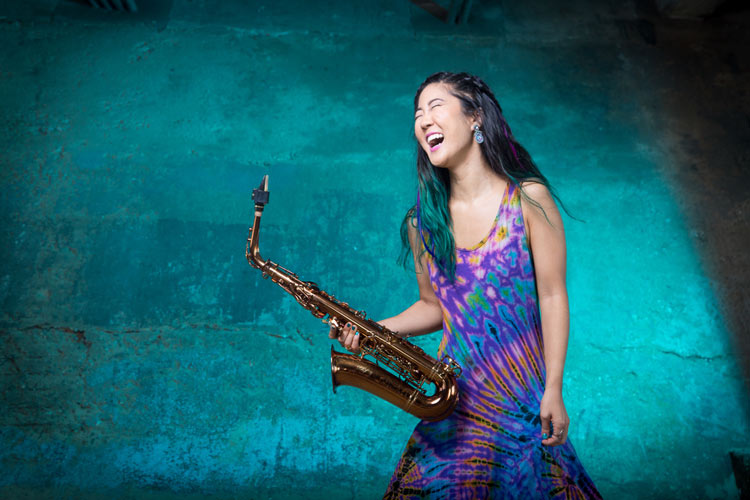 At 24, but already 10 years into her career, saxophonist, vocalist, composer, and Local 802 (New York City) member Grace Kelly is moving past the label "prodigy" and defining her voice as a jazz musician.
Growing up in Brookline, Massachusetts, Kelly displayed an affinity for creativity and a talent for music from an early age. Formal piano lessons began at age six. When she was bored with the repertoire, she improvised, writing her first song at age seven. In fourth grade, inspired by the music of Stan Getz, she picked up the saxophone. Six weeks later she was learning the standards.
Kelly began touring soon after recording her first album at 12. "At age 14 I traveled to Norway to play my first international show, and then I came back to being an 8th grader," she says, explaining the surreal teenage life she led.
That same year she had one of her most memorable performances when she was asked to play with the Boston Pops Orchestra in a concert opening for Dianne Reeves. Already an incredible invitation, Kelly is not sure what inspired her to ask Conductor Keith Lockhart of Local 9-535 (Boston, MA) if she could write a score for the occasion.
He asked, "Have you done that before?" She hadn't. "I was out of my mind, but I wrote a 40-page score for the Pops and I was the soloist in the middle of it. It was such an incredible moment; I felt like I was floating on a cloud," she says.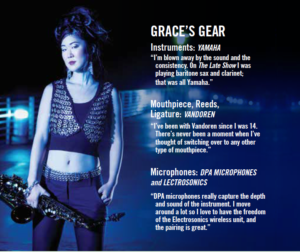 Career already in full swing, it made sense to leave high school early with her GED. Though she considered forgoing college, at age 16, Kelly was accepted with a full scholarship to the only college she applied to: Berklee College of Music. At Berklee she adapted her studies to accommodate touring while working toward a degree in professional music.
"The most important thing that I got from music school was connections to my peers," says Kelly who describes college as a playground that offered her the chance to explore courses in things like string arranging and percussion. She found mentors among the faculty. Associate Professor Alain Mallet took her under his wing, while another associate professor, Darren Barrett, used a "tough love" approach to push Kelly to improve her technical skills.
But on saxophone, most of Kelly's mentoring came outside of college. Saxophonists Lee Konitz, Phil Woods, and Frank Morgan each, in his own way, helped her develop as a young player. At age 13, she began studying with Konitz. "He gave me the incredible gift of explaining what improvisation is. I've never met an individual as spontaneous and who really practices improvisation in his life as much as Lee does. He taught me how to improvise on stage and in the moment, reacting to other musicians. I still live and play today by that idea," she explains.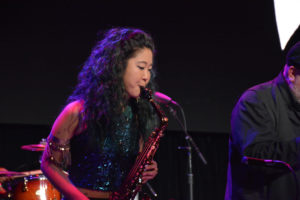 She treasures the opportunity she had to tour and record an album with the late Phil Woods. "It was an osmosis thing being on stage with him. I wrote a song for him called 'Man with the Hat' that we'd play together. I would catch onto musical things that he was doing just by being next to him and that helped me grow as a saxophonist," she says.
"Frank Morgan—a direct prodigy of Charlie Parker and one my favorite saxophonists in the whole world—taught me about the power of moving people with a ballad and playing beautiful music," says Kelly. "He told me that, in his set, if he could make one person cry, if he could touch the audience, he could go home feeling satisfied. Nobody played ballads the way Frank did. He was an incredibly virtuosic saxophonist, but to him, the way he measured how he played was not through all the notes. That really sticks with me."
Other mentors include Dave Brubeck, Harry Connick, Jr., and Wynton Marsalis of Local 802—each of them impressed by the young musician's talents. "The first time I played with Dave Brubeck it was one of those extreme 'pinch me' moments. I grew up listening to his music and [his saxophonist] Paul Desmond was one of my favorite saxophonists. I used to fall asleep to Dave Brubeck's albums every night," she says. "He was so kind when he had me sit in."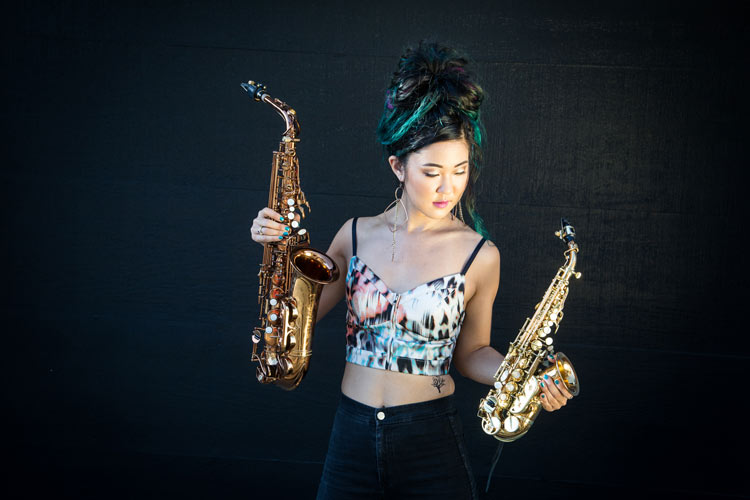 Kelly recalls how she met Marsalis at a steakhouse during a gig with pianist Antonio Ciacca, also a member of Local 802. She was just 16 and Ciacca mentioned that a trumpeter would be joining them in the second set. "Wynton Marsalis walks in with his son and he takes out his trumpet and plays the whole second set with us. Meanwhile, I'm like, is this really happening?" recalls Kelly. "A week later, I got a call from his people at Jazz at Lincoln Center saying, 'Wynton would love it if Grace would be a special guest with his orchestra at Rose Hall for three nights."
Kelly looks back on these "pinch me" moments, and is inspired by the kindness musicians showed her. Though the thought of playing with such big names was at first intimidating, she says, "I realize all these people are musicians and they are human beings. As soon as the music starts, I'm not so nervous because that's my most comfortable place to be—in the music, on stage."
As she matures, Kelly has begun to teach through Skype, and at educational workshops and master classes. And like her mentors, she doesn't hesitate to bring talented students on stage. "I've grown up with this incredible generosity from musicians. I would never think twice but to continue that," she says.
Kelly describes teaching as extremely rewarding. "It's been great to see how the climate for women in jazz is changing in a really positive way. I'll see a sax section of all young girls and that is so exciting for me! It wasn't like that 10 years ago. We are headed in the right direction," she says.
When she started playing professionally, Kelly says that every time she got on stage someone would mention her age. As she gets older and matures as a musician, that's changing. "When you start at a really young age, a lot of it revolves around the story of that," she says. "Certainly people [still] ask how young I am, but now it's a lot more about my artistry and music."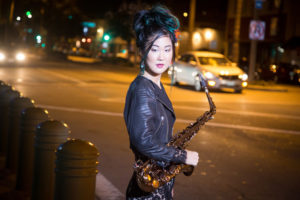 Kelly says it took her until her most recent album to start to develop her own sound. "I didn't get into the music industry with a strong musical identity. It's a big transition because, for most of my life, I've been identified as 'the young girl,' but for me it's always a growing experience."
So what is it that Kelly wants to say musically? "Why I got into music from the very beginning was because I think music is an extremely powerful medium of healing people and of bringing joy and sunshine. That's the type of person that I am. I love it at the end of the show when people say I've lifted them up," she continues. "I think that's how my show differs from a lot of jazz shows. We integrate jazz, pop, and blues, but always with a positive sunshine, fun demeanor under it. My music comes from a very emotional place."
Kelly has spent the last few years learning, trying new things, and dipping her toes into different types of performances, including television. She did a six-month stint on The Late Show with Stephen Colbert in the Stay Human band. Last December, bandleader Jon Batiste invited her to do a two-week appearance, which ended up being six months. "That gig was an incredible experience," she says. "We were the house band for a lot of great artists, and then just learning the ins and outs of how a show like that works too. It was very surreal."
Last summer she was in the house band for the television variety show Maya and Marty and she also made a cameo appearance as herself on season two of the Amazon series Bosch, for which she wrote the tune "Blues for Harry Bosch." On the composing side, Kelly recently was executive producer and wrote the music for a 20-minute short The Bird Who Could Fly directed by Raphael Sbarge, which is making its rounds at film festivals.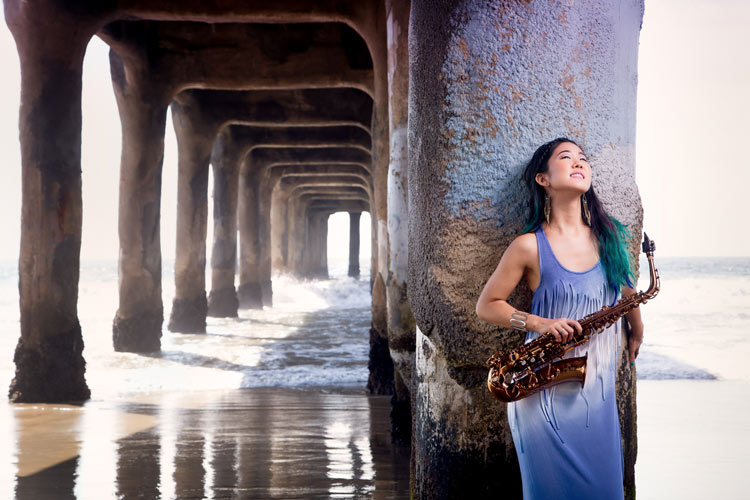 Kelly says that the AFM has been incredibly helpful in navigating all the different types of work. "I'm extremely grateful for how the union takes care of musicians. Every time I have a question, I can go there. It's extremely helpful in the TV world how they take care of someone like me," she says. "It is a huge thing to know there is an infrastructure in place."
Kelly also enjoys the networking aspect of her union, noting that she recently took part in a Local 802 panel discussion about women in jazz. "They put on all these great discussions and it was wonderful. It is a place for everyone, especially young musicians, to get together and network. I very much appreciate that and I have been very happy to be a part of the family," she says.
While she says performing live is her first love, Kelly continues to experiment in other art forms. "I've recently been dipping toes much more into the production of videos and I'm starting a couple new web series that will be up on social media," she says. "Grace Kelly Pop-Up is basically me, with my saxophone, in places you wouldn't expect to see me, whether it's an amusement park or on top of a car." Launching this month, Go! With Grace Kelly has her interviewing all types of artists about the creative process, but always with a musical element. Plus, her Sunny Sunday Sessions are broadcast from her living room to Facebook Live.
"I think that the climate for musicians today is so much about social media and being on the web," she says. "We are able to connect with people around the world, which is fantastic."
And, of course, Kelly has big plans for this coming summer. She will be touring with her band in the US and Europe, and also working on her next album. "The cool thing about music is we never know who we are going to meet, what opportunities might come up. And I really love that," she concludes.