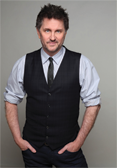 Gordon Goodwin is humbled when he looks back at where his career has taken him—he's scored dozens of films and television shows from the late 1970s to today and toured the world with his wildly successful Gordon Goodwin's Big Phat Band. The musician, composer, bandleader, and Local 47 (Los Angeles, CA) member says he has achieved success beyond his wildest dreams.
"To see my name on a list of Grammy nominees, right next to John Williams, and people like that, I can't get used to it and I don't want to get used to it," he says, referring to his fourth Grammy win: Best Large Jazz Ensemble, for his Big Phat Band's album Life in the Bubble. His other Grammy Awards came in 2005 for the instrumental arrangement of "Incredits" for the film The Incredibles, 2011 for an arrangement of George Gershwin's "Rhapsody in Blue," and 2013 for an arrangement of the legendary jazz tune "On Green Dolphin Street."
"I think Life in the Bubble is probably the one I will treasure the most," he says, explaining that this album was "from the ground up" his charts and the band's performance. "I never would have predicted I would have 20 Grammy nominations, ever. I never thought that I would be able to do tours like I do of Asia, Europe, and Australia," he adds.
Goodwin's love for big band music began in  7th grade when he first heard the Sammy Nestico chart "The Queen Bee." "It changed my life," he recalls. "You could hear his love of music and love of life with every note. I remember the epiphany I had hearing that arrangement and realizing that that was what I wanted to do with my life."
In 1978, following college, Goodwin began his career playing at Disneyland. "It was, and remains, a great place for a young musician to work and to learn how to be a professional, to learn how to play well, even when you don't feel like playing well," he says.
Another part of becoming a professional musician was joining the AFM. "I can remember getting the phone directory and just paging through and looking at all the famous names of my idols, and the thrill I felt—'wow, I'm in the same book as these guys'," he recalls.
Goodwin's first writing assignment was for a Disney musical show featuring past and present Mouseketeers and his first film score was Attack of the Killer Tomatoes. He's since built a reputation in the industry for his skill in composing, arranging, and playing. He's worked with people like Ray Charles, Johnny Mathis, Sarah Vaughan, Natalie Cole, and fellow Local 47 members John Williams, David Foster, and Quincy Jones, to name but a few.
A Band of His Own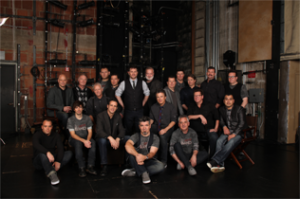 Goodwin's passion for big band music and its "optimism and buoyancy" led him to launch an 18-member big band in 1999. "I was working at Warner Bros. animation and I was making good money and winning Emmy awards. All that stuff was fantastic, but it wasn't me," he recalls thinking. "I realized that I may have more road behind me than I have ahead of me, and maybe I should have the courage to start writing music for me and I put together what was to become the Big Phat Band."
He knew it was a risky venture. "I was mindful of the hostile cultural climate for this type of music, the economic challenges, and logistic challenges—the stuff that started to kill the big band environment the first time around," he says.
"I knew I could get the music right, but I didn't know if I could get the business right," he continues. "Could I convince people that this music wasn't just about nostalgia, or that it wasn't elitist? That you could make jazz accessible and even entertaining? I was fighting the concept, even in the jazz community, that to market your music meant that you didn't have artistic integrity. I felt you could do both, and as a matter of fact, you had to."
Even with the right combination of music and marketing, the numbers didn't always stack up. "It's been a balancing act where I work in film or TV and get paid a little better money that I can then use to finance my big band," he explains. "I don't think I could have done it had I not had other opportunities in the music business."
And the 18 members of the Big Phat Band also sacrifice to be part of the lineup. Like Goodwin, they take on other projects to subsidize their big band "habits." "I'm not competing with other big bands," Goodwin says of maintaining personnel. "I'm competing with the Oscars, six weeks of Wicked at the Pantages, or a one-week film date. I'm going to pay them $500 for a gig and they are going to turn down $5,000? And sometimes they do it; they turn other work down because they believe that it's important to be a kind of a link in the chain of big band music."
Big Phat Philosophy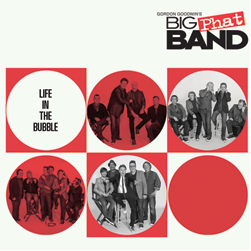 To allow band members flexibility every chair has a sub. Each must be a top notch player, but also adopt the Big Phat Band's musical philosophy. "It's a willingness to put your ego aside and be a member. Not everyone is willing to do that," says Goodwin. "The guys in the band are uniquely suited to play my stuff. The music is written with those players in mind. They constantly surprise me in the ways they add depth and nuance to the charts. A composer can have no greater gift than to stand up in front of musicians like these."
Aside from philosophy, Goodwin hires only AFM members for the Big Phat Band. "Let's face it, if you want to get the best of the best you're going to go to the AFM. There's little doubt about that," he says.
Musically, Goodwin's Big Phat Band presents upbeat big band music in fun arrangements mixed with funk, swing, Latin, classical, rock, and more. The repertoire is a big hit with audiences around the world. "I love all those genres. What's common is an optimism and positive outlook and an awareness that to be on stage is a gift."
"I think I have one responsibility and that is to write music that sounds good to me, not to fans or critics," he adds. "People can hear some intangible difference in music that has integrity from an honest point of view and music that is just kind of well-crafted. Music is what inspires me. I'll listen to it and soak it up. Then, I'll write something that has the essence of that music, but has our point of view."
The Big Phat Band's latest album's title, Life in the Bubble, is a fun commentary on modern culture. "I think we tend to construct bubbles around us where we [for example] think everybody must love big band music because I love it and everybody in my bubble loves it," he explains. "I remember, when I was a kid, radio stations didn't have the same kind of corporate playlist that they do now. It would be up to each disc jockey to play a wide range of stuff. Life in the Bubble is reflective of the Big Phat Band's philosophy where, even though we came out of Count Basie, we don't just play swing music, we play funk, rock and roll, and even hoedown."
Finding Balance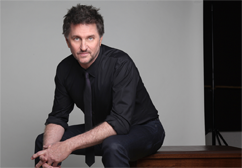 Over the years, Goodwin has scored or orchestrated numerous films and television shows. Some of the projects he's worked on include: The Sorcerer's Apprentice, Escape to Witch Mountain, Get Smart, Glory Road, National Treasure, Remember the Titans, Armageddon, The Majestic, Con Air, Gone in 60 Seconds, Enemy of the State, and Star Trek Nemesis.
But among his personal highlights are projects he did at Warner Bros. with Steven Spielberg. Animated shows like Pinky & the Brain and Animaniacs, allowed him to combine his passion for music with a lifelong love of animation. "We were emulating the music of Carl Stalling who was a composer for Bugs Bunny and those cartoons, on the same stage where Carl Stalling stood, with the same piano. That music was a really good match for what I believed in. It was a thrill," says Goodwin. Other favorite animated projects were The Incredibles (2004) and the big band score for the Daffy Duck Christmas movie Bah, Humduck! (2006).
"Those are the projects I am attracted to; they have a synergy in terms of the musical values—not only in what the music sounds like, but the role of music in film. Those directors were not afraid to turn the music up. Music is a character in the film," he says, adding, "Nowadays, that is not the norm. Film scores are more sound designed; if the music intrudes too much as a specific character the directors feel it impinges on reality."
This change, combined with the success of his Big Phat Band, has seen Goodwin spending less time doing scoring work these days. "I think the word that I've become hyper aware of lately is balance, finding balance in my music and balance in my life," says Goodwin. "When I started the Big Phat Band in 1999, and declared who I was, balance started to come into my life. Now I'm at the stage where I'll get called for other gigs because they've heard about the Big Phat Band."
"Putting yourself out there and in new situations is how you keep growing, and how you stay young," he says. "I strike a balance between working on projects where I know the road ahead, and others where the path is less clear," he explains. "I am attracted to projects where the music can really make an impact." Recent projects include writing two string quartets for Quartet San Francisco last year. He's currently working on some pieces for a clarinet trio to debut at the Detroit Jazz Festival and a major piece for the Cape Cod Symphony to premiere in the fall.
The Big Phat Band will release a Christmas album in 2015 and will be touring in France and Australia, as well as hosting a summer jazz camp in Tokyo. Goodwin has also recorded an album with a seven-member subset of the Big Phat Band, the Little Phat Band.
"I still have genuine wonderment that all this is happening," he says. "Commit to your life and good things happen. If you give your 100% best effort that's all anybody can ask."