Trombonist and composer Delfeayo Marsalis, says "The trombone chose me. There's a reason the trombone is in the middle of the band," adding the punchline "to keep the trumpets away from the saxophones."
Delfeayo Marsalis, a member of Local 174-496 (New Orleans, LA), has performed with venerable players like Ray Charles, Fats Domino of Local 174-496, Max Roach, Art Blakey, and Elvin Jones. Early on he also parlayed his considerable talent into production work, making a major contribution to the revival of acoustic jazz recording. In 1986, on brother Branford's recording, Renaissance, Marsalis changed the way the bass was recorded across the board "to get more wood sound," he says. "We just unplugged the 'dreaded' bass direct, put up a microphone and the rest is history!"
These days, Marsalis leads the Uptown Jazz Orchestra every week at the famed Snug Harbor in the Faubourg Marigny, just outside the French Quarter. If the trombone is arbitrator, the peacekeeper between sax and trumpet, as the third of six brothers in New Orleans' famed jazz family, Delfeayo was destined to play it. "There's something about the trombone—the range and requirements—that really suits my personality," he says.
In high school, Marsalis cut his teeth at the Eastern Music Festival (EMF) in North Carolina for advanced studies in classical repertoire and at Tanglewood Music Center Fellowship Program, Boston Symphony Orchestra's summer academy. As an undergraduate at Berklee College of Music, he studied performance and audio production, then went on to earn a master's degree in jazz performance at the University of Louisville.
Marsalis has produced more than 100 recordings for
major artists—including his father and brothers, Harry Connick, Jr., Spike Lee, Terence Blanchard, and the Preservation Hall Jazz Band. In 2014, he co-wrote a documentary, The Sound of Redemption, about the late jazz saxophonist Frank Morgan.
Famous for his colorful liner notes, Marsalis likes to incorporate political and social themes into his music. This fall, Uptown Jazz Orchestra will release its first CD with the tongue-in-cheek title, Make America Great Again. They pay homage to native people around the world who, by sharing their traditions and values, also risked their freedom. The music ranges from the New Orleans brass band "street" sounds to Ellington swing to modern originals. Several songs feature a vocalist and a rapper.
"In all, we try to best represent the full spectrum of today's New Orleans music. Recently, an audience member said, 'With all we go through in a day, for 90 minutes, you guys make us forget about all that.'" Marsalis adds, "It's the New Orleans way."
On recordings, Marsalis assembles a range of multi-generational musicians performing as many different styles as he can. In the Uptown Jazz Orchestra, the founding member is 74 years old, the pianist is a woman, and the youngest musician is 20. "It's a true democracy," he says.
An American Original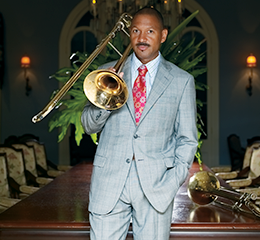 Having grown up in an iconic family of modern jazz, it's no surprise Marsalis has staunch opinions on what it means to play traditional New Orleans jazz. "The greatness of New Orleans jazz is the ability to easily navigate different styles," he says, rattling off luminaries—the legendary Louis Armstrong and Jelly Roll Morton, contemporaries Dr. Michael White, Lucien Barbarin, Benny Jones of Local 174-496, and the Treme Brass Band.
His own compositions are influenced by South African pianist and composer Abdullah Ibrahim's harmonies. Marsalis says, "New Orleans maintains more of the African tradition than any other city. It's why people love the music. They love the food. It's a storytelling tradition."
The greatest advantage he and his brothers had was attending high school at the New Orleans Center for Creative Arts. Marsalis says, "Listening to classical music, my teacher would always say, 'What do you hear?'" Listening is part of musicianship, he explains, the sound gives you much more information than the score.
"My parents taught us to learn as much as we could. The richness of life is not defined by just what you like, but how many things you are not familiar with, which you then become familiar with, learn about," he adds.
Learning from the Best
In seventh grade, he was listening to Duke Ellington's "Sweet Thunder." Branford showed his younger brother how to create a feedback loop on a reel-to-reel machine, which they would use for early productions. "Branford transferred LPs onto reel-to-reel tape. He'd play music in the background, take the microphone and introduce: 'J. J. Johnson and Stan Getz live at the Opera House, featuring Oscar Peterson, Herb Ellis, Ray Brown, and Connie Kay.' He'd list the songs and fade out like a radio broadcast."
At 12 years old Delfeayo worked on his older brother's audition tapes, made in the room of their house with the best acoustics—the kitchen. He laughs, "Wynton wondered why they didn't sound like [classical trumpeter] Maurice André's studio recordings." It was trial and error, but Delfeayo says he discovered a process and logic that he's used throughout his professional career. 
For all his bonhomie and good humor, Marsalis takes on a decidedly fervid tone when discussing the state of jazz education. It's becoming more standardized, with emphasis on the notation and execution, he contends. "Reading is an important discipline, but it's still music—it's heard. That's why playing by ear is a useful exercise. When I teach, the primary lesson is: use your ears; your ears will not fail you. In orchestras, the musicians are listening. This is how you play in tune; it's how you play Stravinsky."
Educating a New Generation
Marsalis is keenly aware of the long neglect of the jazz idiom. In his clinics for kids, he admits it's a challenge to open their minds. He says, "Rather than students learning to improvise, they're more concerned with being able to play something they consider unique."
It's a lack of understanding of the genre and its great history, he explains. Readily accessible technology provides immediate fulfillment, and to young people, the past may seem to have little to offer. Marsalis often tells them, "Everything does not serve the same function. You can't say I only want to be around things I relate to immediately." He stretches his students' imaginations with a wider repertoire, playing Duke Ellington, Charlie Parker, Maria Callas, Leontyne Price, and Luciano Pavarotti. "What do you hear?" he'll ask. "Tone, vibrato, intonation, passion, emotion. Your ears will give you much more information than your eyes every day of the week."
Marsalis introduces kids to classical music and opera first, then jazz, and he rounds out sessions with pop music. He is currently working with his own daughter, who at 15 enjoys singing. It's about listening—understanding timbre and pitch.
"Every day, we are working on opera, a jazz song, and a pop song, so she has a full understanding of the range of the voice. She sings in Italian, but she doesn't understand Italian!" He says, "My hope is that within the next 15 years I'll reach some students who'll make the connection between the great jazz sounds and the contemporary popular, and come up with something unique that has the best of both worlds. That would be an important element in the music's longevity."
Individuality was a strong concept in the Marsalis household. And strangely, music did not dominate the conversation. The Civil Rights Movement was unfolding, and his parents' concern was making sure their children could take advantage of opportunities not afforded to previous generations of people of color. Marsalis says, "They wanted us to understand our responsibility. 'You're going to grow up to be responsible men.'"
In 2011, Delfeayo and the Marsalis family (father Ellis and brothers Branford, Wynton, and drummer and vibraphonist Jason) earned the nation's highest jazz honor, a National Endowment for the Arts Jazz Masters (NEA) award.
Strength of the Union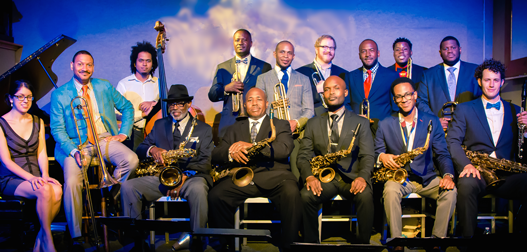 Marsalis is a longtime union member. His grandfather, Ellis Marsalis, Sr., was a powerful business leader and a strong political voice in support of unions. Recently, Delfeayo mandated that every musician in his band join the union. Union membership in Louisiana, a right-to-work state, has declined. Musicians are often considered a commodity, and like manual labor, paid as little as possible. Marsalis says, "The union is the only professional organization we have for musicians, so it's important to show solidarity."
"My dad [Ellis Marsalis, Jr.] was always in tune with the importance of the unions. What he imparted is being able to manage and have an understanding of the business we're in. He said the union establishes a respectable wage standard so we're not working for $25 a day." 
From the 1940s, Ellis, Sr., owned a filling station and the Marsalis Mansion Motel, which was also home to the popular nightclub Music Haven. During segregation, black dignitaries and musicians, including Rev. Martin Luther King, Jr., Thurgood Marshall, Etta James, and Ray Charles were invited to lecture or perform at downtown hotels, but they were barred from staying there. Marsalis says, "The Mansion was the colored motel. It was the reality of living in a segregated community."
Delfeayo's father, a pianist, is a well-respected music educator who also mentored his sons. He gained national recognition after Wynton, and later Branford, became internationally known as classical and jazz virtuosos, and another student, Local 802 (New York City) member Harry Connick, Jr., shot to fame.
But Marsalis says his father's greatest influence on his sons was his passion, his seriousness, and his love for music. He points out, "He had to be passionate about the music because, back then, when he played there would be five or six guys on the bandstand and 10 people in the audience."
The boys would occasionally go to gigs with their father. Marsalis describes a night when, in the middle of a set the boys, who were around eight or nine at the time, asked to go home. Without missing a note, his father said, "This engagement ends at midnight. That's when we leave." That passion is something Marsalis tries to pass on to students. "Whenever we perform, it doesn't matter if it's 10 or 10,000 people, we're going out there with the same level of commitment every time."
Like his father, Marsalis has long been involved in the community. To expose New Orleans youth to arts education, he founded the Uptown Music Theatre in 2000. He has composed more than 100 songs to introduce kids to jazz through musical theater. In addition, he established KidsTown After School in three New Orleans public schools. The program is designed to foster an understanding of the arts.
His clinics, "Swinging with the Cool School" workshops, where he works with students in jazz, take him around the country. He's often a guest artist at music and jazz camps.