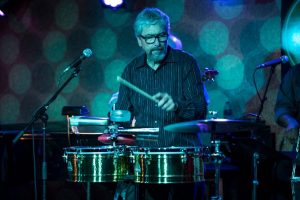 The Value of Networking and Niceness in the Music Game
As a child growing up in Santiago de Cuba, Luis Conte was surrounded by music. The radio was always on in his house, and someone was always playing guitar, piano, percussion, or singing. There was music everywhere, and it seeped into his pores, into his brain through osmosis, he says. After the 1959 Cuban Revolution, while the music never stopped, it certainly caused many things to change, including the entire direction of young Luis's life.
For one, Communist rule banned a lot of Western music. "We had to hide to listen to [rock 'n' roll, pop, and jazz]," Conte says. "My dad had this German-made shortwave radio, and he would help us find the Voice of America, Radio Free Europe, and other stations. My friends would come to my house and we would go into this little room where you could play the radio and nobody would hear, and we would listen to the Beatles." He and his friends found one show, broadcast in Spanish, that would play all the current hits, "so I heard the Stones, the Mamas and the Papas, the Beach Boys, you know, everybody, and I just loved that stuff."
The Communist revolution had another effect on Conte's life: One month before he turned 15, his parents sent him away from his family and his home country to avoid the mandatory military draft that started at age 15, to find freedom in another land. He went first to Spain, where he stayed with Jesuit priests for four months, then to Hollywood, California, where he moved in with his father's third cousin—a man he had never met—who acted as his guardian.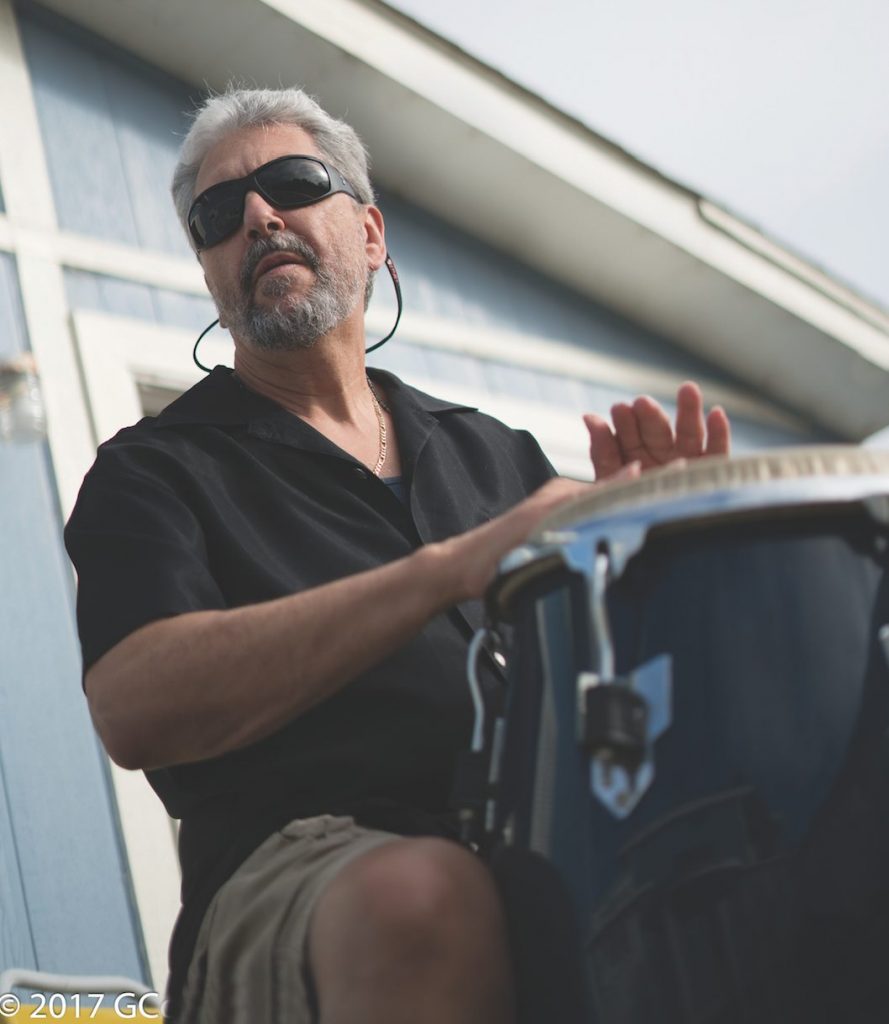 In American high school, Conte says he "got the bug" and realized how much he loved music. He played guitar in a high school garage band, and of course he played drums— "because it's just what you did in Cuba"—but he had not decided to pursue music as a career. He went to Los Angeles City College, taking the basic classes, and after a few music classes he decided he wanted to be a professional player.
The Turning Point
"Here's the strange thing: I'm going to a night class one night and suddenly I hear conga drums. This is the first time I had actually heard a live conga drum since I was in Cuba, because percussion was not really a big thing in the US back in the 60s and early 70s," Conte says. "The African-American Student Union was throwing an event, and I just heard the congas and I forgot about my class. When [the musicians] took a break, I went up to the conga player and said, 'Hey man, where did you buy these drums?' He told me, and then I asked him if I could play his. And let me tell you something, that was the moment when I thought, 'What am I doing? I've got to buy one of these drums; I've got to get into this!' That was the turning point."
Conte bought himself some conga drums, started going to clubs, meeting people, networking, sitting in on sets and playing wherever he could—weddings, parties, clubs. He was evolving his musical style, which integrates the powerful rhythms of his native Cuba with the American necessities of American pop music. As a hand percussionist, Conte plays a myriad of instruments: conga, bongo, timbale, maraca, clave, guiro, bombo leguero, shakers, tabla drum, pandeiro, and more. "Being a percussionist is like being a geographer," he says. "These instruments come from all over the world—Africa, Brazil, Colombia, the Middle East. I try to cover it all."
Conte's first break, when he really got his name out onto the scene, was the day he joined Local 47 (Los Angeles, CA) in 1974. "I figured, there's a musicians' union, and if I go there, I may find a gig," he says. "Well, guess what? I'll never forget this: I run into this guy I played with at the clubs; I didn't know he was a union guy. I said, 'Hey Johnny, how are you?' He said, 'There was a couple people here looking for somebody to play percussion.'" They had left their number and Conte immediately went to a pay phone and called.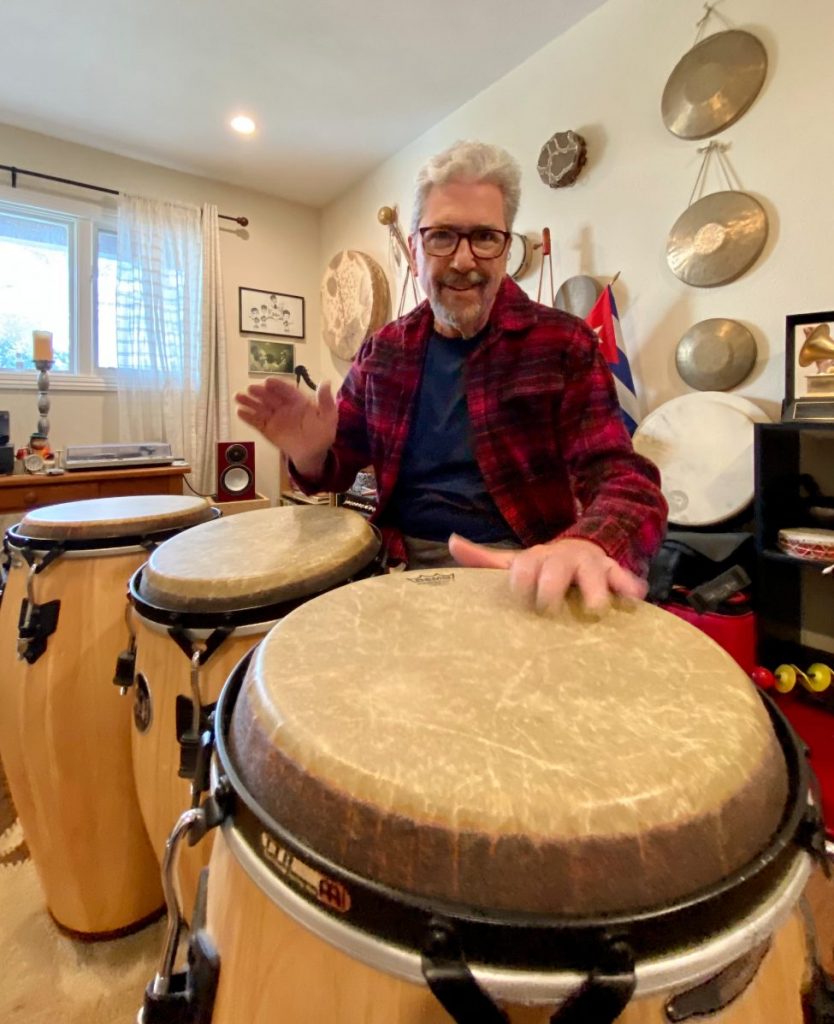 The people were the band The Hues Corporation, who had just recorded a new song called, "Rock the Boat," and they were doing auditions for a percussionist. Conte got a ride from a friend to the house where auditions were being held, and he got the gig. It turned out to be a gig for the band's RCA Records promotional tour throughout the northeastern US. "Little did I know that they had just recorded the record and it was going to be a hit," he says.
Conte spent a year on the road with The Hues Corporation, playing great venues with star musical acts, doing television shows like Soul Train, and constantly meeting new people, networking with musicians. When the tour took the band to Europe, Conte could not go because he was in the US on a Cuban passport and could not get a visa, so he went home to LA. After that tour, Conte spend a lot of his time hanging out at Local 47 headquarters. Back in the early 70s, Local 47 had three or four rehearsal rooms and members had to visit the local in person to pick up their checks. "I remember seeing Don Ellis and his orchestra rehearsing there a bunch of times," Conte says. "I met Chino Valdes and got advice from him. I remember meeting Luis Miranda. So, if you wanted to see Victor Feldman, you just go to the union and maybe meet him. I thought it was a cool place to be."
The Value of Networking
Conte also was constantly performing at local clubs and continuing what he felt was an extremely important pursuit of networking. "Networking is not just calling people; it means to be a nice guy, to get along with people, talk to people, meet people, and always be nice," he says. "That's advice I got from my dad. My dad always used to say the important thing in life is to be a nice guy and be pleasant with people, and that was one of the best things he could have ever said to me."
Through Conte's use of networking, playing in LA clubs got him an audition with The Supremes, which earned him work playing for Diana Ross when she performed solo. By 1987, Conte was constantly employed, but after a chance social meeting at a Christmas party, his career went to a new level after being invited to audition for Madonna and getting the gig playing on her Who's That Girl World Tour. "God only knows, you know? I went to a Christmas party, and that guy calls so-and-so, and he says you should call this guy, and that's how it works," Conte says.
In addition to playing with Madonna, Conte has worked with major artists including James Taylor (Local 802, New York City), Dave Matthews (Local 123, Richmond, VA), Kenny Loggins (Local 47), Eric Clapton, and Elton John, among countless others. His long and varied career has also included studio work performing on multiple Hollywood film scores and successful albums of other artists, as well as being a bandleader and producing his own solo work. Among his numerous accolades, Conte has won one Grammy and been nominated for three others; he has been named Percussionist of the Year six times in Drum Magazine and four times in the Modern Drummer Reader's Poll; and in 2018 he was named Cultural Ambassador of Instituto Latino de la Música (ILM).
Some of his most memorable professional moments, however, have been on the stage. Conte says playing live in front of stadium crowds of 200,000 people (as he did with Madonna) or 300,000 people (as he did with James Taylor) is an unreal experience. Playing with amazing artists is another highlight of his career, he says. He remembers moments when he played with the Cuban jazz band Irakere.
"These are major players who came to the US to play 15-20 years ago, during the Cuban embargo. They were doing a clinic at UCLA, but their percussionist couldn't get a visa. I got a call and was asked, 'Do you want to play with them?'" Conte recalls. "Now I've listened to this band and literally know every song, every record, every note that's been recorded. So, when I went there … I got there 10 minutes before they're supposed to play [because a recording gig went long]; I missed soundcheck. They're all standing there ready to get on stage and I walk in and I was like a groupie. I say, 'I can't believe I'm here playing with you guys; I know all your music.' And they're just looking at me like: 'Wow. Okay. Let's play.'" After the first song ended, the bandleader Chucho Valdés turns around and says to Conte, "Hey man, everything you were telling us is true, you really do know our music!" "Those are the moments that are really
meaningful to me musically," Conte says.
Going Through the Union
Conte does not have a manager, and has never had one, saying he has never found a need to pay someone 15% when he made his career successful on his own. Of course, there are dangers in the musical world, such as not letting yourself be taken advantage of by managers or in contracts. In addition to the community and solidarity aspect of being an AFM member, Conte says his 46 years as a member of Local 47 have especially benefitted from the union's help in getting health insurance and in receiving residuals and special payments for his recording work.
"In the recording situation, that's the deal. There's a lot of young players who have asked me, 'Why do you have to do it union?' Sometimes you get calls from somebody who'll say, 'Hey, we're doing this; do you want to go through the union or can we just pay straight?' I always say, 'No, we're going through the union,'" Conte says. "I just got a residual check from a song I recorded with Yolanda Adams probably more than 10 years ago. I don't even remember what the song was—and that's why you do union work. That's when they come through for you; some of these guys don't get this. The union is a body that protects us in this business of music."
Since COVID hit, Conte has been doing what most musicians have: practicing his craft and working in his home studio. When not playing music—and moreso lately due to the pandemic—Conte is an avid chess player. "One thing I love about chess is that it's a true gentleman's game," he says. "There's no cheating; there's a respect and a politeness to it that is awesome. And then on top of that there's just so much information. There are so many ways you can move, so many complications to different openings and things. Once you get into it, and understand what it is, it's just fantastic, and you can spend hours."
Basically, Conte says, there is not much happening in the musical world now. "Just stay healthy and exercise, study, work on your craft and don't give up playing," he says. "Keep your eyes on the prize; keep the faith; that's where we're at right now."
---
TOOLS OF THE TRADE
Luis Conte endorses:
Meinl Percussion (Conte also has his own signature series of instruments)
Zildjian cymbals and sticks
Remo drumheads
Gibraltar hardware