Over the years, a huge number of Canadian bands such as Arcade Fire; The Band, Rush, and Nickelback; and other artists like Diana Krall of Locals 149 (Toronto, ON) and 802 (New York City); Gordon Lightfoot of Local 149; Tegan and Sara Quin and Sarah McLachlan of Local 145 (Vancouver, BC); Neil Young, Joni Mitchell, Leonard Cohen, and Alanis Morissette of Local 47 (Los Angeles, CA); and Paul Anka of Local 6; and many others have made invaluable contributions to rock 'n' roll. Yet, the story of Canada's rock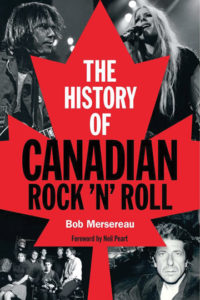 evolution is largely untold. This book traces the country's music history from the folk rock and psychedelic rock of the 1960s through Canada's indie-rock renaissance of the 2000s.
The History of Canadian Rock 'n' Roll, by Bob Mersereau, Backbeat Books, www.backbeatbooks.com.