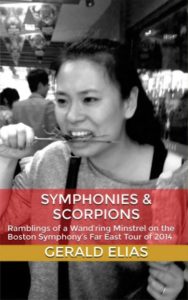 In 1979, Boston Symphony Orchestra (BSO) was the first American orchestra to set foot in China after normalization of relations with the US following the tumultuous Cultural Revolution. The visit aroused great local and international interest. In 2014, the BSO returned to China. Author Gerald Elias performed on both tours. His memories from 1979 are vivid: from spectacular banquets to the eerie quiet and darkness that descended upon Beijing—a city of 9 million—every night due to its inadequate power grid. Having witnessed momentous changes in Chinese politics, economy, and society from afar, Elias was intensely curious to see them for himself. In this book, Elias explores the changes he experienced, as well as the artistic mission and the logistics of the tours.
Symphonies & Scorpions: Ramblings of a Wand'ring Minstrel on the Boston Symphony's Far East Tour of 2014, by Gerald Elias,
geraldeliasmanofmystery.wordpress.com.