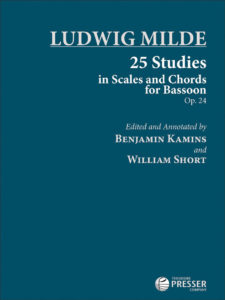 A staple of the bassoon's pedagogical literature, Ludwig Milde's 25 Studies, Op. 24 was previously available only in uncorrected editions lacking content beyond the etudes themselves. This book provides corrected engraving, plus extensive coaching and insights into each study with tips on facility from bassoonists Benjamin Kamins of Locals 65-699 (Houston, TX) and 99 (Portland, OR), professor of Bassoon at Rice University, and William Short of Local 802 (New York City), Metropolitan Opera Orchestra principal bassoon.
Ludwig Milde: 25 Studies in Scales and Chords for Bassoon Op. 24,
edited and annotated by Benjamin Kamins and William Short,
Theodore Presser Company, www.presser.com.