One of the most in-demand bandleaders of all time, Lester Lanin began his career in the 1920s and his popularity grew worldwide. He was hired to play for socialites, celebrities, dignitaries, and monarchs, from multiple White House inaugural balls to parties for Frank Zappa and Billy Joel. This memoir by Lanin's longtime pianist, Al Warner of Local 802 (New York City), gives his intimate view working for the indomitable maestro for 17 years.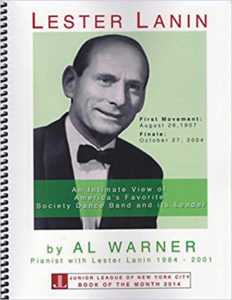 Lester Lanin: An Intimate View of America's Favorite Society Dance Band And Its Leader, by Al Warner, Spring Promise Productions,
www.springpromiseproductions.com.