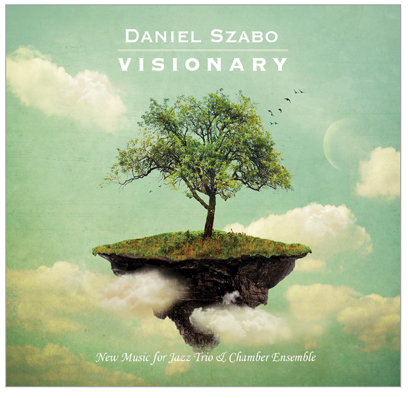 The new album by Daniel Szabo of Local 47 (Los Angeles, CA) was written for a unique instrumentation combining woodwind sextet with string quartet and jazz rhythm section. The style of this new repertoire shows a blend of jazz, classical, folk, and film music idioms.
"The album itself creates a story; it is a journey around different states of mind, flying through several dimensions of time and space," Szabo says. "[It] combines two different approaches: improvising over simple forms as well as interpreting thoroughly-composed sections, within a consistent paradigm of the given composition."
Szabo is an LA-based performer-composer, as well as an adjunct associate professor at UCLA's Herb Alpert School of Music. In Visionary, Szabo composed, arranged, and orchestrated all of the pieces and played the piano. The works feature a line-up of 15 musicians, all members of Local 47, and was conducted by Timothy Williams, also of Local 47.