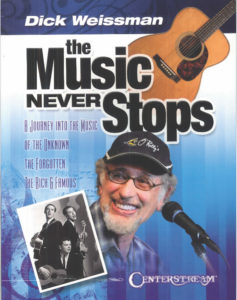 Dick Weissman of Local 20-623 (Denver, CO), former member of the folk group The Journeymen, describes what the music scene was like as a rising star in the 1960s. From student to professional musician, from concert hall to recording studio he tells stories that put you right where the music was made by both renowned and forgotten players. Weissman also offers advice and encouragement for young musicians—how to succeed and what pitfalls to avoid.
The Music Never Stops: A Journey into the Music of the Unknown, the Forgotten, the Rich & Famous, by Dick Weissman, Centerstream,
centerstream-usa.com.