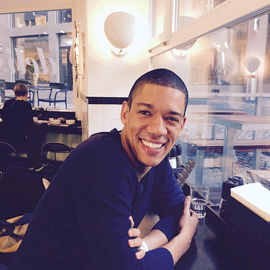 When the curtain closes for intermission at the Metropolitan Opera, the musicians step out of the pit, put down their instruments, and take a few moments to relax—and maybe even make a little extra cash. Weston Sprott, acting principal trombone for the Metropolitan Opera Orchestra describes a perfect night at work: "A Strauss or Puccini opera with a great conductor and cast, and a run of good cards at the poker table during intermission."
But win or lose, Sprott feels lucky when he returns to the pit, working with the world's greatest musicians, singers, and conductors. "My favorite thing about playing with the Met is listening to my colleagues in the pit and on the stage. Participating in music making at this level is incredibly rewarding," says Sprott. "Every night provides an education in beauty of tone and phrasing."
Up the Ante
"My first thought was, 'Wow, this just happened,'" Sprott remembers, referring to the day in 2005 when he learned he had won the second trombone position at the Metropolitan Opera Orchestra. At 22 years old, it was undoubtedly a turning point. "More than excitement, I felt an overwhelming sense of relief, as though the pressure to find success in such a competitive world had been released."
Sprott is a firm advocate for more orchestras to adopt the Met's example of a fully blind audition process. "I have been a participant and observer of countless discussions about the need for orchestras to diversify their rosters and better reflect their communities," he says. "In my experience, I have been the winner of numerous auditions where a screen was present from start to finish, but I have never won a professional audition where the screen came down." Unfortunately, his experience is not unique.
"If you're serious about diversifying your ensemble, the first of many steps is to raise the screen and let your ears (not your eyes) guide your artistic convictions," Sprott advises. "Diversity will follow."
His next thought on the day he won the Met position was of his parents, teachers, and mentors—all of whom invested countless hours in his personal and musical development. "I was thankful there would be something to show for their sacrifice," he says.
Sprott spent two years studying at Indiana University before transferring to The Curtis Institute of Music, where he developed an especially close relationship with Nitzan Haroz of Local 77 (Philadelphia, PA), principal trombone of The Philadelphia Orchestra. A huge part of his education happened outside of school at Philadelphia Orchestra concerts; he was the orchestra's biggest fan, religiously attending every week. "Curtis provided an atmosphere that was both demanding and supportive, leading me to believe, although much was required, I was capable," he recalls. 
His instinct was correct and was quickly validated with a whirlwind of successes after graduation. "We work in an industry where the victors get the spoils," says Sprott. "Winning the Metropolitan Opera Orchestra position opened the doors to my aspirations as a teacher, soloist, and chamber musician."
All In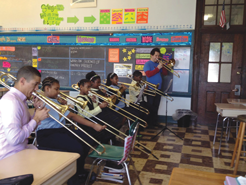 Sprott has taken full advantage of the opportunities he has been presented with—almost to a fault. "I'm convinced that I suffer from an overdeveloped work ethic," he says. "It's a characteristic that is simultaneously an asset and a weakness."
In addition to the demanding schedule at the Met—on average performing four-hour shows seven days a week—Sprott has held positions with the Zurich Opera and Philharmonia, Pennsylvania Ballet Orchestra, and Delaware Symphony Orchestra; performs in The Philadelphia Orchestra with his musical idols from his Curtis days; plays chamber music at venues like the 92nd Street Y; has been a soloist on four continents, making his Carnegie Hall solo debut in 2007; has recorded a solo album; and is on faculty at Mannes College (The New School for Music), Bard College, Rutgers University, and Juilliard Pre-College. He even helped design the "New Yorker" Weston Sprott Model trombone for the Antoine Courtois Instrument Company.
Sprott's intense dedication started early. "When I started playing as a child, I immediately fell in love with the concept of sound creation," he says. "My parents never had to encourage me to practice. In fact, they sometimes had to encourage me to come home from the band hall, or to put the instrument away and do something else."
His friends shared his passion—Tim Higgins of Local 6 (San Francisco, CA), for example, who is now principal trombone of the San Francisco Symphony, was a high school classmate. The pair was in constant competition, battling for bragging rights and pushing each other to be better.
"We were the perfect depiction of iron sharpening iron: Who could play louder, faster, higher, softer?" Sprott remembers. "We went to symphony concerts on weekends and listened to Joseph Alessi's recordings on the way to Sonic after marching band practice. Some people see spending the entire day with your instrument as discipline. We saw it as enthusiasm."
These days, Sprott still wants to do it all—"play all the music, teach all the students, go to all the festivals"—but he's striving to find a balance between work and rest. "Once or twice a year, my body sends me a firm reminder that I'm still only one person and there is only so much time in the day," he says.
Even so, Sprott makes time to serve on the orchestra committee for the Met Opera Orchestra, a task that reinforces the value of AFM membership. "Beyond benefits related to collective bargaining and contract enforcement, AFM membership connects musicians of all levels and genres across the continent," he explains. "Membership is a reminder that the work we do has value and we are not alone in our artistic pursuits."
Pay It Forward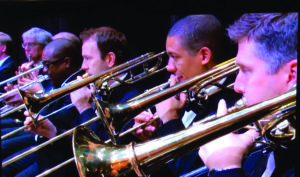 Knowing that his work has value is of the utmost importance to Sprott, who, above all, loves helping people. ("I think many of my friends would say that I'm someone they seek out for advice. In private, they might say that advice is sometimes unsolicited," he admits.) Teaching, he finds, is the perfect outlet to positively influence the lives of others. Plus, he sees it as a way to "pay it forward" after being the beneficiary of great teachers throughout his training.
Some of his most rewarding teaching experiences are at the Stellenbosch International Chamber Music Festival in South Africa, which hosts talented young musicians—many of whom don't have access to regular high-level training or don't own their
instruments. Sprott continues his relationships with these musicians long after the festival has ended, teaching via Skype or even sponsoring them to visit New York City and get a glimpse into the lives of full-time professional musicians.
Beyond bringing a wealth of knowledge to impart on the students each summer—this year will be his sixth—Sprott also brings donated instruments with him. "Here's my shameless plug: If you have a decent instrument that you never use and that would be better off in the hands of an enthusiastic young musician, please contact me!" he implores.
Sprott puts a great deal of thought and energy into helping his students, and he advises them that it is paramount for any aspiring musician to have incredible enthusiasm for the craft. "Enthusiasm fuels work ethic," he says. "John Wooden once said that work without joy
is drudgery."
He also encourages students to be multi-dimensional. "In addition to being a great player, work to be a great writer, speaker, teacher, historian, or recording engineer," he suggests. "Even for those who are fortunate enough to make a living from playing alone, great satisfaction can come from having multiple outlets of expression."
Outside of performing and teaching, Sprott reads nonfiction (he leans toward books on self-improvement, interracial relations, and interpersonal skills). He is an avid sports fan (rooting for the Philadelphia Eagles and the Indiana University Hoosiers), with a passion for travel (the vacations he and his wife take every year are preceded by a lengthy discussion about whether or not he is allowed to take his trombone along!). He's also perfected his response to the comment that he looks like President Obama. "I'm a big fan of Obama … so, when I'm told I resemble him, I chuckle and take it as a compliment," he says.
And, of course, there's poker—lots of poker. "We play at every break of every [Met] performance and rehearsal," Sprott says. "It's tons of fun and a nice income supplement, often times courtesy of select colleagues who, for this article, will remain unnamed."
Sprott is lucky at the poker table and is certainly having a great run in his career. "In my experience, there is no shortage of worthwhile opportunities available to those who work hard, treat people with dignity, and keep their focus on generosity of spirit and being good to others," he says, noting that he is content to let his next steps unfold organically. "What I know for sure is whatever comes next will be done with these values in mind."
We can bet on it.