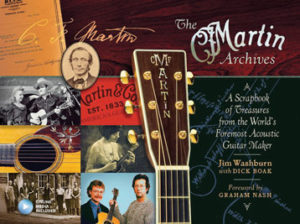 The Martin Archives documents two centuries of guitar making and more than two million guitars. This unique collector's item provides insights into the instruments and the people who made them. America's oldest and most revered guitar maker shares images, documents, reproduced artifacts, and a handwritten company history by Frank Henry Martin.
The Martin Archives: A Scrapbook of Treasures from the World's Foremost Acoustic Guitar Maker, by Jim Washburn with Dick Boak,
Hal Leonard Corporation, www.halleonard.com.