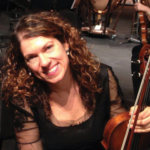 by Rochelle Skolnick, AFM Symphonic Services Division Director
Welcome to the 2017 special Symphonic Services Division edition of the International Musician! The members of the International Musician Editorial Board spent our first meeting early this year discussing our visions and aspirations for the magazine. As Secretary-Treasurer Jay Blumenthal wrote in the April issue, the IM is the official journal of the AFM but it is also so much more. It is, in my view, a place in which we have the opportunity to tell the story of who we are—as musicians, as unionists, and as members of our communities. The narratives we tell about ourselves not only document our past accomplishments but also have tremendous potential to inspire and to shape the future.
Joseph Conyers' story (page 20) is one such inspirational narrative. Conyers leads by example, investing his considerable energy in bringing the art form he loves to children in underserved communities, empowering and inspiring them to realize their full potential. While most of these young people will go on to careers in other fields, some may find their future enriching the fabric of our professional orchestras. Conyers' outreach efforts are consistent with a broader movement to diversify the American orchestra, both on and off stage.
As ICSOM Chair Meredith Snow writes in this issue, she and I recently attended the annual conference of the League of American Orchestras, which took place in Detroit and had as its theme "Transformation in American Orchestras." It kicked off with a diversity forum in which dozens of industry stakeholders participated. Relations between the League and the AFM have often been strained but I believe we have consensus with regard to the value of diversity and inclusion within our field.
The IM is also a wonderful tool for the dissemination of information to our members, orchestra committees, and local officers. This issue is chock full of guidance pertaining to every aspect of representing musicians in our symphonic workplaces. Our Canadian SSD staff has collaborated to produce a detailed primer on organizing toward a first collective bargaining agreement within Canada and under Canadian provincial labour law. Laurence Hofmann walks us through the use of the wagechart.afm.org database to develop comparative data-based arguments in support of contract negotiations.
Our local unions depend upon the volunteer service of rank-and-file musicians on orchestra committees to assist in CBA negotiations and enforcement. In this issue, Chris Durham offers his invaluable perspective on best practices for service on orchestra committees. Jane Owen reminds us that the work of those committees doesn't end when a new CBA is inked. Dawn Hannay (profiled on page 26) speaks to the importance of committee service as a means of carrying forward the legacy of those who fought to make conditions in our symphony orchestras what they are today.
Todd Jelen describes practical steps local unions can take now to insulate themselves against the adverse effects of pending anti-union "right to work" legislation. And Debbie Newmark introduces us to the intricacies of obtaining fair compensation for streaming of our recorded product and the AFM's efforts in that regard. We are also fortunate to hear in this issue from the leaders of all three symphonic player conferences. Their contributions to the wellbeing of our musicians and our industry cannot be overstated.
Symphonic musicians are conditioned to read the IM starting from the back—the audition ads—and I don't expect that will change any time soon. But with each issue of the IM we strive to offer content that entices you to delve into the heart of the magazine and linger over stories that inspire, entertain, and inform. I thank all the contributors who have made that a reality with this month's issue.