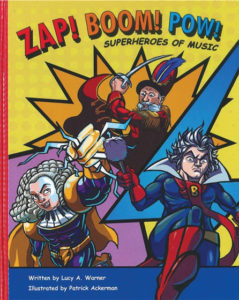 In this book, written for children ages five to 10, author Lucy A. Warner presents 12 classical composers as superheroes. This colorful book engages children who learn about storied classical composers Antonio Vivaldi, Johann Sebastian Bach, Ludwig van Beethoven, Antonin Dvořák and eight others. A short biographical paragraph, memorable poem, and famous piece of music is provided for each. The book also features a glossary, a map showing where each composer came from, a timeline, composer quotes, a listening/viewing guide, as well as a bibliography.
Zap! Boom! Pow! Superheroes of Music, by Lucy A. Warner and
illustrated by Patrick Ackerman, Spring Promise Productions,
www.springpromiseproductions.com.