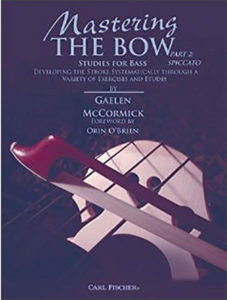 The goal of this book is to help bassists develop a wide vocabulary of sounds with the bow through exploration of the expressive potential of bow strokes that combine movements, offering an infinite variety of musical gestures. Author Gaelen McCormick, a member of Local 66 (Rochester, NY) offers both explanation and a practical "to do" of examples with etudes and repertoire to support the understanding of specialized bow stroke.
Mastering the Bow Studies for Bass, Part 2: Spiccato, by Gaelen
McCormick, Carl Fischer, www.carlfischer.com.