By Megan Romer, Contributing Writer
Felicia Foland was just 16 when she became a member of Local 2-197 (St. Louis, MO). An alumna of public school music programs and the then-nascent St. Louis Youth Symphony Orchestra, the teenaged Foland was encouraged by her teacher to learn the ropes of auditioning by doing as many auditions as possible. Because young artists were only admitted to the union following an audition, it was a rare opportunity for her to gain audition experience. "I had to go play for the president of the union, but it doubled as a practice audition," explains Foland, who has now played bassoon in the St. Louis Symphony Orchestra for nearly 30 years.
Foland did not grow up in a specifically musical family, but she recalls with a laugh that her parents were adamant that all of their children "learn to read music and learn to swim." After a few false starts throughout the woodwinds, Foland settled on the bassoon, went on to graduate from Eastman School of Music and Northwestern University, then found her way back to St. Louis. In addition to occupying the second bassoon chair in the orchestra, she is an enthusiastic instructor in the orchestra's youth program—which celebrates its 50th anniversary this year—teaching both group classes and working one-to-one as a mentor for young bassoonists and woodwind players.
Offering both somewhere to land and somewhere to spring from, the youth orchestra experience is crucial to the classical music landscape, says Foland. "Having a classical music destination for young people is just super-important," she emphasizes. And it's this belief that leads her not only to work as an instructor, but also to volunteer as a fundraiser and community advocate. "I'm not at all shy about fundraising," she says. "I totally believe in well-funded arts programs, and that belief makes it much easier to ask."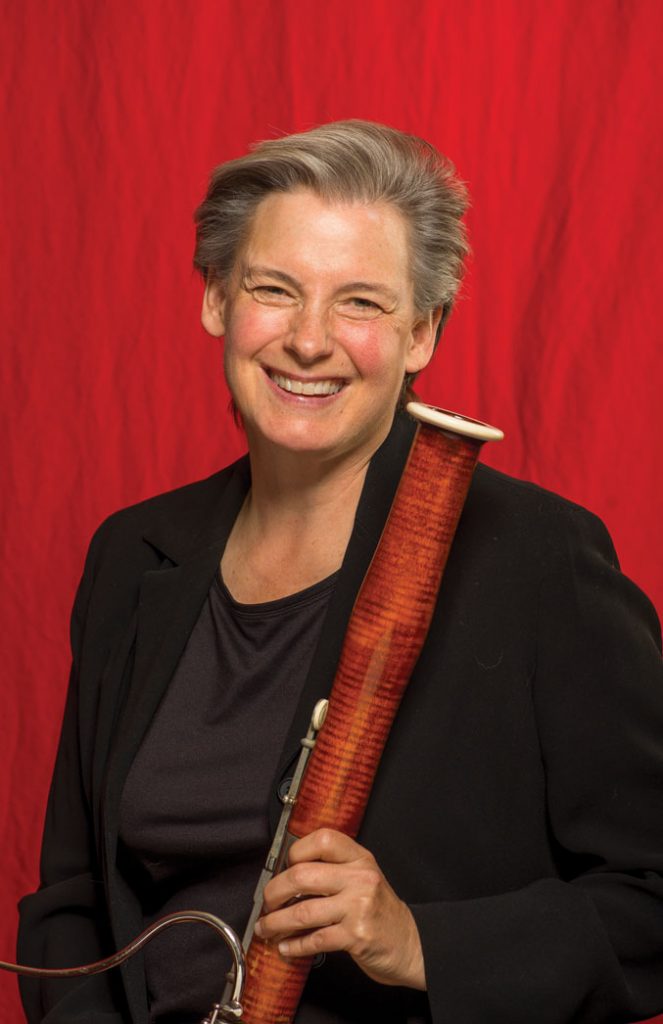 In addition to advocating for the SLYSO, Foland is a tireless and outspoken advocate for public school music education. "Left to the school district without arts advocacy, music programs just get slashed and burned," she says. "You see it over and over again. And I, like most of us in my field, am really concerned about that and will fight it every chance I get."
The academic benefits of a good music education program are well-documented—music education increases test scores across subjects with notable increases in spatial-temporal reasoning—and few would argue against the aesthetic and cultural benefits of studying the arts. Foland, however, reminds us that teaching children to play music gives them an additional crucial skill, perhaps more important now than ever: cooperation.
"Of course, our field can be competitive, but at its heart music is about cooperation," she says. "Making music is about coming together, about working together to create something greater."
Foland saw the real-world need for cooperation first-hand in 2018, when Missouri lawmakers floated a right-to-work law in the state. Prop A, put forth as a ballot measure for direct voting by the people of Missouri, would have banned compulsory union fees, thus largely kneecapping the labor movement in the state. "The unions, especially the AFL-CIO and the IBEW Local 1 [the first electrical union in the United States] really hit the road: They held sessions around the state to teach people how to communicate as union members, how to fight for our right to organize, and to explain the need for fees and how to fight for our right to keep them," she says. "I studied at a couple of sessions and then hit the road with them."
With everyone from building tradespeople to public school employees to symphonic musicians working side-by-side, labor's victory was overwhelming. "Sixty-seven percent of people in rural areas and 90% in urban areas [voted no]," says Foland, with obvious pride. "What I learned in those sessions and in doing that work is the power of partnering with other unions and organizations. And most people get it. You knock on someone's door or they stop when you're petitioning, they understand it: right-to-work means a race to the bottom."
Foland is an unabashed advocate not just for labor movements in general, but for her specific union. The stability that union membership offers gives her the ability to engage in philanthropic work and other artistic explorations that may not pay the bills. "I think people don't always realize what a gift the security of union jobs can be," she says. "But I also don't think there's enough education about what unions actually do, especially for people who work in industries that are typically not unionized."
Negative feelings about unions, Foland finds, often come from misinformation about how unions are structured and even what their purpose is. "What I learned over the years is that unions are not just one thing, and people have this idea that if you join a union it's like every other union. It's not. It's a collective, and the collective agrees about how the collective is governed. It's one of the joys of self-governance, the ability to choose and pick!"